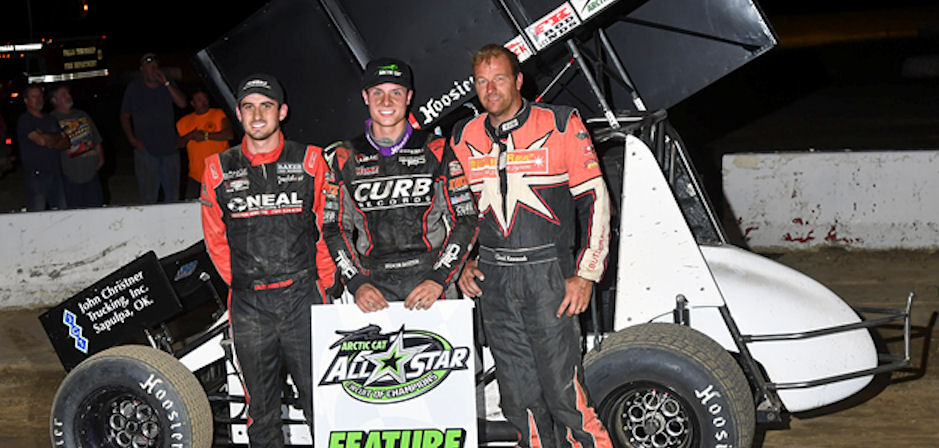 By Tyler Altmeyer
DRESDEN, OH (June 22, 2017) – For the second time in 2017, and for the second time in his career, Lebanon, Indiana's Spencer Bayston is an Arctic Cat All Star Circuit of Champions main event winner, this time scoring $5,000 during round six of Ohio Sprint Speedweek presented by Cometic Gasket at Muskingum County Speedway.
Aboard the Kevin Swindell-owned/Premier Truck Group/John Christner Trucking/No. 39, Bayston led all 30 circuits on Thursday evening at the Dresden-area oval, manhandling multiple waves of intense traffic, as well as an aggressive cushion at the top of the speedway, to clinch his first Arctic Cat All Star win since April. Fellow Indiana native Caleb Armstrong finished second, followed by Chad Kemenah, Tim Shaffer and Cole Duncan.
"I'm going to get most of the credit here tonight, but the people who really deserve the credit are the ones standing behind me," Spencer Bayston said in victory lane. "This is a brand new race car. We rolled one over the other night at Wayne County Speedway, so we've been up until about four in the morning the last few nights working to get this one ready. Kevin and Jordan [Swindell], the whole crew; they all work so hard and make all of this happen. Without them, I wouldn't be standing up here."
Bayston's 30-lap campaign at the front of the field started from the pole position, taking command right from the drop of the green flag over Caleb Armstrong and two-time Speedweek winner Tim Shaffer. Two early cautions, the first on lap five and the second on lap ten, were the only two momentum breakers for Bayston, but neither created any sort of distraction. Bayston's lead was nearly three seconds on multiple occasions even while racing in traffic, and despite having to deal with dirty air, the Indiana native hardly faltered.
"We got to dirty air in traffic and my whole race changed it felt like," Bayston said. "I had to kinda drive above [the cushion] a couple times, but it almost didn't work for me because I nearly looped it. Despite all of that, I never really felt any pressure, so I was able to just cruise and bring it home."
Caleb Armstrong's runner-up finish was a season-high for the New Castle, Indiana, native. The second year Arctic Cat All Star traveler started second on the feature grid and battled in that position all 30 laps. Chad Kemenah, the current Arctic Cat All Star championship point leader, charged from 11th to finish third, solid enough to earn MSD Performance Hard Charger Award honors.
Limaland Motorsports Park in Lima, Ohio, will continue Ohio Sprint Speedweek presented by Cometic Gasket with round seven of competition on Friday evening, June 23. Limaland has hosted the Arctic Cat All Star Circuit of Champions on 30 separate occasions since their first visit in 1983, the most recent during the 2016 edition of Ohio Sprint Speedweek on June 24, 2016. "The Hurricane" Randy Hannagan scored the $5,000 top prize, his first-ever at the high banked quarter-mile during Arctic Cat All Star competition.
Limaland Motorsports Park will open main gates at 5:00pm tomorrow afternoon, Friday, June 23. Hot laps should hit the racing surface at 6:30pm, sharp. Those seeking additional news and notes should visit Limaland Motorsports Park live on the Web at www.limaland.com.
Contingency Awards/Results: Muskingum County Speedway -Thursday, June 22, 2017:
Ohio Sprint Speedweek presented by Cometic Gasket
EMi Driver's Meeting: 43 entries
State Water Heaters Warm-Ups: Cole Duncan – 13.540 seconds
Lincoln Electric Fast Qualifier: Cole Duncan – 13.212 seconds
Ford Performance Heat #1: Ryan Smith
All Pro Aluminum Cylinder Heads Heat #2: Tyler Esh
Hunt Brothers Pizza Heat #3: Cale Conley
Daido Engine Bearings Heat #4: Brandon Spithaler
Elliott's Custom Trailers and Carts C-Main: Trevor Baker
JE Pistons Dash #1: Spencer Bayston
Kistler Racing Products Dash #2: Caleb Armstrong
Classic Ink USA B-Main: Cale Thomas
Daido Engine Bearings Main Event Winner: Caleb Armstrong (2nd)
MSD Performance Hard Charger Award: Chad Kemenah (+8)
Outback Steakhouse A-Main 5th Place Finisher: Cole Duncan
Outback Steakhouse A-Main 10th Place Finisher: DJ Foos
Outback Steakhouse A-Main 15th Place Finisher: Danny Smith
(Lincoln Electric, Daido Engine Bearings, MSD Performance, Outback Steakhouse: Need decal to qualify for contingency award)
Qualifying
Group (A)
1. 22C-Cole Duncan, 13.212; 2. 49x-Tim Shaffer, 13.348; 3. 10H-Chad Kemenah, 13.37; 4. 59-Ryan Smith, 13.485; 5. 2-Parker Price-Miller, 13.531; 6. 3G-Carson Macedo, 13.635; 7. 9M-Jordan Ryan, 13.747; 8. 57X-Andrew Palker, 13.854; 9. 1080-Jordan Mackison, 13.882; 10. 15H-Mitch Harble, 13.937; 11. 9-Ryan Linder, 14.486
Group (B)
1. 13D-Danny Dietrich, 13.287; 2. 5T-Travis Philo, 13.474; 3. 49-Shawn Dancer, 13.481; 4. 35-Tyler Esh, 13.621; 5. 27Z-Sean Zemunik, 13.792; 6. 4-Danny Smith, 13.835; 7. 59N-Bryan Nuckles, 14.023; 8. 46-Michael Bauer, 14.096; 9. 5-Jordan Harble, 14.387; 10. 33-Brent Matus, 15.251; 11. 7R-Andy Rein, 17.313
Group ( C )
1. 39-Spencer Bayston, 13.242; 2. 7K-Cale Conley, 13.328; 3. 13-Brandon Matus, 13.46; 4. C1-Clay Riney, 13.557; 5. 33M-Max Stambaugh, 13.611; 6. O7-Jacob Wilson, 13.713; 7. 81-Lee Jacobs, 13.869; 8. 51-John Garvin, 13.938; 9. D12-Jason Dolick, 14.135; 10. 4B-Steve Butler, 14.399; 11. 4au-Chris Ferrall, 15.439
Group (D)
1. 17-Caleb Helms, 13.396; 2. 91-Cale Thomas, 13.421; 3. 7C-Caleb Armstrong, 13.544; 4. 22-Brandon Spithaler, 13.755; 5. 92A-Sammy Walsh, 13.815; 6. 97W-Mitchell Wormall, 13.852; 7. 95-Hunter Mackison, 13.927; 8. 45-Trevor Baker, 14.502; 9. 23-DJ Foos, 14.527; 10. 9C-Roger Campbell, 99.99
Heat #1 – Group (A) (8 Laps) – Top 5 Transfer
1. 59-Ryan Smith [1]; 2. 49X-Tim Shaffer [3]; 3. 10H-Chad Kemenah [2]; 4. 22C-Cole Duncan [4]; 5. 3G-Carson Macedo [6]; 6. 2-Parker Price-Miller [5]; 7. 57X-Andrew Palker [8]; 8. 1080-Jordan Mackison [9]; 9. 15H-Mitch Harble [10]; 10. 9M-Jordan Ryan [7]; 11. 9-Ryan Linder [11]
Heat #2 – Group (B) (8 Laps) – Top 5 Transfer
1. 35-Tyler Esh [1]; 2. 13D-Danny Dietrich [4]; 3. 46-Michael Bauer [8]; 4. 59N-Bryan Nuckles [7]; 5. 4-Danny Smith [6]; 6. 5-Jordan Harble [9]; 7. 33-Brent Matus [10]; 8. 7R-Andy Rein [11]; 9. 49-Shawn Dancer [2]; 10. 5T-Travis Philo [3]; 11. 27Z-Sean Zemunik [5]
Heat #3 – Group ( C ) (8 Laps) – Top 5 Transfer
1. 7K-Cale Conley [1]; 2. 33M-Max Stambaugh [3]; 3. 39-Spencer Bayston [4]; 4. 81-Lee Jacobs [5]; 5. 13-Brandon Matus [2]; 6. O7-Jacob Wilson [6]; 7. 51-John Garvin [8]; 8. D12-Jason Dolick [7]; 9. 4B-Steve Butler [10]; 10. 4AU-Chris Ferrall [9]; 11. C1-Clay Riney [11]
Heat #4 – Group (D) (8 Laps) – Top 5 Transfer
1. 22-Brandon Spithaler [1]; 2. 7C-Caleb Armstrong [2]; 3. 17-Caleb Helms [4]; 4. 92A-Sammy Walsh [5]; 5. 23-DJ Foos [9]; 6. 95-Hunter Mackison [7]; 7. 45-Trevor Baker [8]; 8. 97W-Mitchell Wormall [6]; 9. 91-Cale Thomas [3]; 10. 9C-Roger Campbell [10]
Dash #1 (4 Laps)
1. 39-Spencer Bayston [1]; 2. 49X-Tim Shaffer [2]; 3. 7K-Cale Conley [4]; 4. 33M-Max Stambaugh [3]; 5. 35-Tyler Esh [5]
Dash #2 (4 Laps)
1. 7C-Caleb Armstrong [1]; 2. 13D-Danny Dietrich [3]; 3. 22C-Cole Duncan [2]; 4. 22-Brandon Spithaler [5]; 5. 59-Ryan Smith [4]
C-Main (10 Laps) – Top 2 Transfer
1. 45-Trevor Baker [4]; 2. 5-Jordan Harble [1]; 3. 4B-Steve Butler [2]; 4. 9-Ryan Linder [3]; 5. 7R-Andy Rein [7]; 6. 33-Brent Matus [5]; 7. 4AU-Chris Ferrall [6]; 8. 9C-Roger Campbell [8]; 9. C1-Clay Riney [9]
B-Main (12 Laps) – Top 4 Transfer
1. 91-Cale Thomas [1]; 2. 2-Parker Price-Miller [4]; 3. 57X-Andrew Palker [9]; 4. 9M-Jordan Ryan [6]; 5. 51-John Garvin [13]; 6. 97W-Mitchell Wormall [8]; 7. O7-Jacob Wilson [5]; 8. 27Z-Sean Zemunik [7]; 9. 15H-Mitch Harble [12]; 10. 45-Trevor Baker [15]; 11. D12-Jason Dolick [14]; 12. 1080-Jordan Mackison [10]; 13. 5T-Travis Philo [2]; 14. 49-Shawn Dancer [3]; 15. 5-Jordan Harble [16]; 16. 95-Hunter Mackison [11]
A-Main (30 Laps)
1. 39-Spencer Bayston [1]; 2. 7C-Caleb Armstrong [2]; 3. 10H-Chad Kemenah [11]; 4. 49X-Tim Shaffer [3]; 5. 22C-Cole Duncan [6]; 6. 59-Ryan Smith [10]; 7. 7K-Cale Conley [5]; 8. 35-Tyler Esh [9]; 9. 33M-Max Stambaugh [7]; 10. 23-DJ Foos [20]; 11. 22-Brandon Spithaler [8]; 12. 81-Lee Jacobs [15]; 13. 92A-Sammy Walsh [14]; 14. 2-Parker Price-Miller [22]; 15. 4-Danny Smith [19]; 16. 3G-Carson Macedo [18]; 17. 46-Michael Bauer [13]; 18. 17-Caleb Helms [12]; 19. 51-John Garvin [25]; 20. 59N-Bryan Nuckles [16]; 21. 91-Cale Thomas [21]; 22. 9M-Jordan Ryan [24]; 23. 13-Brandon Matus [17]; 24. 13D-Danny Dietrich [4]; 25. 57X-Andrew Palker [23] Lap Leaders: Spencer Bayston [1-30]
Current Ohio Sprint Speedweek presented by Cometic Gasket Point Standings (After June 22):
1. Tim Shaffer – 792
2. Chad Kemenah – 790
3. Cole Duncan – 766
4. Carson Macedo – 758
5. Ryan Smith – 724
6. Parker Price-Miller – 706
7. Lee Jacobs – 672
8. Caleb Armstrong – 672
9. Caleb Helms – 666
10. Cale Conley – 662
Win Bonus Count presented by Cometic Gasket:
Tim Shaffer – 2 – Eldora Speedway, Waynesfield Raceway Park [+500]
Kyle Larson – 2 – Wayne County Speedway, Sharon Speedway [+$500]
Spencer Bayston – 1 – Muskingum County Speedway
Current Arctic Cat All Star Circuit of Champions Standings (June 22, 2017):
1. Chad Kemenah – 3002
2. Ryan Smith – 2742
3. Caleb Armstrong – 2716
4. Caleb Helms – 2648
5. Max Stambaugh – 2502
6. T.J. Michael – 2240
7. Tim Shaffer – 2240
8. Brandon Spithaler – 2227
9. Brandon Matus – 2166
10. Tyler Esh – 2157
Spencer Bayston at Muskingum
Campbell Photography