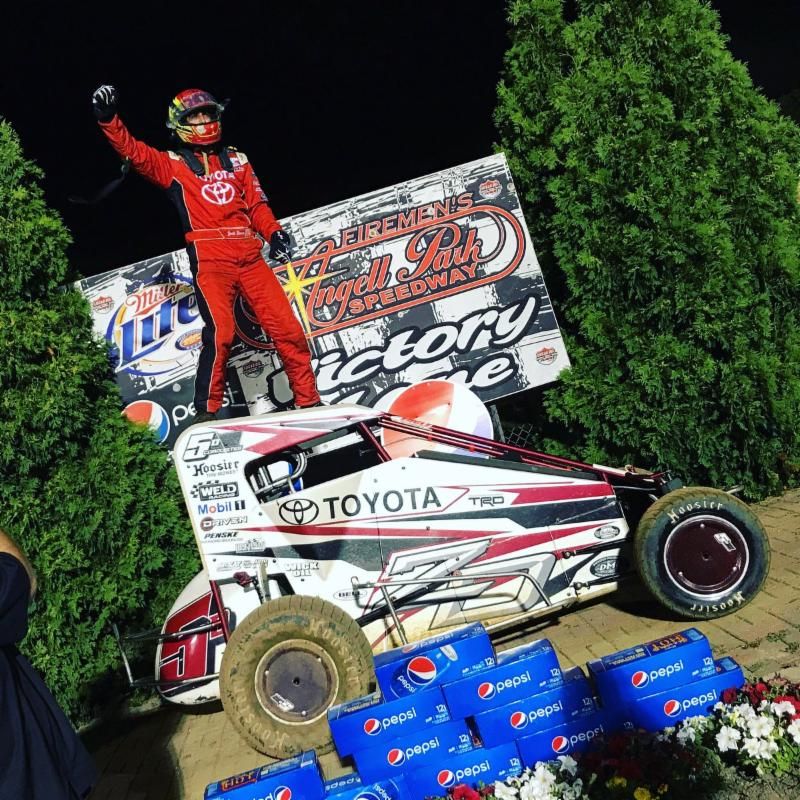 From Bryan Gapinski
SUN PRAIRIE, Wi. (July 9, 2017) — Zach Daum scored an exciting victory winning " The 36th annual Pepsi Midget Nationals" Sunday Night at Angell Park Speedway. The event was co-sanctioned by the POWRi Lucas Oil National Midget League, and the Mid-State Equipment /Zimbrick Chevrolet of Sun Prairie Badger Midget Racing Series.
Daum jumped into the lead from the pole starting position. The event was stopped on the third lap for a five-car accident, which saw Brad Loyet flip. All involved drivers were uninjured.
On the restart Daum continued to lead Tanner Thorson, and Andrew Felker. Ryan Robinson who started tenth moved in fifth place two laps later. Positions two-four continued to change every lap behind Daum in a torrid battle between Thorson, Felker and Robinson.
Daum held a 1.3 second lead at the midway, and began lapping the tail of the field. One lap later the caution appeared for a stalled car. On the restart Robinson passed Thorson entering Turn One for second place, and took the lead from Daum on the backstretch. Robinson increased his lead to nearly two seconds when the caution again appeared with nine laps remaining, for a two-car accident.
Daum regained the lead on the restart, leading two laps before Robinson retook the top position. With Robinson running the higher groove, Daum used the bottom grove of the track to take the lead for the final time on Lap 27. Daum stayed on the lower groove for the final three laps driving the Dan Daum owned Eagle/Toyota No. 5. Trailing Daum were the Kunz/Curb-Agajanian team cars of Robinson, Thorson, and Spencer Bayston, with Felker completing the top five.
" It's so great to win this event a second time, the car came in perfectly on the bottom of the track at the end" commented Daum who joined Kevin Doty, Kevin Olson, Tracy Hines, Dan Boorse and Scott Hatton as repeat winners of the event.
Badger returns to Angell Park Speedway next Sunday July 16 for the 3rd annual Norm Nelson Classic featuring the IRA Bumper to Bumper Outlaw Sprint Cars, and Wisconsin Dirt Racing Legends Series.
SUMMARY
20-lap Feature: 1.Zach Daum;2. Ryan Robinson; 3. Tanner Thorson; 4. Spencer Bayston; 5. Andrew Felker; 6. Logan Seavey; 7. Holly Shelton; 8.Kyle Schuett; 9. Austin Brown; 10.Jake Neuman; 11. Gage Walker; 12. Tucker Klaasmeyer; 13. Terry Baab; 14. Aidan Roosevans; 15. Aaron Schuck; 16. Casey Shuman;17. Robbie Ray; 18. Zach Boden; 19. Scott Hatton; 20. Cody Weisensel; 21. Jeff Zelinski; 22. Brad Loyet; 23. Shelby Boise; 24. Tanner Carrick.
12-lap Last Chance Race Winners: Loyet, Klaasmeyer.
8-lap Heat Race Winners: Hatton, Shuman, Bayston, Robinson..
Cars Present: 39 Feature Lap Leaders: Daum 1-16 Robinson17-21, Daum 22-24, Robinson 25-26, Daum 27-30.