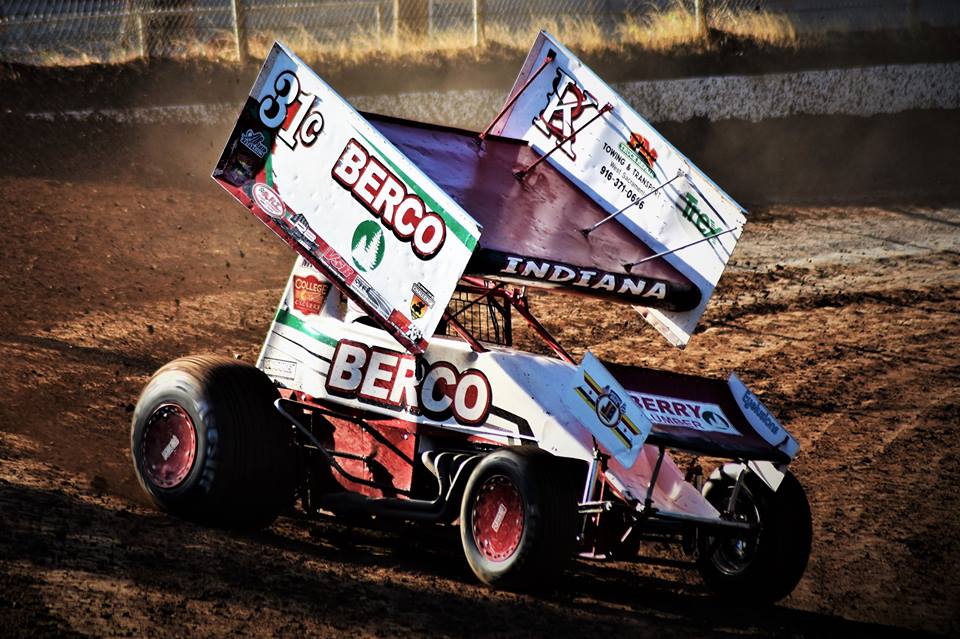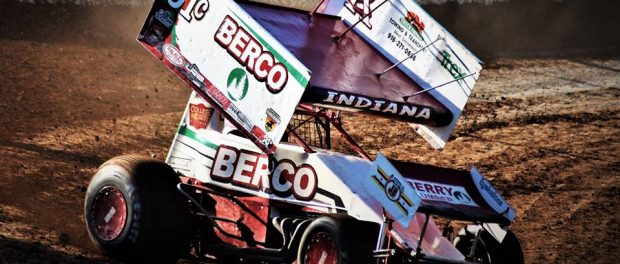 From Ben Deatherage
(July 18, 2017) – Speedweek Northwest 2017 would be the twentieth installment in the long and storied history of the summer series. It would feature some of the best 360 Sprint Car drivers in the western United States, and abroad, battling at some of the country's best facilities. Thirty-two cars would make at least one appearance in the six races representing the American states of Oregon, Washington, and California, the Canadian province of British Columbia, the New Zealand region of Canterbury, and the Australian states of Western Australia and Victoria.
Four different drivers (Justyn Cox, Kyle Hirst, Roger Crockett, and Jason Solwold) would win at least one of the six events. Hirst and Crockett would be the only two drivers to win twice over the course of the week. Eight drivers managed to make it to every race in 2017.
Justyn Cox would be the overall champion once the final checkered flag dropped on Saturday night at Cottage Grove Speedway. Cox, from Clarksburg, California, would record a victory at Siskiyou Motor Speedway in the first round of action in Yreka. In addition to the triumph, he would record four top finishes in six starts.
Cox is the eighth driver from California to win a Speedweek Northwest championship and the thirteenth different champ overall. He joins Bud Kaeding (1998), Brad Furr (1999), Steve Kent (2000, 2001, 2002, 2006), Brent Kaeding (2004 & 2005), Kyle Larson (2011), Kyle Hirst (2014), and Colby Copeland (2015) as drivers from the Golden State that have emerged triumphant at the end of the week.
Hanford, California's Mitchell Faccinto would finish in the runner-up position in the point standings. Faccinto, in the Stan Greenberg owned entry, was among the top five finishers four times including a second-place result in the first night at Yreka.
Tyler Seavey would impress a lot of people over the course of the week. Despite a limited amount of Sprint Car experience under his belt, he managed to end up third in the points table. Racing for Rudy Warrington, Seavey, had two top five results including an impressive third at Sunset Speedway Park in Banks.
Even though he didn't make it the entire week four-time Speedweek Northwest champion Roger Crockett managed to have several successful outings. In the Roger Henderson owned machine, Crockett was victorious at Sunset Speedway Park and on the final night at Cottage Grove. His two worst finishes were a pair of seconds making it four top fives in four feature starts.
Jake Wheeler had his best Speedweek to date. The Central Point driver made all six features, was among the top five twice and posted a career best Speedweek main event finish. Wheeler would be second, after starting in eleventh, at Sunset Speedway Park making it his most impressive run to date.
Zack Lynskey, Michael Keen, Daniel Keen, Jamie Duff, and John Clark were the remainder of the top five finishers. Eleventh through fifteenth would be Steven Tiner, Lucas Ashe, Jared Ridge, Kyle Hirst, and Cooper Desbiens.
Be sure and stay tuned for more information by visiting sprints.nwextremeseries.com. Also, updates will be made available on social media at the Western Sprint Tour Facebook page.
Final 2017 Speedweek Northwest Point Standings (Top Twenty)
Driver/Hometown/Wins/Top Fives/Feature Starts
1. Justyn Cox/Clarksburg, California/1/4/6
2. Mitchell Faccinto/Hanford, California/0/4/6
3. Tyler Seavey/Sutter, California/0/2/6
4. Roger Crockett/Medford, Oregon/2/4/4
5. Jake Wheeler/Central Point, Oregon/0/2/6
6. Zack Lynskey/Fairfield, California/0/1/6
7. Michael Keen/Bunbury, Western Australia/0/1/6
8. Daniel Keen/Bunbury, Western Australia/0/0/6
9. Jamie Duff/Christchurch, Canterbury/0/0/6
10. John Clark/Windsor, California/0/0/6
11. Steven Tiner/Visalia, California/0/3/5
12. Lucas Ashe/Cottonwood, California/0/2/5
13. Jared Ridge/Grants Pass, Oregon/0/1/4
14. Kyle Hirst/Paradise, California/2/3/3
15. Cooper Desbiens/Sutherlin, Oregon/0/0/4
16. Cam Smith/Mill Creek, Washington/0/1/3
17. Austen Wheatley/Lake Stevens, Washington/0/0/4
18. Kyle Miller/Eugene, Oregon/0/0/3
19. Jason Solwold/Burlington, Washington/1/2/2
20. Michael Cunningham/Kyneton, Victoria/0/0/3
2017 Speedweek Northwest Schedule
Monday, July 10th-Siskiyou Motor Speedway-Yreka, California-Justyn Cox
Tuesday, July 11th-Coos Bay Speedway-Coos Bay, Oregon-Kyle Hirst
Wednesday, July 12th-Willamette Speedway-Lebanon, Oregon-Kyle Hirst
Thursday, July 13th-Sunset Speedway Park-Banks, Oregon-Roger Crockett
Friday, July 14th-Cottage Grove Speedway-Cottage Grove, Oregon-Jason Solwold
Saturday, July 15th-Cottage Grove Speedway-Cottage Grove, Oregon-Roger Crockett
Past Speedweek Northwest Champions:
2016- Trey Starks
2015- Colby Copeland
2014- Kyle Hirst
2013- Roger Crockett
2012- Mitch Olson
2011- Kyle Larson
2010- Roger Crockett
2009- Jesse Hockett
2008- Roger Crockett
2007- Shane Stewart
2006- Steve Kent
2005- Brent Kaeding
2004- Brent Kaeding
2003- Roger Crockett
2002- Steve Kent
2001- Steve Kent
2000- Steve Kent
1999- Brad Furr
1998- Bud Kaeding
All-Time Speedweek Northwest Win List (1998-Present):
Roger Crockett-23
Steve Kent-13
Brent Kaeding-10
Kyle Hirst- 6
Shane Stewart
Brad Furr-5
Travis Rilat
Wayne Johnson- 4
Colby Copeland- 3
Jesse Hockett
Justyn Cox-2
Rick Fauver
Danny Horner
Jason Johnson
Jason Solwold
Shawna Wilskey
Rico Abreu-1
Jonathon Allard
Colin Baker
Jayme Barnes
Seth Bergman
Jay Cole
Cory Eliason
Mitchell Faccinto
Logan Forler
Travis Jacobson
Bud Kaeding
Kasey Kahne
Kyle Larson
Danny Lasoski
Mitch Olson
Jason Sides
Cam Smith
Trey Starks
Henry Van Dam