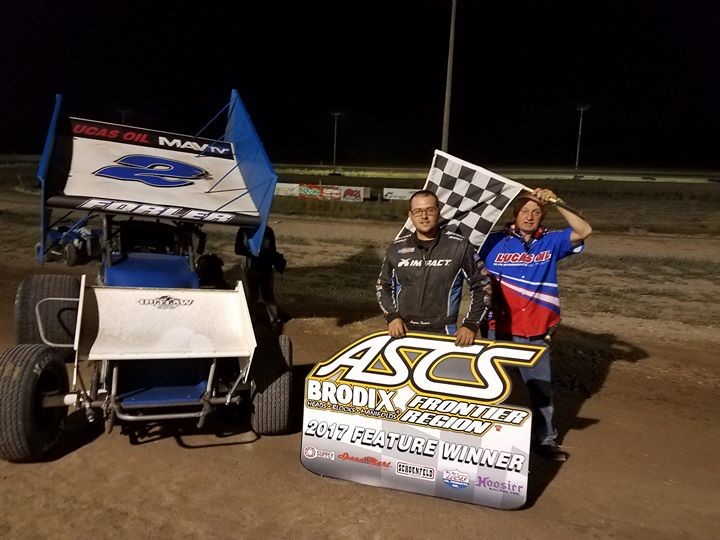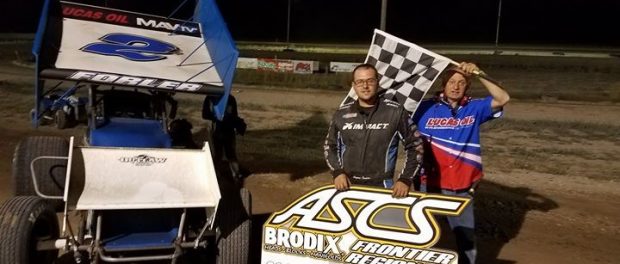 From Bryan Hulbert
ATOMIC CITY, Id. (July 21, 2017) – Adding to his resume of ASCS victories, Logan Forler parked the Rush Concrete Pumping No. 2L in Rod End Supply Victory Lane for the first time with the Brodix ASCS Frontier Region to open up the Rumble in the Desert at Atomic Motor Raceway on Friday night.
The 28th different driver to score a victory with the Brodix ASCS Frontier Region, Forler now lays claim to 18 wins in ASCS competition across both Regional and National events.
Making the short drive from Boise, Idaho to compete, Forler drew the No. 2 starting spot for Friday's feature event. Holding on David Hoiness for the victory, the ASCS Frontier Regional points leader finished runner-up with Wyoming's Rich Martin third. Montana's Jeremy McCune was fourth with Ned Powers advancing to fifth after starting 11th on the grid.
Utah's Chauncey Filler trailed in sixth with Clint Anderson, Mindy McCord, Shad Petersen, and Damon McCune filling out the top-ten.
The Brodix ASCS Frontier Region takes on the Atomic Motor Raceway again on Saturday, July 22. For continued updates on the American Sprint Car Series, from the National Tour to any of the seven regional tours that make up the over 150 races across the ASCS Nation in 2017, log onto http://www.ascsracing.com.
Race Results:
ASCS Frontier Region
Atomic Motor Raceway – Atomic City, Idaho
Friday, July 21, 2017
Car Count: 17
Heat 1 (8 Laps): 1. 0J-Jeremy McCune, [4]; 2. 11-Mindy McCord, [1]; 3. 74U-Chauncey Filler, [5]; 4. 33-Robert DeHaan, [6]; 5. 77-Damon McCune, [3]; (DNS) 77W-John White,
Heat 2 (8 Laps): 1. 27DD-David Hoiness, [1]; 2. 2L-Logan Forler, [3]; 3. 24M-Rich Martin, [4]; 4. 0-Ned Powers, [2]; 5. 9A-Clint Anderson, [5]; 6. 7-Brian Robinson, [6]
Heat 3 (8 Laps): 1. 10-Anthony Farnsworth, [3]; 2. 2-Shad Petersen, [2]; 3. 81-Darren Smith, [4]; 4. 2X-Mike Manwill, [1]; 5. (DNF) 96-Shawn Medeiros, [5]
A Feature (25 Laps): 1. 2L-Logan Forler, [2]; 2. 27DD-David Hoiness, [1]; 3. 24M-Rich Martin, [3]; 4. 0J-Jeremy McCune, [4]; 5. 0-Ned Powers, [11]; 6. 74U-Chauncey Filler, [7]; 7. 9A-Clint Anderson, [12]; 8. 11-Mindy McCord, [5]; 9. 2-Shad Petersen, [8]; 10. 77-Damon McCune, [13]; 11. 10-Anthony Farnsworth, [6]; 12. 33-Robert DeHaan, [10]; 13. 7-Brian Robinson, [15]; 14. (DNF) 96-Shawn Medeiros, [14]; 15. (DNF) 2X-Mike Manwill, [17]; 16. (DNF) 81-Darren Smith, [9]; (DNS) 77W-John White,