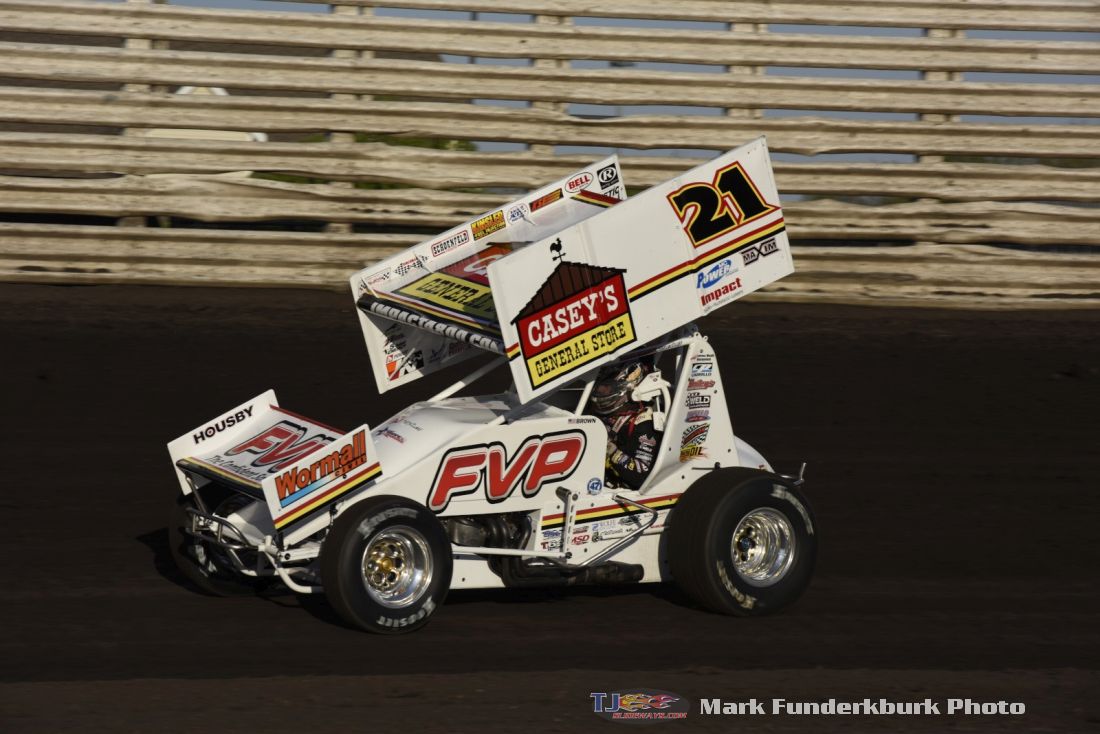 From Bill Wright
July 24, 2017 – Brian Brown and the Casey's General Stores/FVP #21 team picked up their sixth win of the season last Saturday night at the Knoxville Raceway. The win came after some strong runs last week at Eldora's King's Royal. The Grain Valley, Missouri driver will head to Jackson Motorplex for their $10,000 to win show this Friday night, and return to Knoxville for both 360 and 410 action Saturday.
You were able to come out second in the order and set quick time on Saturday.
Yes sir, we started the night off really really. We were able to go out and set quick time. Charlie Garrett has been working really hard on our engines and it shows when you're able to go out there and set quick time.
You've been able to win some heats this year when starting sixth, but Saturday you moved up to finish third.
You know, we got a really good start in the heat race. After that, we were just pretty average. We maybe didn't make the right adjustments from qualifying to the heat but we were able run third and that put us in a good position for the A main.
You were still high point car, and the invert for the feature was four. You were starting behind both Kerry and Ian Madsen.
Yeah, we knew it was definitely going to be tough with the Madsens on the front row and then Lynton (Jeffrey) was beside us and he has been really strong and Danny (Lasoski) was behind us too. We knew we had to be on our game.
You got off to a great start.
The guys did a really good job of getting me a really good car and we will had a really good race with Ian there in the beginning and we were able to get by him and kind of set sail.
Your win put you up one spot on the all-time list ahead of Randy Smith.
He was one of those drivers that I really looked up to at Knoxville. It was also a really awesome night for us to pick up our sixth win. We're looking forward to getting to Jackson on Friday, and then back to Knoxville with the 360 and the 410 on Saturday.
Follow Brian on the Web, Twitter and Facebook!
Follow Brian at his website located at www.BrianBrownRacing.com!
Also keep up with FVP, Casey's and Brian on Facebook and Twitter at the following links…
Twitter Links – @BrianBrown21, @FVPRacing, @CaseysGenStores
Facebook Links
Brian Brown Racing – www.facebook.com/pages/Brian-Brown-Racing/200630163294222
Casey's General Stores – www.facebook.com/pages/Caseys-General-Stores/112073528804354
FVP Racing – http://www.facebook.com/FVPRacing?ref=ts&fref=ts
Other Web site info
Casey's: www.caseys.com
FVP: www.fvpparts.com
Brian's Bits
Five years ago this week, Brian picked up three wins in a weekend. After winning with the JSTS series at Fairmont Speedway in Minnesota, he won in both the 360 and 410 classes on Saturday.