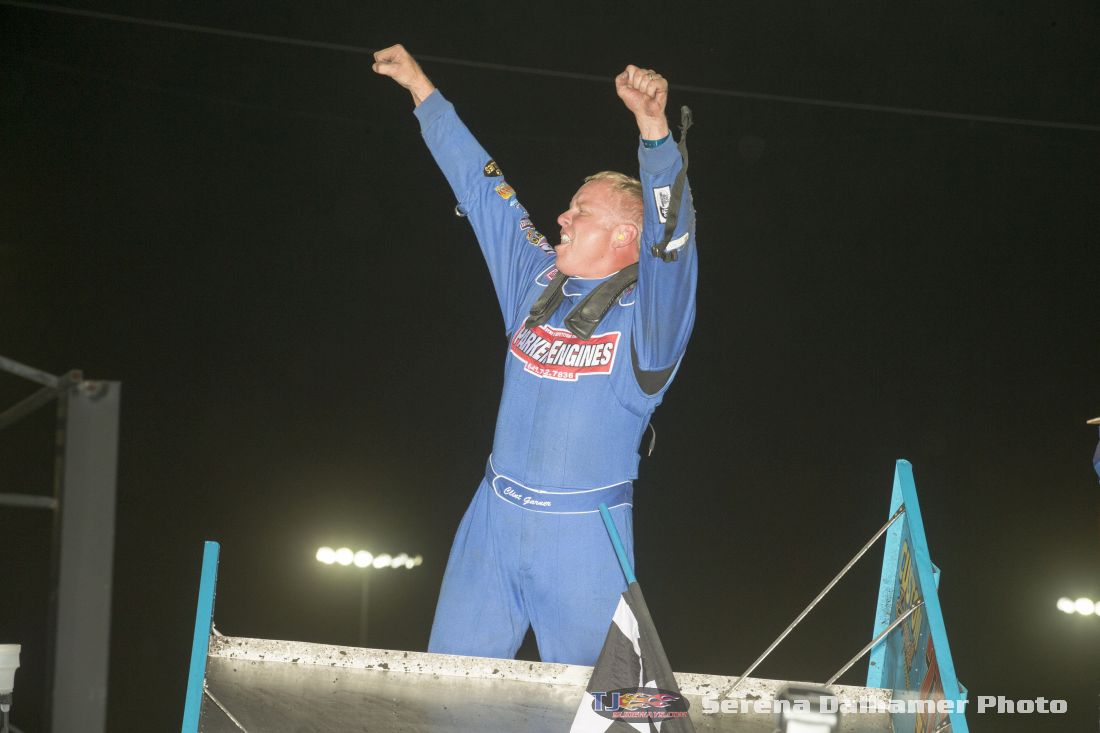 By T.J. Buffenbarger
Following Clint Garner's win at the Knoxville 360 Nationals presented by Great Southern Bank the stream of photos from the victory celebration seemingly went through the night. For Garner, one of the most decorated drivers ever in Knoxville's 360 division, the Nationals title was about the only thing that was missing from his resume.
The party has returned to Victory Lane for Clint Garner. pic.twitter.com/HdXltGMgvL

— LucasOilASCS (@LucasOilASCS) August 6, 2017

Often the 360 Nationals is pillaged by drivers that make their living driving sprint cars as a tune up in preparation for the 410 sprint car division Nationals the following week. Garner is just a working stiff like most of us, working in the family business at Midwest Excavating.
While Garner does have support from a great engine builder in Parker Engines in Newton, Iowa that is support that was gained through Garner's results on track. Even with that support the Garner family team is far from as deep in equipment as many perceive it to be. Garner has been a force in Knoxville's 360 division with seven championships in the past eight years and second on the all-time win list for the division. Having a driver that has garnered that kind of support with his performances is important to the 360 division.
As the party went through the night you could see how much the win meant to Garner in every photo that was posted. Garner's win is also a positive for the 360 division that is largely made up of weekend warriors that race sprint cars as a hobby.
Garner's win proves that the weekend warriors of the 360 sprint car division do have a shot at winning their biggest event.
Notes:
• After a strong showing during the Knoxville 360 Nationals Canadian driver Thomas Kennedy will pilot the BDS Motorsports car during the 5-Hour ENERGY Knoxville Nationals. Kennedy also finished 17th in Sunday's Capitani Classic with the 410 sprint cars in the BDS Entry.
• Kyle Larson will be only competing during his preliminary night during the Knoxville Nationals due to NASCAR commitments on Saturday and Sunday. No word on who, if anyone, might drive Paul Silva's potent #57 car in Larson's absence on Saturday. Larson will be in competition tonight during the Front Row Challenge at Southern Iowa Speedway.
• Jason Johnson revealed on Sunday he is bringing the same car the Knoxville Nationals he used to win the event in 2016.
• Last night during the Capitani Classic a touching tribute video was shown before the race program. Check out that video below.
• The news of Kasey Kahne parting ways with Hendrick Motorsport for 2018 was made official on Monday. The lingering question now is what impact that may have on Kasey Kahne Racing's World of Outlaws series teams in the future.