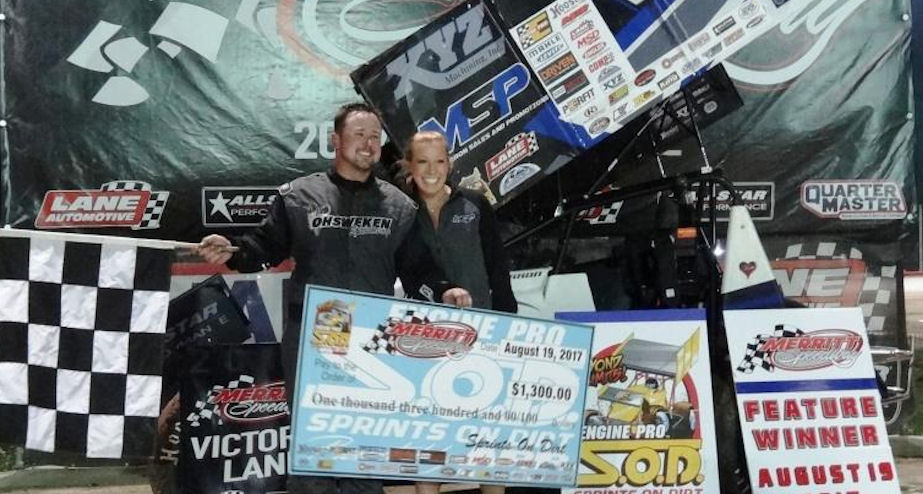 By John Naida
ERIE, MI (August 20, 2017) – Engine Pro Sprints On Dirt presented by ARP invaded Merritt Speedway for the annual Allstar Performance Open Wheel Spectacular with Dan McCarron (Britton, MI) picking up his second career win at "Michigan's Premier Dirt Track."
"Danny Mac" started second, but was moved back one row for jumping the start. All that did was give him a chance to prove he was the class of the field as he took the lead on lap nine. Thirteen-year-old Andrew Scheid (Sparta, MI), leading SOD sprint car rookie, started on the pole and led the first lap before Gregg Dalman (Bellevue, MI) grabbed the lead. After McCarron took command, Dalman held second until lap sixteen when Steve Irwin (Fenton, MI) took the position. At times, it looked like Irwin had the speed in the low groove to overtake McCarron, but McCarron was up to the task and used the middle groove to perfection to pull away.
Lap eighteen saw a quick caution for a spin by Tyler Bearden , then disaster struck for Chris Jones when he flipped while trying to evade a spinning Mike Burkin.
Ryan Ruhl and Thomas Schinderle also looked like they could challenge for the win, but finished third and fourth respectively. 2016 SOD champion Brian Smith finished fifth.
Steve Irwin did double duty and won the non-winged portion of the Allstar Performance Open Wheel Spectacular over Brian Smith.
Qualifying – Lane Automotive/MSD Ignition Fast Masters (fast qualifiers) $50 each
Group Time # Driver
Engler Machine & Tool Heat 14.528 0 Steve Irwin
COMP Cams Heat 14.286 16 Ryan Ruhl
RockAuto.com Heat 14.402 41 Thomas Schinderle
Heat Races – Winners $100 each
Engler Machine & Tool Heat #1
# Driver Contingency
1 49T Gregg Dalman
2 0 Steve Irwin Kistler Racing Products
3 77 Andrew Scheid Racing Optics
4 10J Chris Jones
5 17X Dain Naida
6 58 Tony Bures
7 89 Chris Pobanz
COMP Cams Heat #2
# Driver Contingency
1 16 Ryan Ruhl
2 22M Dan McCarron Allstar Performance
3 8 Justin Ward Racing Optics
4 20A Andy Chehowski
5 3A Mike Astrauskas
6 46 Robery Huisken
7 10s Jay Steinebach
RockAuto.com Heat #3
# Driver Contingency
1 41 Thomas Schinderle
2 2+ Brian Smith Kistler Racing Products
3 9E Tim Evilsizer Racing Optics
4 21T Troy Chehowski
5 91L Mike Burkin
6 47 Robert Bulloch
7 6 Tyler Bearden
Feature
# Driver Awards Contingencies
1 22M Dan McCarron 2 Rod End Supply
2 0 Steve Irwin 8 Rod End Supply
3 16 Ryan Ruhl 3 Rod End Supply
4 41 Thomas Schinderle 6 Schoenfeld Headers
5 2+ Brian Smith 7 ATL Racing Fuel Cells
6 17X Dain Naida 13
7 77 Andrew Scheid 1 Allstar Performance
8 49T Gregg Dalman 4
9 20A Andy Chehowski 11 King Racing Products
10 9E Tim Evilsizer 5
11 21T Troy Chehowski 12 Keizer Aluminum Wheels
12 10s Jay Steinebach 20
13 46 Robery Huisken 17
14 8 Justin Ward 9
15 91L Mike Burkin 15
16 89 Chris Pobanz 19
17 3A Mike Astrauskas 14
18 18 Robert Bulloch 18
19 58 Tony Bures 16
20 6 Tyler Bearden 21
21 10J Chris Jones 10
KSE Racing Products Hard Charger – Jay Steinebach (+8)
BR Motorsports Contingency (feature top 10 draw) – Andy Chehowski
DMI (Diversified Machine) Contingency (feature 12-16 draw) – Robert Huisken
Perfit Corporation Lucky Dog – Dan McCarron