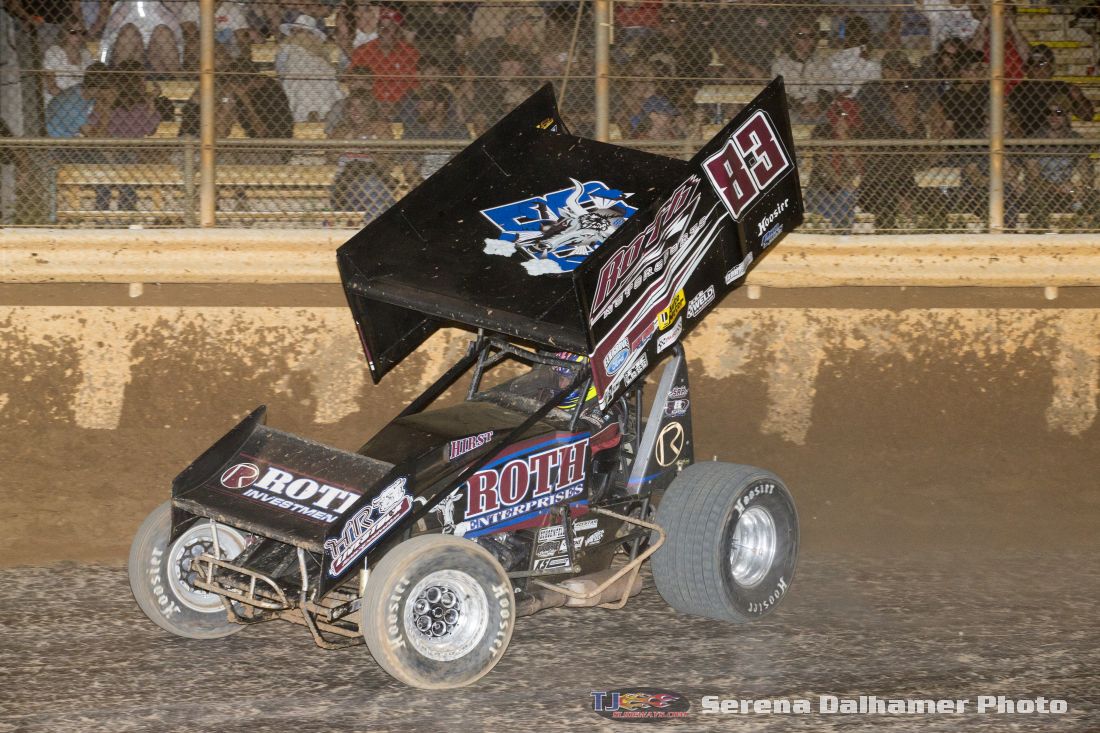 CHICO, CA – Kyle Hirst is no stranger to Victory Lane, especially in California. Hirst outdueled Shane Stewart in a thrilling finish Friday at the Silver Dollar Speedway on the opening night of the Gold Cup Race of Champions. It was Hirst's first career World of Outlaws Craftsman Sprint Car Series Feature Win. Dominic Scelzi came home third, a career-best for him as well.
Hirst was victorious in Heat 4 after leader Kalib Henry lost power steering and that was crucial as the Craftsman Club Dash Inversion was four, lining Hirst up on the front row of the event. Hirst would walk away with the aforementioned Dash with Shane Stewart coming from fifth to second.
Hirst took command from the drop of the green and led the first six laps before Stewart closed in as traffic thickened. Stewart and Hirst made contact the following lap with the Larson/Marks Racing No.2 leading lap seven. As Stewart navigated traffic, Hirst and Scelzi remained within striking distance.
Coming off of turn four on the 11th circuit, Stewart bobbled on the cushion and allowed Hirst to re-take the lead on lap 12. A caution for Sheldon Haudenschild the following lap allowed everyone to catch their breath.
The lone Red Flag for the evening came on lap 16 when Bud Kaeding got sideways and collected Daryn Pittman and Paul McMahan. All drivers were uninjured in the accident. On the ensuing restart, Jac Haudenschild got contact from another competitor ending his night. Jac was running 5th at the time.
The final 14 laps went non-stop with Hirst and Stewart exchanging slide jobs for the lead multiple times. On two occasions, Stewart cleared Hirst off of turn four for the lead but Hirst turned it under and re-gained command into turn one.
Hirst's win was a popular one among the California faithful and led to an emotion-filled Victory Lane with his Roth Motorsports No. 83 team. "I've been racing for 15 years and I've finally snagged one of these World of Outlaw wins. That's for Chico, California," an exuberant Hirst said in Victory Lane.
Stewart and Scelzi completed the podium. "Coming home second is nothing to shake your head at. We continue to have fast a car and that's a testament to my guys. I feel like we have a shot to win every time we roll out," a content Stewart said.
Cory Eliason and Justin Sanders completed the top five. California drivers took six of the top seven positions as Jonathan Allard, in the second Roth Motorsports entry, and 14th starting Shane Golobic crossed the line next.
David Gravel picked up KSE Hard Charger Honors with an impressive 24th to eighth run. Donny Schatz used a provisional to start 25th and made it up to ninth. Sheldon Haudenschild recovered from a spin mid-race to complete the top ten.
The World of Outlaws Craftsman Sprint Car Series returns to the Silver Dollar Speedway Saturday night for the conclusion of the 64th Annual Gold Cup Race of Champions. DIRTVision.com will have Live Video of the event and if it is anything like it was tonight, you don't want to miss a second of the action.
World of Outlaws Craftsman Sprint Car Series
Gold Cup Race of Champions
Silver Dollar Speedway
Chico, CA
Friday September 8, 2017
Qualifying Flight-A: 1. 2-Shane Stewart, 11.449; 2. 41S-Dominic Scelzi, 11.515; 3. 4-Paul McMahan, 11.543; 4. 20-Cory Eliason, 11.568; 5. O-Bud Kaeding, 11.622; 6. 83JR-Jonathan Allard, 11.639; 7. 22M-Mason Moore, 11.642; 8. 11K-Kraig Kinser, 11.644; 9. 7S-Jason Sides, 11.662; 10. 29-Willie Croft, 11.662; 11. 92-Andy Forsberg, 11.668; 12. 3C-DJ Netto, 11.668; 13. 49-Brad Sweet, 11.703; 14. 5-David Gravel, 11.704; 15. 41-Jason Johnson, 11.722; 16. 15-Donny Schatz, 11.748; 17. 1S-Logan Schuchart, 11.809; 18. 44W-Austen Wheatley, 11.823; 19. 75-Sean Becker, 11.853; 20. 26-Tayler Malsam, 12.286
Qualifying Flight-B: 1. 121-Justin Sanders, 11.493; 2. 7-Kalib Henry, 11.586; 3. 17-Jac Haudenschild, 11.601; 4. 83-Kyle Hirst, 11.61; 5. 1A-Jacob Allen, 11.73; 6. 9-Daryn Pittman, 11.743; 7. 35-Jamie Veal, 11.774; 8. 19-Brent Marks, 11.8; 9. 22-Shane Golobic, 11.843; 10. 24-Rico Abreu, 11.86; 11. W20-Greg Wilson, 11.893; 12. 7B-Brent Bjork, 11.928; 13. 21X-Carson Macedo, 11.989; 14. 93-Sheldon Haudenschild, 12.02; 15. 13-Clyde Knipp, 12.04; 16. 37-Mitchell Faccinto, 12.051; 17. 98-Sean Watts, 12.233; 18. 19X-Chase Majdic, 12.256; 19. 18-Jennafer Frazier, 13.204; 20. 21W-Jake Wheeler, 12.509
Heat #1 – Flight (A) (10 Laps) – Top 5 Transfer: 1. 4-Paul McMahan [2]; 2. 2-Shane Stewart [1]; 3. O-Bud Kaeding [3]; 4. 22M-Mason Moore [4]; 5. 7S-Jason Sides [5]; 6. 49-Brad Sweet [7]; 7. 92-Andy Forsberg [6]; 8. 1S-Logan Schuchart [9]; 9. 41-Jason Johnson [8]; 10. 75-Sean Becker [10]
Heat #2 – Flight (A) (10 Laps) – Top 5 Transfer: 1. 41S-Dominic Scelzi [1]; 2. 20-Cory Eliason [2]; 3. 83JR-Jonathan Allard [3]; 4. 3C-DJ Netto [6]; 5. 11K-Kraig Kinser [4]; 6. 29-Willie Croft [5]; 7. 15-Donny Schatz [8]; 8. 44W-Austen Wheatley [9]; 9. 5-David Gravel [7]; 10. 26-Tayler Malsam [10]
Heat #3 – Flight (B) (10 Laps) – Top 5 Transfer: 1. 121-Justin Sanders [1]; 2. 17-Jac Haudenschild [2]; 3. 1A-Jacob Allen [3]; 4. 22-Shane Golobic [5]; 5. 35-Jamie Veal [4]; 6. 21X-Carson Macedo [7]; 7. W20-Greg Wilson [6]; 8. 13-Clyde Knipp [8]; 9. 98-Sean Watts [9]; 10. 18-Jennafer Frazier [10]
Heat #4 – Flight (B) (10 Laps) – Top 5 Transfer: 1. 83-Kyle Hirst [2]; 2. 9-Daryn Pittman [3]; 3. 24-Rico Abreu [5]; 4. 93-Sheldon Haudenschild [7]; 5. 37-Mitchell Faccinto [8]; 6. 19-Brent Marks [4]; 7. 7B-Brent Bjork [6]; 8. 21W-Jake Wheeler [10]; 9. 7-Kalib Henry [1]; 10. 19X-Chase Majdic [9]
Craftsman Club Dash (8 Laps): 1. 83-Kyle Hirst [1]; 2. 2-Shane Stewart [5]; 3. 41S-Dominic Scelzi [2]; 4. 121-Justin Sanders [3]; 5. 20-Cory Eliason [7]; 6. 17-Jac Haudenschild [6]; 7. 9-Daryn Pittman [8]; 8. 4-Paul McMahan [4]
C-Main (10 Laps) – Top 2 Transfer: 1. 1S-Logan Schuchart [1][-]; 2. 44W-Austen Wheatley [3][-]; 3. 98-Sean Watts [2][$150]; 4. 26-Tayler Malsam [7][$150]; 5. 75-Sean Becker [5][$150]; 6. 21W-Jake Wheeler [8][$125]; 7. 19X-Chase Majdic [4][$125]; 8. 18-Jennafer Frazier [6][$125]
Last Chance Showdown (12 Laps) – Top 4 Transfer: 1. 49-Brad Sweet [5][-]; 2. 29-Willie Croft [1][-]; 3. 92-Andy Forsberg [3][-]; 4. 5-David Gravel [7][-]; 5. 7-Kalib Henry [2][$300]; 6. 15-Donny Schatz [11][$250]; 7. 1S-Logan Schuchart [13][$225]; 8. 21X-Carson Macedo [10][$200]; 9. 19-Brent Marks [4][$200]; 10. 44W-Austen Wheatley [14][$200]; 11. W20-Greg Wilson [6][$200]; 12. 13-Clyde Knipp [12][$200]; 13. 7B-Brent Bjork [8][$200]; 14. 41-Jason Johnson [9][$200]
Feature (30 Laps) – 1. 83-Kyle Hirst [1][$8,000]; 2. 2-Shane Stewart [2][$4,000]; 3. 41S-Dominic Scelzi [3][$2,500]; 4. 20-Cory Eliason [5][$2,200]; 5. 121-Justin Sanders [4][$2,100]; 6. 83JR-Jonathan Allard [11][$2,000]; 7. 22-Shane Golobic [14][$1,800]; 8. 5-David Gravel [24][$1,600]; 9. 15-Donny Schatz [25][$900]; 10. 93-Sheldon Haudenschild [16][$1,300]; 11. 35-Jamie Veal [18][$1,200]; 12. 22M-Mason Moore [13][$1,100]; 13. 49-Brad Sweet [21][$1,000]; 14. 1S-Logan Schuchart [26][$100]; 15. 3C-DJ Netto [15][$600]; 16. O-Bud Kaeding [9][$600]; 17. 37-Mitchell Faccinto [20][$600]; 18. 9-Daryn Pittman [7][$600]; 19. 7S-Jason Sides [17][$600]; 20. 11K-Kraig Kinser [19][$600]; 21. 17-Jac Haudenschild [6][$600]; 22. 4-Paul McMahan [8][$600]; 23. 24-Rico Abreu [12][$600]; 24. 1A-Jacob Allen [10][$600]; 25. 29-Willie Croft [22][$600]; 26. 92-Andy Forsberg [23][$600] Lap Leaders: Kyle Hirst 1-6, 12-30; Shane Stewart 7-11; KSE Hard Charger Award: 5-David Gravel[+16]