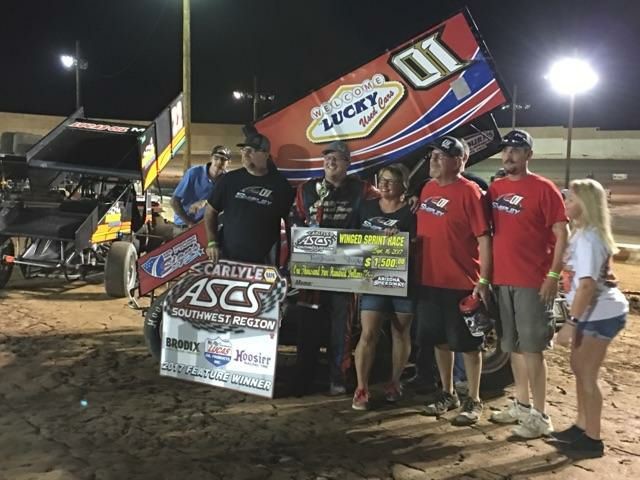 From Bryan Hulbert
QUEEN CREEK, Ariz. (September 16, 2017) Taking on Arizona Speedway on Saturday night, Josh Shipley finally led the most important lap of all to pick up his first career victory with the ASCS Southwest Region.
Bringing the overall list of winners to 47, Shipley is the third, first-time winner on the 2017 season. Joining Kevin Thomas, Jr. and J.T. Imperial, all three drivers earned their first ASCS Southwest score at the Arizona Speedway.
On point from start to finish, Shipley was trailed to the checkered flag by Jesse Baker with Billy Chester, Matt Rossi, and James Aragon to complete the top-five. Rick Ziehl sixth was followed by Colton Hardy from the 12th starting spot. Lance Norick, Jeff Lowery, and Michael Curtis filled out the top-ten.
Heat Race winners picked up extra cash from Ron Gilson Photography, with the wins going to Josh Shipley, Billy Chester, and Jesse Baker.
The ASCS Southwest Region is back at Arizona Speedway on October 7. For continued updates on the American Sprint Car Series, from the National Tour to any of the seven regional tours that make up the over 150 races across the ASCS Nation in 2017, log onto http://www.ascsracing.com.
Race Results:
ASCS Southwest Region
Arizona Speedway – Queen Creek, Ariz.
Saturday, September 16, 2017
Car Count: 19
Heat 1 (8 Laps): 1. 01-Josh Shipley, [1]; 2. 20Z-Rick Ziehl, [4]; 3. 7-Mark Clark, [2]; 4. 99-James Aragon, [5]; 5. 45-Jeff Lowery, [3]; 6. 5A-Michael Curtis, [6]
Heat 2 (8 Laps): 1. 2B-Billy Chester III, [4]; 2. 0J-Jeremy McCune, [6]; 3. 115-Nick Parker, [1]; 4. 90-Lance Norick, [5]; 5. 8A-Jordan Stetson, [3]; 6. 71H-Corey Hurley, [7]; 7. 77-Damon McCune, [2]
Heat 3 (8 Laps): 1. 22B-Jesse Baker, [1]; 2. 8-Derrik Ortega, [2]; 3. 02-Matt Rossi, [3]; 4. 91-Casey Buckman, [4]; 5. 74-Colton Hardy, [6]; 6. 29-Darrell Sickles, [5]
A Feature (25 Laps): 1. 01-Josh Shipley, [1]; 2. 22B-Jesse Baker, [4]; 3. 2B-Billy Chester III, [6]; 4. 02-Matt Rossi, [5]; 5. 99-James Aragon, [8]; 6. 20Z-Rick Ziehl, [7]; 7. 74-Colton Hardy, [12]; 8. 90-Lance Norick, [9]; 9. 45-Jeff Lowery, [13]; 10. 5A-Michael Curtis, [15]; 11. 91-Casey Buckman, [11]; 12. 8A-Jordan Stetson, [14]; 13. 29-Darrell Sickles, [16]; 14. 115-Nick Parker, [10]; 15. 71H-Corey Hurley, [17]; 16. 7-Mark Clark, [2]; 17. 8-Derrik Ortega, [3]; 18. 77-Damon McCune, [18]; 19. 0J-Jeremy McCune, [19]