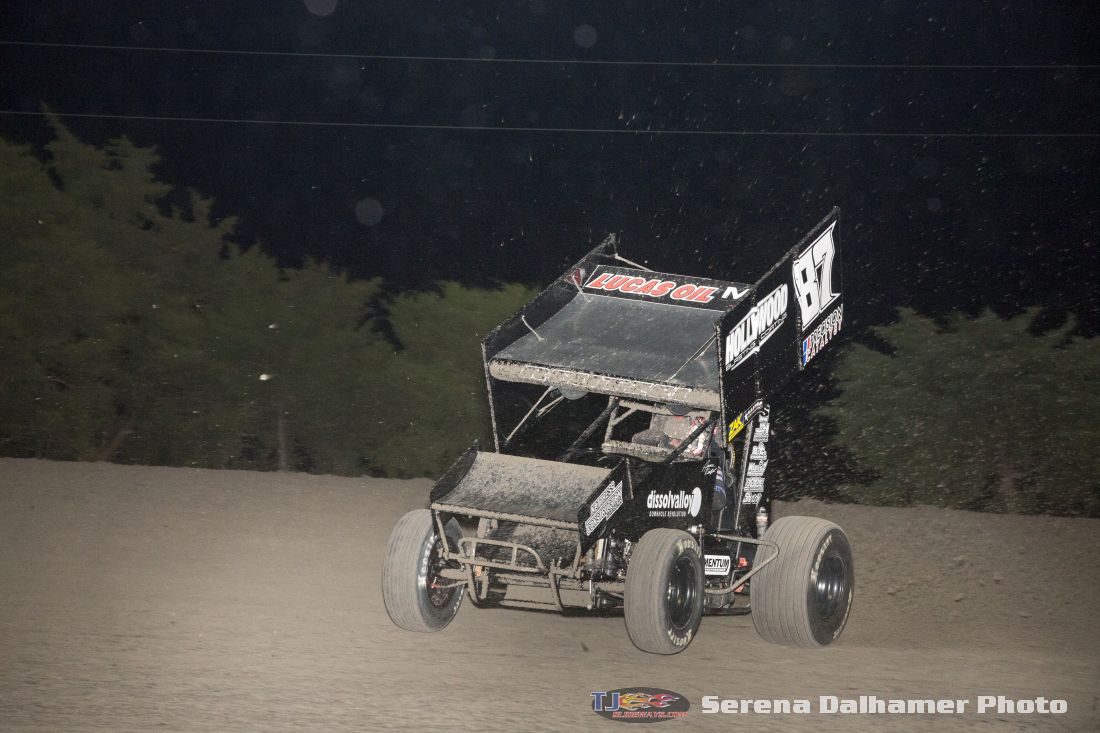 From Lonnie Wheatley
CLUTE, Texas (November 22, 2017) – Aaron Reutzel and the Dissolvalloy Downhole Revolution/BC Fundz No. 87 Triple-X Sprint Car team put the finishing touches on yet another banner season by posting a set of podium finishes in the recent Lucas Oil ASCS National Tour season finale at Arizona's Cocopah Speedway on November 9-11.
After finishes of second and third in the Thursday and Friday preliminary features, Reutzel narrowly missed out on winning the season finale near Yuma for the second year in a row when a nozzle line limited him to a runner-up finish to close out the 2017 campaign.
The robust finish to the season secured a second-place finish in Lucas Oil ASCS National Tour points with Reutzel missing a second series title by just one position.
The three night Cocopah tilt started with strong heat and qualifying race runs to grid Reutzel fourth aboard the Wren Motorsports/Momentum Racing Suspensions entry for the Thursday night feature event.
"We had a really good run at the start and I thought that I could slide for second," Reutzel recalls. "I got over the curb and packed the right rear with mud."
That packed right rear proved problematic.
"The first half of the race it was shaking really bad," Reutzel says. "I was debating whether or not to pull off, I was just hanging on."
Reutzel's saving grace proved to be an open red flag period midway through the race that allowed the crew to remove the mud from the right rear wheel.
After slipping back to sixth with twelve laps remaining, Reutzel took off on the restart.
"We drove to third with no problem and then had to settle for second," Reutzel says. "We were just a lap or two away from taking the lead, we were so much faster."
Reutzel opened Friday's card with a heat race win and then a fourth place qualifying race finish aboard the Nattress Construction/Wings Unlimited machine to grid the feature in sixth.
"We weren't as good," Reutzel relates. "It took a while to get going, we just didn't run as well."
Even though not running as well, Reutzel still worked his way forward to notch a third-place finish for the night and lock into the Saturday finale.
"We were able to get up to third," Reutzel says. "Once it widened out, we got going better."
Reutzel's strong preliminary efforts put him in the second starting position for the Saturday night, November 11, feature event aboard the Wright Way Logistics/Walker Performance entry.
"I didn't get the jump I wanted," Reutzel relates. "I just had to try to keep up with Seth (Bergman)."
Reutzel kept Bergman in sight and closed the gap as the race progressed.
"Seth got through traffic really well, so I really had to step it up," Reutzel says.
Reutzel did just that, stepping it up and ultimately battling past Bergman for the point with a potential eighth win of the season within reach.
Lady luck intervened in the final handful of laps though, relegating Reutzel to a runner-up finish.
"With four laps to go, a nozzle line fell off," Reutzel describes of the final laps of the season. "The motor wouldn't run. Seth got back by and we were lucky to hold on for second."
With the 2017 campaign in the books, Reutzel and crew are already busily preparing for the 2018 season with plans to be announced soon.