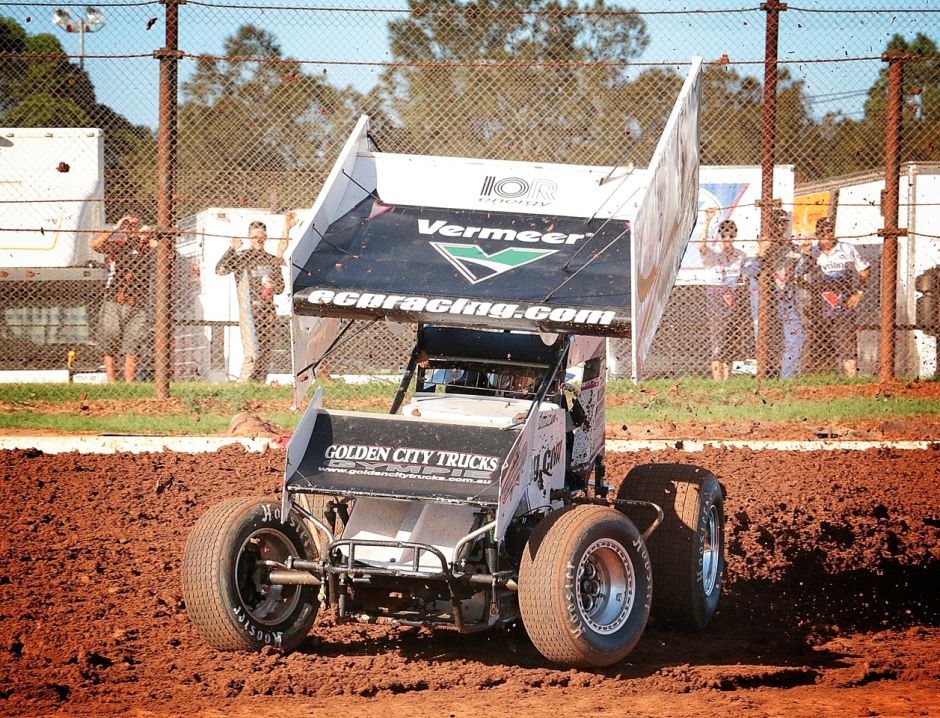 AVALON, Vic. (January 17, 2018) – Robbie Farr capitalized on James McFadden's misfortune to start off the biggest week for sprint car racing in Australia in victory lane winning the President's Cup Wednesday night at Avalon Raceway.
McFadden raced to the lead and was dominating the feature event before tangling with a lapped car, handing the lead to far for a green/white/checkered finish. Farr was immediately under siege by American driver Terry McCarl, who took the lead on the restart. Farr would not be denied though passing McCarl back for the lead before driving away to the victory.
McCarl held the runner up spot at the finish with Corey McCullagh, Brooke Tatnell, and Jamie Veal rounded out the top five.
President's Cup
Avalon Raceway
Lara, VIC
Wednesday January 17, 2018
Winged 410 Sprint Cars
Qualifying:
1. V21 – Nick Lacey, 12.215
2. V3 – Shaun Dobson, 12.217
3. V90 – Corey McCullagh, 12.244
4. USA24 – Terry McCarl, 12.255
5. V88 – David Murcott, 12.259
6. A1 – Kerry Madsen, 12.304
7. Q7 – Robbie Farr, 12.323
8. V37 – Grant Anderson, 12.425
9. USA11 – Buddy Kofoid, 12.475
10. V77 – Brayden Parr, 12.489
11. N99 – Carson Macedo, 12.504
12. V98 – Peter Doukas, 12.524
13. W25 – Taylor Millings, 12.535
14. W17 – James McFadden, 12.572
15. V60 – Jordyn Charge, 12.576
16. W2 – Jamie Veal, 12.595
17. W41 – Darren Mollenoyux, 12.596
18. V42 – Jye Okeeffe, 12.599
19. T7 – Tim Hutchins, 12.617
20. N53 – Jessie Attard, 12.632
21. N78 – Andrew Wright, 12.633
22. S13 – Brock Hallett, 12.655
23. VA6 – Tim Keading, 12.656
24. V67 – Luke Walker, 12.670
25. V68 – Brett Milburn, 12.700
26. V72 – Jacob Smith, 12.719
27. N92 – Sam Walsh, 12.756
28. USA29 – Austin McCarl, 12.776
29. S98 – Ryan Jones, 12.781
30. V45 – Mike Van Bremen, 12.817
31. V55 – Brooke Tatnell, 12.825
32. W14 – Jason Pryde, 12.830
33. V25 – Jack Lee, 12.843
34. V17 – Dennis Jones, 12.853
35. V73 – Charles Hunter, 12.859
36. S20 – Glen Sutherland, 12.876
37. Q78 – Andrew Corbert, 12.894
38. Q37 – Jeff Ensign, 12.912
39. W96 – Aldo De Paoli, 12.921
40. V28 – Andrew Hughes, 13.094
41. V38 – Jarrod Woolstencroft, 13.115
42. W12 – Daniel Harding, 13.122
43. N48 – Jackson Delemont, 13.199
44. VA81 – Rhys Baxter, 13.281
45. VA12 – Mark Carlin, 13.283
46. V2 – Domain Ramsay, 13.477
47. USA63 – Lawrance Kirkham, 13.506
48. V32 – Stephen Spark, 13.568
Heat Race #1:
1. USA11 – Buddy Kofoid
2. W25 – Taylor Millings
3. V88 – David Murcott
4. V37 – Grant Anderson
5. V3 – Shaun Dobson
6. N53 – Jessie Attard
7. V21 – Nick Lacey
8. N78 – Andrew Wright
9. V38 – Jarrod Woolstencroft
10. Q78 – Andrew Corbert
Heat Race #2:
1. V25 – Jack Lee
2. N99 – Carson Macedo
3. A1 – Kerry Madsen
4. USA24 – Terry McCarl
5. V77 – Brayden Parr
6. W14 – Jason Pryde
7. V73 – Charles Hunter
8. N48 – Jackson Delemont
Heat Race #3:
1. VA6 – Tim Keading
2. S13 – Brock Hallett
3. W41 – Darren Mollenoyux
4. V90 – Corey McCullagh
5. V98 – Peter Doukas
6. V60 – Jordyn Charge
7. S98 – Ryan Jones
8. USA29 – Austin McCarl
9. VA81 – Rhys Baxter
10. V28 – Andrew Hughes
Heat Race #4:
1. V55 – Brooke Tatnell
2. V17 – Dennis Jones
3. Q7 – Robbie Farr
4. N92 – Sam Walsh
5. V45 – Mike Van Bremen
6. V67 – Luke Walker
7. W96 – Aldo De Paoli
8. Q37 – Jeff Ensign
9. V2 – Domain Ramsay
Heat Race #5:
1. V72 – Jacob Smith
2. W17 – James McFadden
3. V68 – Brett Milburn
4. V42 – Jye Okeeffe
5. W2 – Jamie Veal
6. T7 – Tim Hutchins
7. W12 – Daniel Harding
8. S20 – Glen Sutherland
9. VA12 – Mark Carlin
10. USA63 – Lawrance Kirkham
C-Main:
1. T7 – Tim Hutchins
2. S20 – Glen Sutherland
3. W96 – Aldo De Paoli
4. N48 – Jackson Delemont
5. V28 – Andrew Hughes
6. V38 – Jarrod Woolstencroft
7. VA12 – Mark Carlin
8. N53 – Jessie Attard
9. Q37 – Jeff Ensign
10. USA29 – Austin McCarl
11. V73 – Charles Hunter
12. VA81 – Rhys Baxter
13. W12 – Daniel Harding
B-Main:
1. S13 – Brock Hallett
2. V21 – Nick Lacey
3. V37 – Grant Anderson
4. VA6 – Tim Keading
5. V77 – Brayden Parr
6. V67 – Luke Walker
7. V68 – Brett Milburn
8. V25 – Jack Lee
9. S20 – Glen Sutherland
10. W25 – Taylor Millings
11. V60 – Jordyn Charge
12. V17 – Dennis Jones
13. T7 – Tim Hutchins
14. N92 – Sam Walsh
15. V45 – Mike Van Bremen
16. V72 – Jacob Smith
A-Main:
1. Q7 – Robbie Farr
2. USA24 – Terry McCarl
3. V90 – Corey McCullagh
4. V55 – Brooke Tatnell
5. W2 – Jamie Veal
6. A1 – Kerry Madsen
7. V3 – Shaun Dobson
8. V37 – Grant Anderson
9. VA6 – Tim Keading
10. V88 – David Murcott
11. S13 – Brock Hallett
12. V98 – Peter Doukas
13. USA11 – Buddy Kofoid
14. W17 – James McFadden
15. W41 – Darren Mollenoyux
16. N99 – Carson Macedo
17. V42 – Jye Okeeffe
18. V21 – Nick Lacey