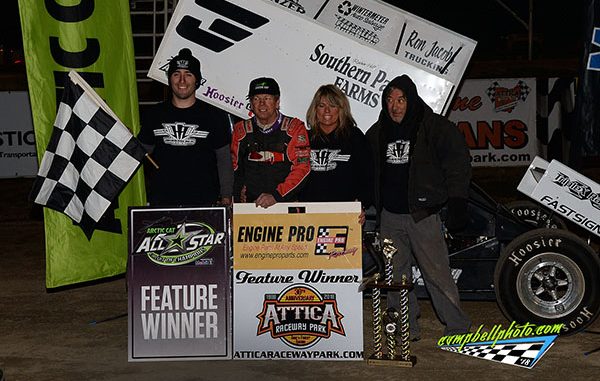 By T.J. Buffenbarger
ATTICA, Ohio (April 20, 2018) – Jac Haudenschild from Wooster, Ohio helped make the first Arctic Cat All Star Circuit of Champions presented by Mobil 1 event of the season in his home state a memorable one in route to winning the feature event Friday night at Attica Raceway Park. Haudenschild spent most of the 40-lap main event swapping the lead back and forth with Carson Macedo before holding off a late race challenge by Lee Jacobs for the victory.
Haudenschild led fellow front row starter Max Stambaugh and Macedo the first 15 laps. Macedo was able to pass Stambaugh during a restart for second on lap 15. Macedo immediately started to put pressure on Haudenschild for the lead.
Macedo took the lead using the top of the race track on lap 17. Haudenschild and Macedo traded the lead back and forth through slower traffic. Just as Lee Jacobs, Stambaugh, and Craig Mintz were closing in on the lead duo the caution appeared for Macedo slowing off turn two with a flat right rear tire.
Over the final laps Haudenschild was pressured by fellow Ohio native Lee Jacobs. Coming to the white flag Jacobs in position to challenge, but Haudenschild was able to run a perfect final lap to thwart Jacobs bid for the victory. Mintz, Stambaugh, and defending All Star champion Chad Kemenah rounded out the top five.
Paul Weaver won the 305 sprint car feature.
Arctic Cat All Star Circuit of Champions presented by Mobil 1
Attica Raceway Park
Attica, OH
Friday April 20, 2018
Qualifying Group #1 (2 Laps): 1. 49X-Tim Shaffer, 12.717; 2. 11N-Craig Mintz, 12.721; 3. 97-Broc Martin, 12.853; 4. 17-Caleb Helms, 12.906; 5. 5T-Travis Philo, 12.962; 6. 22M-Dan McCarron, 13.230; 7. 1080-Jordan Mackison, 13.247; 8. 45-Trevor Baker, 13.465; 9. 7J-Joe Swanson, 13.571; 10. 23-Chase Baker, 13.790
Qualifying Group #2 (2 Laps): 1. 87-Aaron Reutzel, 12.555; 2. 3G-Carson Macedo, 12.559; 3. 22C-Cole Duncan, 12.749; 4. 3-Jac Haudenschild, 12.900; 5. 4L-Cap Henry, 13.003; 6. 5R-Byron Reed, 13.010; 7. 8J-Jess Stiger, 13.046; 8. 16-Chris Andrews, 13.195; 9. 71-Ayrton Olsen, 13.589; 10. 27B-Boston Mead, 13.898
Qualifying Group #3 (2 Laps): 1. 35S-Stuart Brubaker, 12.722; 2. 81-Lee Jacobs, 12.836; 3. 45L-Brian Lay, 12.994; 4. 22B-Ryan Broughton, 13.031; 5. 22-Brandon Spithaler, 13.059; 6. 98-Carl Bowser, 13.247; 7. 68G-Tyler Gunn, 13.250; 8. 20I-Kelsey Ivy, 14.445; 9. 11-Max McGhee, 01:39.000; 10. 15H-Sam Hafertepe Jr,
Qualifying Group #4 (2 Laps): 1. 39-Spencer Bayston, 12.525; 2. 4-Parker Price-Miller, 12.793; 3. 10H-Chad Kemenah, 12.924; 4. 3J-Trey Jacobs, 13.018; 5. 7-Shawn Valenti, 13.176; 6. 8M-T.J. Michael, 13.218; 7. 7K-Cale Conley, 13.255; 8. 9M-Jordan Ryan, 13.284; 9. 17H-Jared Horstman, 13.397
Qualifying Group #5 (2 Laps): 1. 5M-Max Stambaugh, 12.667; 2. 13-Bryan Sebetto, 12.965; 3. 9Z-Duane Zablocki, 13.052; 4. 70-Dave Blaney, 13.191; 5. 23X-D.J. Foos, 13.267; 6. 51-John Garvin, 13.466; 7. 5X-Justin Peck, 13.669; 8. 95-Hunter Mackison, 13.765; 9. 35-Tyler Esh, 13.799
Heat Race #1 (8 Laps): 1. 17-Caleb Helms, [1]; 2. 11N-Craig Mintz, [3]; 3. 97-Broc Martin, [2]; 4. 49X-Tim Shaffer, [4]; 5. 5T-Travis Philo, [5]; 6. 22M-Dan McCarron, [6]; 7. 45-Trevor Baker, [8]; 8. 1080-Jordan Mackison, [7]; 9. 23-Chase Baker, [10]; 10. 7J-Joe Swanson, [9]
Heat Race #2 (8 Laps): 1. 3-Jac Haudenschild, [1]; 2. 87-Aaron Reutzel, [4]; 3. 22C-Cole Duncan, [2]; 4. 3G-Carson Macedo, [3]; 5. 5R-Byron Reed, [6]; 6. 16-Chris Andrews, [8]; 7. 8J-Jess Stiger, [7]; 8. 71-Ayrton Olsen, [9]; 9. 27B-Boston Mead, [10]; 10. 4L-Cap Henry, [5]
Heat Race #3 (8 Laps): 1. 45L-Brian Lay, [2]; 2. 81-Lee Jacobs, [3]; 3. 22B-Ryan Broughton, [1]; 4. 35S-Stuart Brubaker, [4]; 5. 98-Carl Bowser, [6]; 6. 22-Brandon Spithaler, [5]; 7. 68G-Tyler Gunn, [7]; 8. 11-Max McGhee, [9]; 9. 20I-Kelsey Ivy, [8]
Heat Race #4 (8 Laps): 1. 10H-Chad Kemenah, [2]; 2. 39-Spencer Bayston, [4]; 3. 4-Parker Price-Miller, [3]; 4. 3J-Trey Jacobs, [1]; 5. 7-Shawn Valenti, [5]; 6. 7K-Cale Conley, [7]; 7. 17H-Jared Horstman, [9]; 8. 8M-T.J. Michael, [6]; 9. 9M-Jordan Ryan, [8]
Heat Race #5 (8 Laps): 1. 9Z-Duane Zablocki, [2]; 2. 70-Dave Blaney, [1]; 3. 13-Paul McMahan, [3]; 4. 13-Bryan Sebetto, [3]; 5. 5M-Max Stambaugh, [4]; 6. 23X-D.J. Foos, [5]; 7. 51-John Garvin, [6]; 8. 95-Hunter Mackison, [8]; 9. 35-Tyler Esh, [9]; 10. 5X-Justin Peck, [7]
Dash (4 Laps): 1. 3-Jac Haudenschild, [2]; 2. 81-Lee Jacobs, [1]; 3. 39-Spencer Bayston, [3]; 4. 87-Aaron Reutzel, [5]; 5. 10H-Chad Kemenah, [4]; 6. 9Z-Duane Zablocki, [6]
Dash 2 (4 Laps): 1. 5M-Max Stambaugh, [1]; 2. 3G-Carson Macedo, [4]; 3. 11N-Craig Mintz, [3]; 4. 17-Caleb Helms, [2]; 5. 70-Dave Blaney, [5]
C-Main (10 Laps): 1. 8M-T.J. Michael, [1]; 2. 5X-Justin Peck, [7]; 3. 27B-Boston Mead, [9]; 4. 35-Tyler Esh, [4]; 5. 11-Max McGhee, [5]; 6. 23-Chase Baker, [8]; 7. 20I-Kelsey Ivy, [10]; 8. 71-Ayrton Olsen, [3]; 9. 1080-Jordan Mackison, [2]; 10. 7J-Joe Swanson, [11]; 11. 9M-Jordan Ryan, [6]
B-Main (12 Laps): 1. 5T-Travis Philo, [1]; 2. 5R-Byron Reed, [3]; 3. 7-Shawn Valenti, [4]; 4. 98-Carl Bowser, [5]; 5. 16-Chris Andrews, [8]; 6. 4L-Cap Henry, [2]; 7. 51-John Garvin, [11]; 8. 17H-Jared Horstman, [14]; 9. 8M-T.J. Michael, [17]; 10. 68G-Tyler Gunn, [13]; 11. 5X-Justin Peck, [18]; 12. 22-Brandon Spithaler, [7]; 13. 45-Trevor Baker, [15]; 14. 7K-Cale Conley, [10]; 15. 8J-Jess Stiger, [12]; 16. 23X-D.J. Foos, [6]; 17. 22M-Dan McCarron, [9]; 18. 95-Hunter Mackison, [16]
A-Main (30 Laps): 1. 3-Jac Haudenschild, [1]; 2. 81-Lee Jacobs, [3]; 3. 11N-Craig Mintz, [6]; 4. 5M-Max Stambaugh, [2]; 5. 10H-Chad Kemenah, [9]; 6. 22C-Cole Duncan, [12]; 7. 87-Aaron Reutzel, [7]; 8. 17-Caleb Helms, [8]; 9. 70-Dave Blaney, [10]; 10. 4-Parker Price-Miller, [13]; 11. 97-Broc Martin, [14]; 12. 39-Spencer Bayston, [5]; 13. 3J-Trey Jacobs, [19]; 14. 13-Bryan Sebetto, [15]; 15. 13-Paul McMahan, [15]; 16. 7K-Cale Conley, [24]; 17. 49X-Tim Shaffer, [17]; 18. 5R-Byron Reed, [21]; 19. 5T-Travis Philo, [20]; 20. 35S-Stuart Brubaker, [18]; 21. 98-Carl Bowser, [23]; 22. 51-John Garvin, [25]; 23. 3G-Carson Macedo, [4]; 24. 7-Shawn Valenti, [22]; 25. 9Z-Duane Zablocki, [11]; 26. 22B-Ryan Broughton, [16]; 27. 16-Chris Andrews, [26]
Fremont Fence 305 Sprints –
Heat 1 – (8 Laps)
1. 11G-Luke Griffith[1] ; 2. 8-Bobby Clark[2] ; 3. 4*-Tyler Street[3] ; 4. 36-Seth Schneider[4] ; 5. 19R-Steve Rando[10] ; 6. 9R-Dustin Rall[6] ; 7. 97-Kyle Peters[7] ; 8. 47-Matt Lucius[5] ; 9. 25-Jason Keckler[9] ; 10. 13-Jeremy Duposki[8]
Heat 2 – (8 Laps)
1. 77I-John Ivy[4] ; 2. 12-Kyle Capodice[5] ; 3. 1W-Paul Weaver[6] ; 4. 2F-Matt Foos[9] ; 5. 2-Ricky Peterson[2] ; 6. 7M-Brandon Moore[7] ; 7. 75-Jerry Dahms[1] ; 8. 20B-Cody Bova[8] ; 9. 09-Justin Adams[3]
A-Main 1 – (25 Laps)
1. 1W-Paul Weaver[1] ; 2. 2F-Matt Foos[3] ; 3. 77I-John Ivy[4] ; 4. 12-Kyle Capodice[7] ; 5. 8-Bobby Clark[5] ; 6. 11G-Luke Griffith[2] ; 7. 4*-Tyler Street[6] ; 8. 36-Seth Schneider[8] ; 9. 9R-Dustin Rall[11] ; 10. 7M-Brandon Moore[12] ; 11. 47-Matt Lucius[15] ; 12. 19R-Steve Rando[9] ; 13. 2-Ricky Peterson[10] ; 14. 25-Jason Keckler[17] ; 15. 97-Kyle Peters[13] ; 16. 13-Jeremy Duposki[19] ; 17. 09-Justin Adams[18] ; 18. 20B-Cody Bova[16] ; 19. 75-Jerry Dahms[14]
Hard Charger: 47-Matt Lucius +4