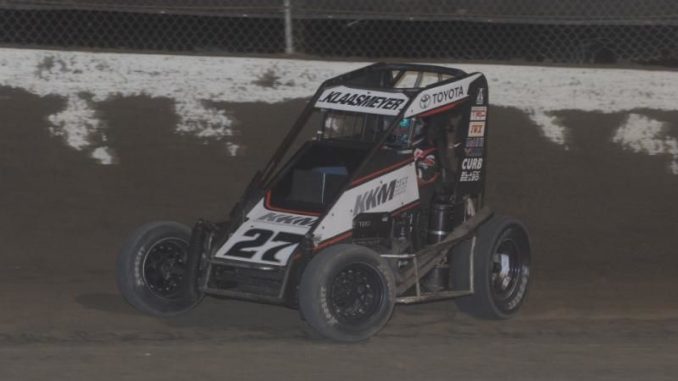 From POWRi
PEVELY, Mo. (April 22, 2018) — Fresh off a career-first victory at Belle-Clair Speedway the night before, Tucker Klaasmeyer stole the show from Keith Kunz/Curb-Agajanian Motorsports teammate, Logan Seavey, to go two-in-a-row with the POWRi Lucas Oil National Midget League. Starting mid-pack in the 12th position, Klaasmeyer had his work cut out for him.
In the opening laps, Zach Daum paced the field from the second position over Logan Seavey as the track stayed hammer-down. As the track widened out and became abrasive, Clauson-Marshall driver Zeb Wise took over the top point on lap 14, just before the halfway mark.
19 laps in the yellow was displayed as Wise lost a left rear tire while the track began to show signs of rubber. Wise was able to get a new tire bolted on during the yellow and re-fired at the tail.
Inheriting the lead, Logan Seavey held the top position while Klaasmeyer had only moved into the top five to this point. Seavey held the lead until lap 25 when Clauson-Marshal driver Tyler Courtney overcame him for the top position.
With three laps to go, Courtney suffered a flat tire, relinquishing the lead back to Seavey. In the final laps, Klaasmeyer capitalized on Seavey's misfortune as the #67 machine appeared to be in the process of having a tire go down.
Seavey was able to hang on to get a top three, but only after Brady Bacon was able to sneak into the second position. Zeb Wise rallied to the fourth position, while Ryan Robinson rounded out the top five.
"I've been waiting for a streak for a long time," stated Tucker Klaasmeyer. "One was good, two is great. I knew coming here this place owed me something. I just tried cooling the tires up top under the yellows. There was still good moisture down low with rubber right above it, so I figured if I stayed in the wet moisture, maybe the tires would last a little longer. I just want to win races, that's all it boils down to and we're off to a good start. Hopefully we keep it going."
POWRi National Midget League
Federated Auto Parts Raceway at I-55
Pevely, MO
Saturday April 21, 2018
Feature:
1. 27 – Tucker Klaasmeyer
2. 76m – Brady Bacon
3. 67 – Logan Seavey
4. 39bc – Zeb Wise
5. 71 – Ryan Robinson
6. 25 – Jerry Coons
7. 71k – Tanner Carrick
8. 9k – Kyle Schuett
9. 79 – Blake Carrick
10. 76e – Kyle Craker
11. 32 – Trey Marcham
12. 67k – Holly Shelton
13. 51b – Joe B Miller
14. 77 – Payton Pierce
15. 7bc – Tyler Courtney
16. 28m – Ace Mccarthy
17. 7f – Andrew Felker
18. 5d – Zach Daum
19. 14jr – Holley Hollan
20. 21 – Rico Abreu
21. 21ks – Karter Sarff
22. 1k – Brayton Lynch