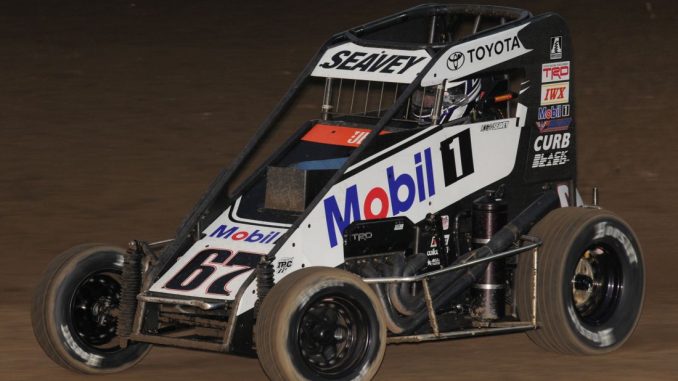 From POWRi
JACKSONVILLE, Il. (June 8, 2018) — At the end of the POWRi Lucas Oil National Midget League show at Jacksonville Speedway, Logan Seavey stood victorious for his fourth career win with the League. Seavey's victory came in the third night of the Sixth Annual POWRi Illinois SPEED Week. Tanner Thorson, the SPEED Week point leader heading into Jacksonville Speedway dropped out with mechanical woes in the feature event, deflating any chances he had of going three-in-a-row.
Starting ninth on the grid, Seavey went to work at the drop of the green flag while his fellow Keith Kunz/Curb-Agajanian Motorsports teammate Tucker Klaasmeyer jockeyed for the lead with Tanner Thorson who led the opening lap. Taking control on lap two, Klaasmeyer commanded an impressive lead as Seavey worked through the field. By the red on lap ten for a gaggle of cars, including eventual second place finisher Ryan Robinson, Klaasmeyer had already approached traffic.
On the restart, Thorson fell off pace and was forced to the work area, but the issues the team suffered were enough to relegate them to the pit area for the rest of the event, ending his bid. Coming back to green, Klaasmeyer distanced himself from the field, but on lap 16 the red was displayed for Terry Babb who flipped after making contact with Brayton Lynch who jumped the cushion in turns three and four. Cannon McIntosh also was collected.
Returning to racing, Seavey sat in third behind Klaasmeyer and Tanner Carrick. After catching Klaasmeyer, Seavey engaged Klaasmeyer in series of slide jobs, but coming out of four on lap 22, neither driver was willing to give an inch, resulting in contact and a flat right rear for Klaasmeyer after brushing the outside wall.
Coming to the restart, Seavey held the top position to the checkered with Ryan Robinson and Zach Daum in tow. Joe B. Miller took fourth, with Karter Sarff in fifth.
"Our car was really, really good there," stated Logan Seavey. "Never like getting into our teammate there, but I felt like I did everything I could there. I'll watch the video, but I felt like he probably should have crossed me over. If it's my fault, I take full responsibility. Overall, just happy get these KKM cars back in victory lane."
"We were really good there," said Ryan Robinson. "It kind of sucked turning over in the first few laps, but I knew we had a really fast car and I knew we could get right back up there."
"I guess we're getting a little closer," commented Zach Daum. "It was just fun to watch these idiots try to take each other out there."
POWRi National Midget League
Jacksonville Speedway
Jacksonville, IL
Friday June 8, 2018
Speedway Motors Heat Race Winners: Heat 1: 71k – Tanner Carrick, Heat 2: 27 – Tucker Klaasmeyer, Heat 3: 71 – Ryan Robinson, Heat 4: 3c – Tanner Thorson, Heat 5: 9k – Kyle Schuett
Toyota Semi Feature Winners: 72 – Sam Johnson, 22 – Andy Malpocker
Mesilla Valley Transportation Feature Winner: 67 – Logan Seavey
Powri Lucas Oil National Midget League Feature Results (30 Laps): 1. 67 – Logan Seavey 2. 71 – Ryan Robinson 3. 5d – Zach Daum 4. 51b – Joe B Miller 5. 21ks – Karter Sarff 6. 71k – Tanner Carrick 7. 9k – Kyle Schuett 8. 79 – Blake Carrick 9. 21t – Tyler Seavey 10. 32 -Trey Marcham 11. 22 – Andy Malpocker 12. 103 – Broc Hunnell 13. 27 – Tucker Klaasmeyer 14. 1k – Brayton Lynch 15. 37 – Terry Babb 16. 08 – Cannon Mcintosh 17. 91 – Shane Cockrum 18. 91t – Tyler Thomas 19. 3c – Tanner Thorson 20. 72 – Sam Johnson 21. 7 – Austin Brown 22. 2 – Ryan Hall 23. 3n – Jake Neuman