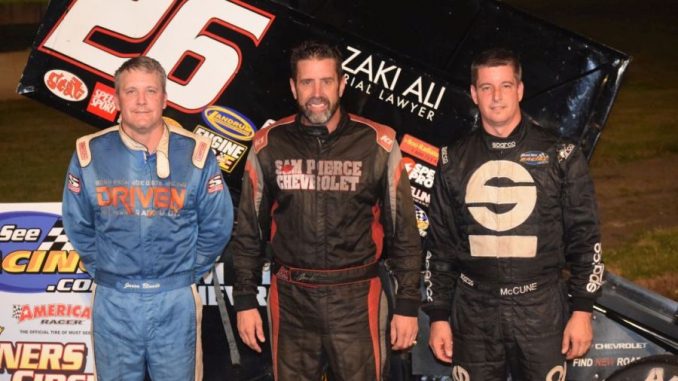 From Jacob Seelman
OVID, Mich. (June 30, 2018) – Aaron Pierce ended Jimmy McCune's quest for a double hat trick at Owosso Speedway with a come-from-behind victory in Saturday night's Must See Racing Sprint Car Series Firecracker 50 at the three-eighths-mile oval.
McCune was gunning for his third straight Firecracker 50 win and his third straight Must See Racing feature win at Owosso and took the lead at the halfway point of the 50-lap main, but Pierce was simply not to be denied, despite starting 10th after the inversion and having to come from the rear of the field due to a deflating right rear tire during an open red flag period with 10 laps complete.
Through it all, Pierce rallied back to end a lengthy Must See Racing winless drought, passing McCune with an inside sweep down the backstretch and leading the final three circuits for the win.
"I knew how good all the cars I was going through and passing were, so I knew this thing was bad fast. I moved the wing just a little bit and she absolutely took off," said Pierce in victory lane. "I got by Blonde with 15 to go … and I was driving my guts out at that point just to have a shot at it. When I could see Jimmy and that I was catching him, I knew it was game on.
"He was loose, I used that to my advantage and it all worked out. I wasn't sure if our night might not be over after that flat tire," Pierce added. "Somehow it all worked out and we came all the way back through there. What an awesome night."
A rash of caution flags in the first 10 laps led to a stoppage for refueling, with Anthony McCune having led every lap up to that point. However, his car began to fade as a long run finally broke out after lap 12, and he finally ceded the top spot to his uncle Jimmy as the field came by to complete the halfway lap.
From there, Jimmy McCune opened up a margin of three seconds before traffic and an ill-handling race car began to be his undoing. Pierce finally took second from Jason Blonde with 15 to go nd quickly carved a 2.5-second deficit to the three-time defending series champion into mincemeat.
While the elder McCune held on to second at the finish, he noted that lack of grip in his rear tires was much of his downfall.
"We just got loose and started spinning the tires," lamented McCune. "We wore them off and here, there's nothing you can do once that happens but hang on. Fifty laps around here runs the wheels off these things. I'm not sure how we got beat, but we missed the setup and ran second. It is what it is."
Jason Blonde completed the podium and shared similar thoughts after the race.
"Right from the start tonight, this track was greasy and we were slipping and sliding, but that's what makes it fun," said Blonde. "It made for a lot of passing tonight … even if it was a long one. We got to halfway and I was thinking, 'We're only halfway? Holy cow, I'm gonna die out here,'" he laughed.
"The tires held up, for dirt-tracking it the last 30 laps anyways. It's not what we came here to achieve, but it's a good night for us as a team and I knew I had to get moving, no matter what. Just not quite enough tonight."
Brian Gerster came home fourth and NASCAR modified ace Bobby Santos, who finished second in the USAC Silver Crown race at Madison Int'l Speedway on Friday night, was fifth.
Anthony McCune faded to sixth at the checkered flag, the final car on the lead lap.
Must See Racing
Owosso Speedway
Owosso, MI
Saturday June 30, 2018
Feature:
1. 26P – Aaron Pierce
2. 88 – Jimmy McCune
3. 42 – Jason Blonde
4. 50m – Brian Gerster
5. 22a – Bobby Santos
6. 8 – Anthony McCune
7. 26B – Jeff Bloom
8. 97 – Ike Beasley
9. 7 – Tom Jewell
10. 9s – Charlie Schultz
11. 45 – Ryan Gillenwater
12. 88n – Frank Neill
13. 8a – Adam Biltz
14. 0 – Doug Deitsch
15. 90 – Tom Nichols
16. 72s – Joe Speakman
17. 81 – Joey Schmidt
18. 11 – Tom Geren
19. 44a – Teddy Alberts
20. 75c – Jerry Caryer
21. 00 – Joe Irwin