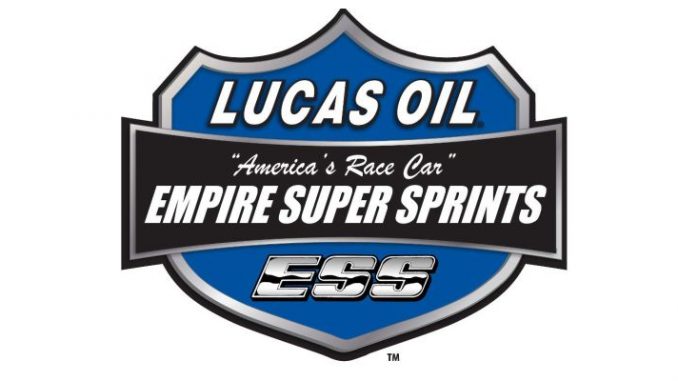 By Dean Reynolds
SYRACUSE, NY – It's been a few weeks since the very successful CNY Speedweek so the stars and cars from the 35th Anniversary Lucas Oil Empire Super Sprints (ESS) are chomping at the bit to get back to the track. Their quest will be answered this Saturday with a return visit to the Land of Legends Raceway.
The 25 Lap Mach 1 Chassis A-Main will pay the winner $2,000 to start with $300 being set aside to take the green. The event not only will pay points for the overall Lucas Oil Championship but also the NAPA Auto Parts US Tour and the E&V Energy I90/I81 Series.
Jason Barney has a slim lead over Coleman Gulick coming into Saturday's event. Behind them is a very close fight in the points with Steve Poirier over Matt Tanner, Paulie Colagiovanni, Matt Billings, Mike Mahaney, Billy VanInwegen, Shawn Donath and Danny Varin. All these teams will be on hand at the Ontario Fairgrounds.
These drivers are also expected, Paul Kinney, Chad Miller, Chuck and Kelly Hebing, Jeff Cook, Brett Wright, Dave Axton, Jonathan Preston, Dan Douville, Josh Flint, Cory Turner, Steve Glover, Darryl Ruggles, Erik Karlsen and more.
Back in July during Speedweek, Chuck Hebing came home for a popular win over Matt Tanner, Mark Smith, Steve Poirier and Jason Barney.
E3 Spark Plugs will bring you the timed hot laps, Car Mate Trailers sponsors the heat events with Lacaillade Masonry backing the B-Main. Danny Willmes Enterprises is sponsoring the Cobra Coaches Dash event on this night.
The Lucas Oil ESS Gang is ready to get busy for the stretch drive! Land of Legends Raceway in Canandaigua, NY is the site and it will be excitement guaranteed!
For more Information on the Land of Legends Raceway:
Web: http://www.landoflegendsraceway.com/
Twitter: @LandofLegendsNY
Facebook: https://www.facebook.com/LandofLegendsNY/
Pit Gates – 4:00 PM, Hot Laps 6:00 PM, Racing 7:00 PM
For more Information on the Lucas Oil Empire Super Sprints:
Web: www.empiresupersprints.com
Twitter: @ESSprints
Facebook: https://www.facebook.com/EmpireSuperSprints