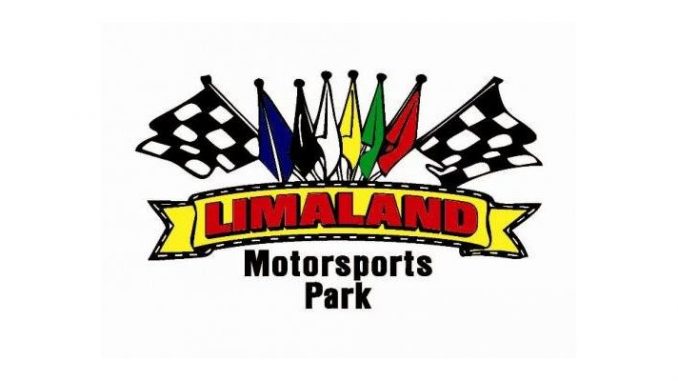 From Gerry Keysor
LIMA, Ohio (August 3, 2018) — Warm weather and great racing were on tap at Limaland Motorsports Park on Friday night for the 21st Annual Season Points Championships presented by Alexander and Bebout. The JLH General Contractors FAST 305 Championship Series Sprint Cars hit the 1/4 highbanks for the final time in 2018 with No. 26 Jamie Miller grabbing an exciting feature win. In the K&N Filters UMP Modifieds, No. 95J Jerry Bowersock picked up the feature victory, but came up just short in his bid to repeat as track Champion, as No. 18 Ryan "The Milkman" Sutter wrapped up his first ever Limaland and NASCAR Whelen All American Series Chapionship. In the Budweiser Thunderstocks, No. M1 Jeff Matheny picked up his first career Limaland feature win, while No. 463 Daniel Sanchez capped off an exciting night by winning the Track Championship in the Budweiser Thunderstocks NASCAR All American Series Championship by virtue of a tiebreaker.
Kicking off the nights racing were the JLH General Contractors FAST 305 Championship Series Sprint Cars. No. 11G Luke Griffith and No. 8 Bobby Clark would bring the field to green with Griffith taking the early race advantage. Jamie Miller would make his way to the 2nd spot on lap 3 and begin stalking the leader. Miller closed in to the rear bumper of Griffith's No. 11G machine on lap 9, until the caution flag waved on lap 10 for the No 4* of Tyler Street coming to a stop at the end of the front straightaway with a broken front end. On the restart, Millers engine would stumble, allowing No. 97 Kyle Peters to charge to the 2nd spot. Peters would grab the lead on lap 12 and seemed to be on his way to the victory, but Miller would close back in on the leaders on lap 20, grabbing 2nd spot from Griffith, then making his run on the final lap on Peters exiting turn 2. Peters would get hung on the outside wall down the back stretch allowing Miller to get away and grab his 2nd Limaland win of 2018. Peters would hang on for 2nd, with Griffith 3rd, No. 99 Alvin Roepke 4th and Clark finishing 5th. Heat races were won by Griffith and Miller.
Next up were the K&N Filters UMP Modifieds in their 20 lap A
Main. No. 18 Ryan Sutter began the night with a 10 point lead on No. 95J Jerry Bowersock. Bowersock would start on the front row alongside No. 65 Todd Sherman, and set sail with the lead. Sherman hung with Bowersock throughout the feature, but to no avail, as Bower sock would survive multiple cautions to pick up the feature win, but come up just short in his bid to win a 2nd consecutive Championship, as Sutter would finish 3rd and garner enough points to win his 1st career K&N Filters UMP Modified Track Championship and NASCAR Whelen All American Series Championship. No. 3W Dylan Woodling would finish 4th, and No. 34X Shane O'Connor would finish 5th. Heat Races were won by Sutter, No. 71 UNOH Racer Will Norris, and Woodling.
Completing the night were the Budweiser Thunderstocks in their 15 lap A Main. No. M1 Jeff Matheny and No. 27 Frank Paladino would bring the field to green with Matheny grabbing the early lead. No 22T Tony Anderson charged to 2nd and looked to grab his 4th Bud Thunderstock Track Championship, as he came into the night leading by just 2 points over No. 463 Daniel Sanchez. Anderson would hound Matheny throughout the feature, trying to grab the victory. Multiple cautions would keep the field close, and Sanchez would make his way to 3rd at the halfway point. As the leaders came down to take the white flag, a puff of smoke came out from under Anderson's No. 22T machine. It looke like he would hold on as he hel th e2nd spot until turns 3 and 4 as he began to lose power coming to the checkered flag. Sanchez, Paladino, and No 15 Jordan Conover were all able to get by and Anderson limped home 5th. While Matheny celebrated the feature win, final points were tallied up, with Anderson and Sanchez finishing in a tie for Championship. By virtue of having more wins in the 2018 season, Sanchez won the tiebreaker and was crowned the 2018 Limaland Bud Thunderstock and NASCAR Whelen All American Series Champion. Heat races were won by No. 82 Chris Douglas, and Anderson.
Limaland Motorsports Park wraps up the 2018 season with a bang next Friday night August 10th as Lock Sixteen and K&L Ready Mix present the 2018 Awards Celebration Night in action will be the K&L Ready Mix NRA Sprint Invaders, K&N Filters UMP Modifieds, and Budweiser Thunderstocks in their invitational feature races. Also K&L Ready Mix presents the NRA Sprint Invaders King of the Quarter Mile event, and Lock Sixteen presents the Budweiser Thunderstocks King of the Quarter Mile event, and K&N Filters King of the Quarter Mile event. 2018 Season Awards will be handed out on the front stretch, then fans teams and racers will be invited to the pits as the Ohio State Beauty Academy presents the 2018 Pit Party Celebration. Come enjoy food, beverages, and a great time celebrating the 2018 seaon with your favorite Limaland drivers and teams. General Admission for this huge event just $15 for ages 16 and older, ages 11-15 $7 and kids 10 and under get in FREE, Pit passes are $28 for all ages. Both General admission and Pit passes include the Pit party with free food and beverages! RAindate for this event is Saturday August 11th. Don't miss out on this great final event at Limaland Motorsports Park for 2018! Get all the details at limaland.com, and on our Facebook page.
Limaland Motorsports Park – 8/3/2018
Alexander & Bebout Night
JLH Gener Contractors FAST 305 Championship Series Sprints presented by Engine Pro
Heat 1 – (8 Laps – Top 7 Transfer)
1. 11G-Luke Griffith; 2. 7M-Brandon Moore; 3. 4*-Tyler Street; 4. 5JR-Jimmy Mcgrath Jr; 5. 47-Matt Lucius; 6. 14-Luke Daugherty
Heat 2 – (8 Laps – Top 7 Transfer)
1. 26-Jamie Miller; 2. 97-Kyle Peters; 3. 8-Bobby Clark; 4. 99-Alvin Roepke; 5. 46AU-Stuart Williams; 6. 36-Seth Schnieder; 7. 77I-John Ivy
A-Main – (25 Laps) [#]-Starting Position
1. 26-Jamie Miller[5]; 2. 97-Kyle Peters[3]; 3. 11G-Luke Griffith[1]; 4. 99-Alvin Roepke[8]; 5. 8-Bobby Clark[2]; 6. 5JR-Jimmy Mcgrath Jr[7]; 7. 77I-John Ivy[13]; 8. 36-Seth Schnieder[12]; 9. 7M-Brandon Moore[6]; 10. 46AU-Stuart Williams[10]; 11. 47-Matt Lucius[9]; 12. 14-Luke Daugherty[11]; 13. 4*-Tyler Street[4]
K&N Filters UMP Modifieds
Heat 1 – (8 Laps – Top 8 Transfer)
1. 18-Ryan Sutter; 2. 1-Brenden Rassel; 3. 118-Gunnar Lucius; 4. 27-Frank Paladino; 5. 4G-Bill Griffith; 6. 32-Scott Boyd Jr; 7. 9PG-Percy Gendreau; 8. 16-Jeff Koz
Heat 2 – (8 Laps – Top 8 Transfer)
1. 71-Will Norris; 2. 65-Todd Sherman; 3. 7-Jordan Conover; 4. 9C-Troy Cattarene; 5. 8-Ryan Gorey ; 6. 92-Kyle Shaffer; 7. 44-Scott Boyd Sr
Heat 3 – (8 Laps – Top 8 Transfer)
1. 3W-Dylan Woodling; 2. 95J-Jerry Bowersock; 3. 2D-Curtis Deisenroth; 4. 34X-Shane O'Connor; 5. ZERO-Brent Hole; 6. 36-Brandon Vaughan; 7. 22T-Tony Anderson
A-Main – (20 Laps) [#]-Starting Position
1. 95J-Jerry Bowersock[1]; 2. 65-Todd Sherman[2]; 3. 18-Ryan Sutter[6]; 4. 3W-Dylan Woodling[4]; 5. 34X-Shane O'Connor[12]; 6. 1-Brenden Rassel[3]; 7. 71-Will Norris[5]; 8. ZERO-Brent Hole[15]; 9. 2D-Curtis Deisenroth[9]; 10. 27-Frank Paladino[10]; 11. 9C-Troy Cattarene[11]; 12. 22T-Tony Anderson[21]; 13. 4G-Bill Griffith[13]; 14. 36-Brandon Vaughan[18]; 15. 9PG-Percy Gendreau[19]; 16. 7-Jordan Conover[8]; 17. 92-Kyle Shaffer[17]; 18. 118-Gunnar Lucius[7]; 19. 44-Scott Boyd Sr[20]
Bud Thunderstocks
Heat 1 – (8 Laps – Top 9 Transfer)
1. 82-Chris Douglas; 2. 27-Frank Paladino; 3. 463-Daniel Sanchez; 4. 87-Andy Welch; 5. OO-Nick Ronnebaum; 6. 89-Keith Shockency; 7. 27H-Devon Helmig; 8. O1-Bethany Moler; 9. 1W-Mark Wooten
Heat 2 – (8 Laps – Top 9 Transfer)
1. 22T-Tony Anderson; 2. M1-Jeff Matheny; 3. 15-Jordan Conover; 4. 26-Justin Long; 5. 11-Dawson Barker; 6. J2-Rob Trent; 7. 88-Tod Sturgeon; 8. 1-Mason Bevard; 9. 2-Scott Fritz
A-Main – (15 Laps) [#]-Starting Position
1. M1-Jeff Matheny[1]; 2. 463-Daniel Sanchez[5]; 3. 27-Frank Paladino[2]; 4. 15-Jordan Conover[6]; 5. 22T-Tony Anderson[3]; 6. 82-Chris Douglas[4]; 7. 11-Dawson Barker[10]; 8. 26-Justin Long[8]; 9. OO-Nick Ronnebaum[9]; 10. 89-Keith Shockency[11]; 11. J2-Rob Trent[12]; 12. 27H-Devon Helmig[13]; 13. 1-Mason Bevard[16]; 14. O1-Bethany Moler[15]; 15. 2-Scott Fritz[18]; 16. 87-Andy Welch[7]; 17. 88-Tod Sturgeon[14]; 18. 1W-Mark Wooten[17]