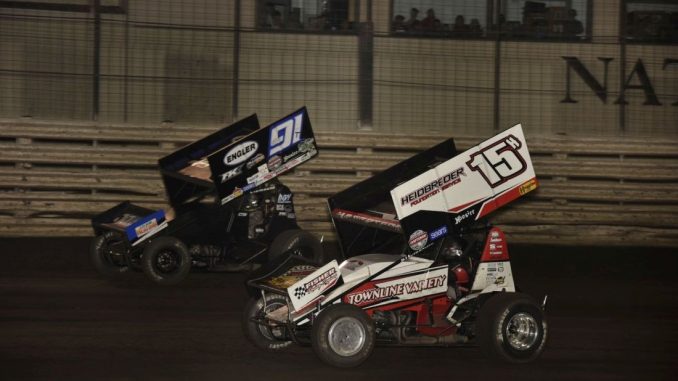 By T.J. Buffenbarger
KNOXVILLE, Iowa (August 11, 2018) – Sam Hafertepe Jr. won the C-Main during the 58th Annual 5-Hour ENERGY Knoxville Nationals presented by Casey's General Stores. Behind Hafertepe was a last lap scramble when defending 360 Sprint Car champion at Knoxville Raceway Clint Garner broke on the final lap, giving Josh Baughman a transfer spot into the C-Main.
Skylar Prochaska led the opening lap until Sam Hafertepe got a run through turns three and four on the second lap to take the lead. Trey Starks and Spencer Bayston were just starting to race side by side for the final transfer spot when the caution flag appeared for Matt Covington having engine problems on the front stretch. Brady Bacon also went pit side with front wing damage earlier in the event.
Hafertepe pulled away after the restart. The race for the transfer spot heated up on lap seven between Spencer Bayston and Trey Starks. Lap seven saw Bayston unsuccessfully tried a slide job on Starks, but one lap later was able to successfully complete the move in turn four on lap eight into fourth position.
Just as the field was taking the white flag Rager Phillips got into the fence and tumbled down the track in turn three to bring out the red flag.
This setup a green-white-checkered finish. Baughman moved into fifth position at the start in what turned out to be a very important pass. As the field was coming down to the checkered flag off the final corner Garner's car slowed off the fourth corner and the rest of the field had to take evasive action to miss him. The entire field was able to avoid contact, but Garner dropped from a transfer position.
Hafertepe drove to the win with Bayston, Prochaska, and Josh Baughman transferring to the B-Main. Due to Joey Saldana scratching from the B-Main after losing an engine in hot laps Trey Starks also transferred to the B-Main.
58th Annual 5-Hour ENERGY Knoxville Nationals presented by Casey's General Stores
World of Outlaws Craftsman Sprint Car Series
Knoxville Raceway
Knoxville, IA
Saturday August 11, 2018
C-Main (15 Laps): 1. 15H – Sam Hafertepe Jr, 2. 39 – Spencer Bayston, 3. 35P – Skylar Prochaska, 4. 17X – Josh Baughman, 5. 44 – Trey Starks, 6. W20 – Greg Wilson, 7. 7W – Tasker Phillips, 8. 29 – Willie Croft, 9. 70S – Jeff Swindell, 10. 68 – Chase Johnson, 11. 81 – Lee Jacobs, 12. 71X – Kevin Thomas Jr, 13. 70 – Dave Blaney, 14. 17WX – Shane Golobic, 15. 1X – Don Droud Jr, 16. 91T – Cale Thomas, 17. 40 – Clint Garner, 18. 99G – Skylar Gee, 19. 9R – Rager Phillips, 20. 19P – Paige Polyak, 21. 7C – John Carney, 22. 95 – Matt Covington, 23. 99 – Brady Bacon. DNS: 3H – James McFadden. (First four finishers transferred to the B-Main)