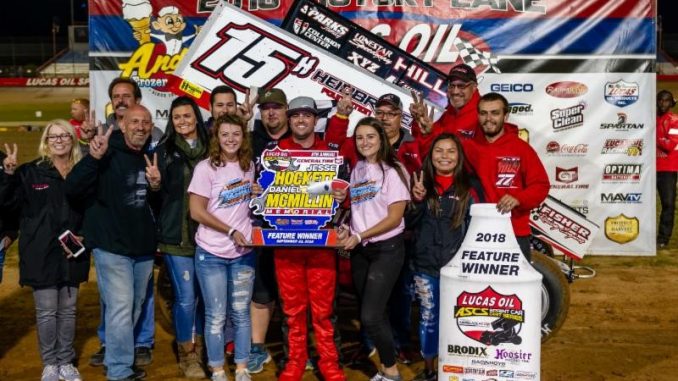 From Bryan Hulbert
WHEATLAND, Mo. (September 22, 2018) – Winning for the second year in a row, Sam Hafertepe, Jr. dominated the 30-lap, $10,000 to win finale to the 8th annual Hockett/McMillin Memorial with the Lucas Oil American Sprint Car Series presented by Sawblade.com.
"Just unbelievable, we haven't won a big race all year long and we were really missing it last night and I just told my guys, we're thinking too hard. Let's just go back to what we know and that's what we did tonight, and the track came around exactly like I thought it would," said Sam, who picked up his 36th career win with the Lucas Oil American Sprint Car Series presented by Sawblade.com.
Winning out through several restarts that saw a pair of flips and a pair of cautions, every time the green dropped it was Hafertepe who won the drag race into the first turn over Wayne Johnson. Normally sticking to the high line, the final restart saw Johnson jump across the cushion, but it was still Hafertepe who pulled away.
Asked what the key to getting the lead, Sam stated, "It didn't really matter, we were so good that he could lead into one, and we were still going to lead off two. We had a really good race car and having a car that was that good, even if the start doesn't go your way, you just wait a half-lap and get it done."
Working into traffic by Lap 7, the back markers didn't slow the Heidbreder Foundation No. 15h an inch, Wayne Johnson sat a distant second battling an ever-tightening race car, the Outlaw Wings No. 2c finally had a challenge for the runner-up spot on Lap 20 with Scott Bogucki working to the second podium step the following revolution.
Hoping for a caution despite the myriad of lapped cars in the running order, the caution lights stayed dark as Sam rolled under the checkered flag 5.853 seconds ahead of Bogucki's Sawblade.com No. 28. Wayne Johnson held for his 158th career podium finish.
Moving through the field from 12th, Seth Bergman was the night's CP-Carrillo Hard Charger with his fourth-place finish. Tony Bruce, Jr. crossed fifth with Matt Covington sixth after a fierce battle with Dylan Westbrook who crossed seventh. Johnny Herrera finished eighth with Blake Hahn making the most of provisional to claiming from 23rd to ninth. Carson Short rounded out the top-ten.
With the Hockett/McMillin Memorial in the books, teams will gear up for the final run to the 2018 Championship as four nights remain. Things fire off again on Friday, October 19 and Saturday, October 20 with the 45th Devil's Bowl Winter Nationals in Mesquite, Texas followed by the Creek County Speedway Fall Fling on Friday, October 26 and Saturday, October 27 in Sapulpa, Okla.
For other news, notes, and information on the American Sprint Car Series, from the National Tour to any of the Regional Tours that make up the nearly 150 races across the ASCS Nation in 2018, log onto http://www.ascsracing.com, follow on Facebook, on Instagram, and on Twitter (@LucasOilASCS).
Race Results:
Lucas Oil ASCS National Tour
Speedway Motors ASCS Warrior Region
Lucas Oil Speedway – Wheatland, Mo.
Saturday, September 22, 2018
Hockett/McMillin Memorial – Night 3
Car Count: 55
Event Count: 59
(Last Chance Qualifiers: Top 2 advance to the A-Feature)
LCQ 1 (10 Laps): 1. J2-John Carney II, [4]; 2. 9X-Jake Bubak, [1]; 3. 22M-Sean McClelland, [3]; 4. 11G-Mike Goodman, [8]; 5. 1-Travis Rilat, [5]; 6. 29-Tanner Berryhill, [11]; 7. 33M-Mason Daniel, [10]; 8. 8M-Kade Morton, [6]; 9. 27-Danny Thoman, [12]; 10. (DNF) 99X-Dalton Stevens, [9]; 11. (DNF) 14K-Kyle Bellm, [2]; 12. (DNF) 21-Miles Paulus, [7]; (DNS) 22S-Slater Helt,
LCQ 2 (10 Laps): 1. 21X-Carson Short, [2]; 2. 23B-Brian Bell, [4]; 3. 36-Jason Martin, [3]; 4. 37H-Nick Howard, [5]; 5. 52-Blake Hahn, [1]; 6. 76-Jay Russell, [6]; 7. 49B-Ben Brown, [7]; 8. 4-Evan Martin, [8]; 9. 5X-Tyson Hall, [9]; 10. 5G-Dave Glennon, [10]; (DNS) 11-Roger Crockett, ; (DNS) 24L-Lanny Carpenter, ; (DNS) 14-Randy Martin,
LCQ 3 (10 Laps): 1. 81-Jack Dover, [2]; 2. 28C-Jonathan Cornell, [3]; 3. 17W-Harli White, [6]; 4. 3S-Sammy Swindell, [5]; 5. 99-Skylar Gee, [1]; 6. 5J-Jamie Ball, [4]; 7. 05-Paul Nienhiser, [8]; 8. 03-Stu Snyder, [9]; 9. 08-Cannon McIntosh, [10]; 10. 85-Forrest Sutherland, [11]; 11. 77X-Alex Hill, [7]; 12. (DNF) 93-Taylor Walton, [12]
LCQ 4 (10 Laps): 1. 23-Seth Bergman, [2]; 2. 44-Chris Martin, [3]; 3. 75-Tyler Blank, [4]; 4. 8-Alex Sewell, [6]; 5. 6A-Aidan Roosevans, [8]; 6. 91T-Tyler Thomas, [9]; 7. 47-Dale Howard, [7]; 8. 3-Ayrton Gennetten, [5]; 9. 51B-Joe B. Miller, [1]; 10. 44S-Jared Sewell, [10]; 11. (DNF) 88-Travis Reber, [11]; (DNS) 22-Dustin Barks,
B-Features (Top 2 from each advance into the A-Feature)
B Feature 1 (12 Laps): 1. 75-Tyler Blank, [2]; 2. 91T-Tyler Thomas, [4]; 3. 3S-Sammy Swindell, [3]; 4. 22M-Sean McClelland, [1]; 5. 05-Paul Nienhiser, [7]; 6. 52-Blake Hahn, [13]; 7. 29-Tanner Berryhill, [5]; 8. 51B-Joe B. Miller, [8]; 9. 77X-Alex Hill, [10]; 10. 85-Forrest Sutherland, [11]; 11. 4-Evan Martin, [6]; 12. (DNF) 27-Danny Thoman, [9]; 13. (DNF) 93-Taylor Walton, [12]
B Feature 2 (12 Laps): 1. 11G-Mike Goodman, [2]; 2. 8-Alex Sewell, [3]; 3. 33M-Mason Daniel, [6]; 4. 03-Stu Snyder, [8]; 5. 76-Jay Russell, [5]; 6. 99-Skylar Gee, [4]; 7. 44S-Jared Sewell, [11]; 8. (DNF) 99X-Dalton Stevens, [10]; 9. (DNF) 36-Jason Martin, [1]; 10. (DNF) 47-Dale Howard, [7]; 11. (DNF) 5X-Tyson Hall, [9]; (DNS) 88-Travis Reber,
B Feature 3 (12 Laps): 1. 17W-Harli White, [1]; 2. 37H-Nick Howard, [2]; 3. 1-Travis Rilat, [3]; 4. 6A-Aidan Roosevans, [4]; 5. 5J-Jamie Ball, [5]; 6. 8M-Kade Morton, [7]; 7. 49B-Ben Brown, [6]; 8. 14K-Kyle Bellm, [11]; 9. 3-Ayrton Gennetten, [8]; 10. 08-Cannon McIntosh, [9]; 11. 5G-Dave Glennon, [10]; 12. (DNF) 21-Miles Paulus, [12]
A-Feature
A Feature (30 Laps): 1. 15H-Sam Hafertepe Jr, [2]; 2. 28-Scott Bogucki, [6]; 3. 2C-Wayne Johnson, [1]; 4. 23-Seth Bergman, [12]; 5. 86-Tony Bruce Jr, [4]; 6. 95-Matt Covington, [5]; 7. 47X-Dylan Westbrook, [8]; 8. 45X-Johnny Herrera, [3]; 9. 52-Blake Hahn, [23]; 10. 21X-Carson Short, [10]; 11. 75-Tyler Blank, [17]; 12. 9JR-Derek Hagar, [7]; 13. J2-John Carney II, [9]; 14. 81-Jack Dover, [11]; 15. 99-Skylar Gee, [24]; 16. 44-Chris Martin, [16]; 17. 17W-Harli White, [19]; 18. 8-Alex Sewell, [21]; 19. 37H-Nick Howard, [22]; 20. 28C-Jonathan Cornell, [15]; 21. 91T-Tyler Thomas, [20]; 22. 9X-Jake Bubak, [13]; 23. 21-Miles Paulus, [25]; 24. 23B-Brian Bell, [14]; 25. 11G-Mike Goodman, [18]
Lap Leaders: Sam Hafertepe, Jr. 1-30
CP-Carrillo Hard Charger: Seth Bergman +8
FSR Radiator High Point Driver: N/A
Provisionals: Blake Hahn (Nat.); Skylar Gee (Nat.); Miles Paulus (Regional)
2018 ASCS National Driver Points (Top 15): 1. Sam Hafertepe, Jr. 4,156; 2. Seth Bergman 4,040; 3. Wayne Johnson 3,976; 4. Blake Hahn 3,906; 5. Johnny Herrera 3,852; 6. Matt Covington 3,789; 7. Skylar Gee 3,549; 8. Scott Bogucki 3,527; 9. Travis Rilat 3,275; 10. Jamie Ball 3,238; 11. Chris Martin 3,191; 12. Harli White 3,191; 13. Alex Hill 2,816; 14. Roger Crockett 2,289; 15. Sammy Swindell 2,132;