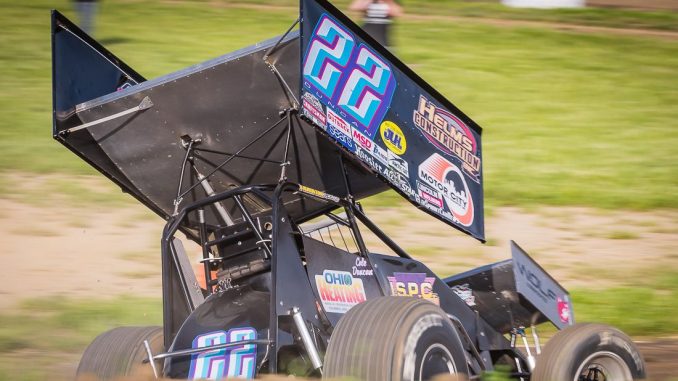 Bob Buffenbarger
Montpelier,In-(Sept 29th 2018) Cole Duncan picked up the winged Buckeye Outlaw Sprint Series win at Montpelier Motor Speedway Saturday night over a stout field of cars.
Duncan started outside front row along side Lee Jacobs on the tight quarter mile track. Jacobs led the first four circuits when Duncan slipped by for a lead he would not relinquish despite pressure throughout the 25 lapper. During the early going, Kody Kinser, Tracy Hines and Ron Blair were strong as they fought for position. Lap seven saw the yellow fly for a tangle between Thomas Meseraull and Kody Swanson.
The running order up front remained the same for several laps but 13th starting Danny Smith was slicing through the traffic and 18th starting Cale Thomas was charging forward as well. Another caution bunched the field with Smith and Kinser in a late race side by side battle for several laps.
With laps winding down, Josh Davis brought out the yellow with two to go. Duncan was still leading Jacobs and he was not to be denied as the #22 of Cole Duncan crossed the finish line ahead of Jacobs, Kinser, Cale Thomas(depite flipping in his heat) and Clinton Boyles from 15th.
Heat races for the 29 cars on hand went to Jacobs, Cody Gardner and Ron Blair. The B main went to Kody Swanson.
Zeb Wise won the 20 lap midget feature. (more to follow on that)
BOSS Winged Sprint Cars
29 Entries
Qualifying
1 81 Lee Jacobs 11.606 2 91 Cale Thomas 11.745 3 5T Travis Philo 11.766 4 22 Cole Duncan 11.768 5 4K Kody Kinser 11.962 6 35 Ron Blair 11.984 7 71 Ayrton Olsen 12.069 8 4H Tracy Hines 12.087 9 12 Kody Swanson 12.097 10 00 Thomas Meseraull 12.134 11 7M Critter Malone 12.310 12 23JR Jack Sodeman 12.329 13 39 Tylar Rankin 12.339 14 12B Robert Ballou 12.394 15 27 Brad Lamberson 12.396 16 4 Danny Smith 12.481 17 4D Josh Davis 12.495 18 9G Cody Gardner 12.511 19 21 Brinton Marvel 12.515 20 98 Clinton Boyles 12.588 21 83X Nate Reser 12.633 22 37 Noah Dunlap 12.872 23 53 Brayden Fox 12.881 24 16B Ricky Peterson 13.024 25 99 Cale Stinson 13.114 26 34 Parker Fredrickson 13.405 27 78 Adam Burket 13.835 28 A79 Trey Osbourne 13.985 29 5 Bob McMillan 14.031
Lee Jacobs – 11.606 Establishes New Track Record
Heat 1 – (8 Laps)
1 81 Lee Jacobs 2 12B Robert Ballou 3 4D Josh Davis 4 71 Ayrton Olsen 5 00 Thomas Meseraull 6 39 Tylar Rankin 7 16B Ricky Peterson 8 78 Adam Burket 9 34 Parker Fredrickson 10 7M Critter Malone
Heat 2 – (8 Laps)
1 9G Cody Gardner 2 4H Tracy Hines 3 22 Cole Duncan 4 23JR Jack Sodeman 5 53 Brayden Fox 6 83X Nate Reser 7 99 Cale Stinson 8 5 Bob McMillan 9 91 Cale Thomas 10 5T Travis Philo
Heat 3 – (8 Laps)
1 35 Ron Blair 2 4 Danny Smith 3 98 Clinton Boyles 4 27 Brad Lamberson 5 4K Kody Kinser 6 12 Kody Swanson 7 37 Noah Dunlap 8 A79 Trey Osbourne 9 21 Brinton Marvel
B Main – (10 Laps)
1 12 Kody Swanson 2 5T Travis Philo 3 91 Cale Thomas 4 39 Tylar Rankin 5 99 Cale Stinson 6 A79 Trey Osbourne 7 83X Nate Reser 8 37 Noah Dunlap 9 7M Critter Malone 10 5 Bob McMillan 11 78 Adam Burket 12 34 Parker Fredrickson 13 16B Ricky Peterson 14 21 Brinton Marve
A Main (25 Laps)
1 22 Cole Duncan 2 81 Lee Jacobs 3 4K Kody Kinser 4 91 Cale Thomas 5 98 Clinton Boyles 6 4 Danny Smith 7 35 Ron Blair 8 12B Robert Ballou 9 23JR Jack Sodeman 10 5T Travis Philo 11 12 Kody Swanson 12 00 Thomas Meseraull 13 9G Cody Gardner 14 4H Tracy Hines 15 27 Brad Lamberson 16 39 Tylar Rankin 17 71 Ayrton Olsen 18 53 Brayden Fox 19 99 Cale Stinson 20 4D Josh Davis
UMP Modifieds