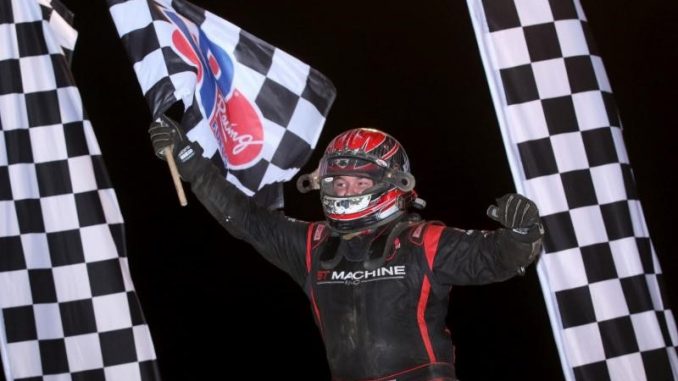 From Richie Murray
WAYNE CITY, Il. (October 21, 2018) – For much of the past decade, Tyler Thomas has been patiently waiting for his turn at USAC glory.
There were the heartaches and the struggles, but the fire never waned inside the Collinsville, Oklahoma driver.
Sunday night, his turn finally arrived as he captured his first career USAC P1 Insurance National Midget feature win in the fifth running of the "Jason Leffler Memorial" at Wayne County Speedway in Wayne City, Illinois.
The triumph came just shy of two months following his first career USAC AMSOIL National Sprint Car win at Kokomo (Ind.) Speedway in August. He's now become the first driver to win both his first career USAC National Sprint Car and USAC National Midget features in the same season since Kyle Larson in 2011.
"To do both in the same year is something I'll remember forever," Thomas said. "For six or seven years, we've been trying to get a midget win. Tonight, this car was on rails from hot laps on. We made good changes all night. My dad did an awesome job on the car. It went everywhere I wanted it to go. It allowed me to be more aggressive, especially on starts on restarts. I could go where they weren't, and the car would stick. To get it done at the Jason Leffler Memorial is a really special feeling. It's such a prestigious race to win. I couldn't be happier."
Thomas began the 40-lapper from the outside of the front row while Jason McDougal occupied the inside. The two challenged each other for supremacy immediately, racing side-by-side throughout the entirety of the opening lap. McDougal nipped Thomas at the line on the outside, then scooted across the nose of Thomas into turn one to snag the top spot.
McDougal wasn't able to stray too far away as he occupied the low line and Thomas went to work one lane higher. On lap four, Thomas cut underneath McDougal in turn four as McDougal slid up the racetrack, Thomas won the drag race to the stripe by a wheel.
Around lap 12, lapped traffic was downright serious, locking down Thomas' groove in nose-to-tail fashion. However, on this tight, 1/8-mile dirt oval, you have to be on the attack and that's exactly what Thomas did, slicing through the field like a corn cutter to escape the fray.
At the same time, Christopher Bell was on the move, getting to second on lap 16 just prior to a turn four spin by Zach Daum that collected the 2013 USAC National Midget champ. Daum, the inaugural "Leffler Memorial" winner in 2013, was finished for the evening while Bell would restart from the tail and charge back to sixth by race's end.
By halfway, Thomas had distanced himself to about a six-car-length advantage over McDougal and Tyler Courtney who were amidst their own battle. Off turn two on the 20th lap as the two scrambled for the runner-up spot, McDougal's bid for a first career series win was extinguished when he looped it in turn three with apparent mechanical trouble following contact.
Courtney stuck a foot in the door on laps 22 and 23 following the restart, driving wheel-to-wheel with Thomas entering turn one. Yet, Courtney was unable to keep up with the momentum of Thomas as he drove away off turn two on the 24th lap, methodically stretching the lead out until a Tucker Klaasmeyer flip in turn four on lap 28 halted the proceedings.
Thomas had a tremendous lap 28 restart that put him in a practical lockdown of the position barring any unforeseen circumstances. One thing was for certain at this stage in the game. Lapped traffic would more than likely not come into play. So, there it was, a handful of laps and a clear, open road lying in front of Thomas, waiting for him to stake his claim. Pressure to some, yes. But to Thomas, he was able to stay as cool as the brisk southern Illinois autumn air down the stretch.
"Surprisingly, I was able to keep myself pretty calm the whole race," Thomas admitted. "The good thing about those yellows is that we didn't have to get in lapped traffic. Of course, that's always tricky here as tight as this place is. My car felt like it was on cruise control the whole race. I had a good line and I felt really comfortable and confident in what we could do."
And it showed. Thomas' last restart was solid, constructing the foundation for a wall that none of his competitors would be able to penetrate. Meanwhile, Courtney and Chad Boat had their own war of wheels in motion behind him for second, but that just offered Thomas more space to do his work at the front of the deal.
Thomas drove away to his first series win in his 83rd career start aboard his Brian Thomas/BT Machine – AirGroup – Engler Machine – Smith Titanium/Spike/Toyota. Boat got by Courtney to grab second late in the going. Courtney took home third while Justin Grant and KSE Racing Products Hard Charger Jonathan Beason rounded out the top-five.
Thomas became the 11th different winner in 15 USAC National Midget races in 2018. With two races remaining, there has yet to be a driver win more than twice in this ultra-competitive season.
Besides Thomas, the only other drivers in USAC history to score their first National Sprint and National Midget wins in the same season were Kyle Larson (2011), Cole Whitt (2008), Brad Sweet (2008), Ricky Stenhouse, Jr. (2007), Bobby Santos (2006), Shane Cottle (2006), Mike Bliss (1993), Jeff Gordon (1989), Billy Shuman (1973), Larry Cannon (1969), Larry Dickson (1966), Chuck Hulse (1963) and Parnelli Jones (1961).
Contingency award winners Sunday night at Wayne County Speedway included Jason McDougal (Simpson Race Products First Qualifier Winner), Tyler Courtney (Competition Suspension, Inc. Second Qualifier Winner), Tyler Thomas (Chalk Stix Third Qualifier Winner), Logan Seavey (Indy Race Parts Fourth Qualifier Winner), Jonathan Beason (KSE Racing Products Hard Charger), Sam Johnson (Wilwood Brakes 13th Place Finisher) and Russ Gamester (Saldana Racing Products First Non-Transfer).
———————————
USAC P1 INSURANCE MIDGET NATIONAL CHAMPIONSHIP RACE RESULTS: October 21, 2018 – Wayne County Speedway – Wayne City, Illinois – 5th "Jason Leffler Memorial"
FIRST HEAT: (10 laps) 1. Tyler Thomas (#91T Thomas), 2. Christopher Bell (#21 Kunz/Curb-Agajanian), 3. Zach Daum (#5D Daum), 4. Logan Seavey (#67 Kunz/Curb-Agajanian), 5. Ethan Mitchell (#19m Bundy Built), 6. Zeb Wise (#39BC Clauson Marshall), 7. Sam Johnson (#72 Kunz/Curb-Agajanian), 8. Brian Grogan (#7G Grogan), 9. Brian Jones (#51B Jones). NT
SECOND HEAT: (10 laps) 1. Chad Boat (#74 Tucker/Boat), 2. Alex Bright (#77 Bright), 3. Cole Bodine (#39 Clauson Marshall), 4. Spencer Bayston (#97 Kunz/Curb-Agajanian), 5. Cannon McIntosh (#08 McIntosh), 6. David Budres (#23 Budres), 7. Karsyn Elledge (#83 Tucker/Boat), 8. Ray Seach (#31 Budres). NT
THIRD HEAT: (10 laps) 1. Tyler Courtney (#7BC Clauson Marshall), 2. Justin Grant (#17BC Clauson Marshall/Wood), 3. Ryan Robinson (#71 Kunz/Curb-Agajanian), 4. Dave Darland (#7D Estep), 5. Jonathan Beason (#8J Hard Eight), 6. Russ Gamester (#51 G & R), 7. Kevin Thomas, Jr. (#63 Dooling), 8. Travis Young (#11y Young). NT
FOURTH HEAT: (10 laps) 1. Brady Bacon (#76m FMR), 2. Jerry Coons, Jr. (#25 Petry), 3. Holley Hollan (#35 Petry), 4. Holly Shelton (#67K Kunz/Curb-Agajanian), 5. Tucker Klaasmeyer (#27 Kunz/Curb-Agajanian), 6. Garrett Thomas (#56y Fifty6x), 7. Daryn Pittman (#21 Pittman), 8. Chase Jones (#33 RayPro). NT
FIFTH HEAT: (10 laps) 1. Jake Neuman (#3N Neuman), 2. Jason McDougal (#15 Petry), 3. Tanner Carrick (#71K Kunz/Curb-Agajanian), 4. Daniel Robinson (#91 Harris), 5. McKenna Haase (#85 Tucker/Boat), 6. Kyle O'Gara (#67F SFH), 7. Brayton Lynch (#1K RKR), 8. Mark Chisholm (#56x Fifty6x). NT
SIMPSON RACE PRODUCTS FIRST QUALIFIER: (12 laps, top-16 in total passing points transfer to the feature) 1. McDougal, 2. Darland, 3. Bodine, 4. Coons, 5. K. Thomas, 6. Grant, 7. Chisholm, 8. Young, 9. Budres, 10. Haase, 11. Klaasmeyer. NT
COMPETITION SUSPENSION, INC. (CSI) SECOND QUALIFIER: (12 laps, top-16 in total passing points transfer to the feature) 1. Courtney, 2. Bell, 3. Wise, 4. Bacon, 5. Shelton, 6. R. Robinson, 7. Hollan, 8. Johnson, 9. Elledge, 10. B. Jones. NT
CHALK STIX THIRD QUALIFIER: (12 laps, top-16 in total passing points transfer to the feature) 1. T. Thomas, 2. Neuman, 3. Beason, 4. Carrick, 5. Bright, 6. D. Robinson, 7. O'Gara, 8. Seach, 9. G. Thomas. NT
INDY RACE PARTS FOURTH QUALIFIER: (12 laps, top-16 in total passing points transfer to the feature) 1. Seavey, 2. Boat, 3. Bayston, 4. Gamester, 5. Daum, 6. Mitchell, 7. Lynch, 8. Grogan, 9. McIntosh, 10. C. Jones. NT
C-MAIN: (12 laps, top-4 transfer to the semi) 1. Budres, 2. Haase, 3. Klaasmeyer, 4. Seach, 5. Grogan, 6. Elledge, 7. G. Thomas, 8. Young. NT
SEMI: (15 laps, top-6 transfer to the feature) 1. Grant, 2. K. Thomas, 3. Daum, 4. Shelton, 5. R. Robinson, 6. Klaasmeyer, 7. Gamester, 8. Hollan, 9. O'Gara, 10. McIntosh, 11. Seach, 12. Johnson, 13. Budres, 14. Chisholm, 15. Mitchell, 16. Haase, 17. D. Robinson, 18. Lynch. NT
FEATURE: (40 laps – starting positions in parentheses) 1. Tyler Thomas (2), 2. Chad Boat (4), 3. Tyler Courtney (3), 4. Justin Grant (16), 5. Jonathan Beason (18), 6. Christopher Bell (7), 7. Spencer Bayston (8), 8. Zeb Wise (12), 9. Logan Seavey (9), 10. Kevin Thomas, Jr. (17), 11. Ryan Robinson (21), 12. Cole Bodine (11), 13. Sam Johnson (23), 14. Alex Bright (14), 15. Jerry Coons, Jr. (10), 16. Brady Bacon (6), 17. Tanner Carrick (15), 18. Dave Darland (13), 19. Jake Neuman (5), 20. Holly Shelton (20), 21. Tucker Klaasmeyer (22), 22. Jason McDougal (1), 23. Zach Daum (19).
—————————-
**Jones flipped during the fourth qualifier. Klaasmeyer flipped on lap 28 of the feature.
FEATURE LAP LEADERS: Laps 1-3 McDougal, Laps 4-40 T. Thomas.
KSE RACING PRODUCTS HARD CHARGER: Jonathan Beason (18th to 5th)
WILWOOD BRAKES 13TH PLACE FINISHER: Sam Johnson
SALDANA RACING PRODUCTS FIRST NON-TRANSFER: Russ Gamester
NEW USAC P1 INSURANCE MIDGET NATIONAL CHAMPIONSHIP POINTS: 1-Seavey-911, 2-Bacon-793, 3-Boat-781, 4-Courtney-773, 5-Grant-772, 6-Bayston-766, 7-Carrick-727, 8-K. Thomas-711, 9-Wise-579, 10-Robinson-544.
NEXT USAC P1 INSURANCE MIDGET NATIONAL CHAMPIONSHIP RACE: November 17 – Bakersfield Speedway – Bakersfield, California – "November Classic"