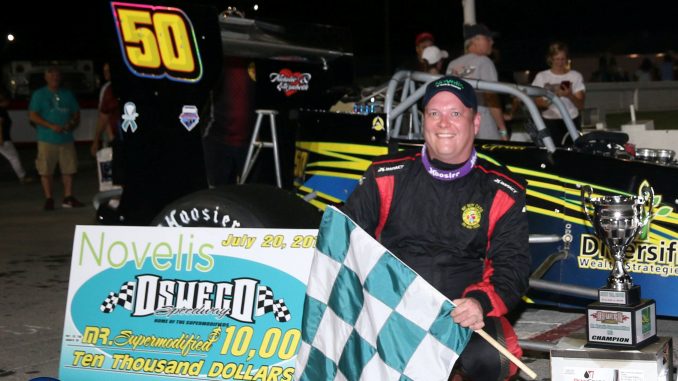 By Camden Proud
OSWEGO, NY (July 21, 2019) – Dave Gruel celebrated his 37th birthday $10,000 richer with a victory in the 33rd annual Mr. Novelis Supermodified event presented by Best Western PLUS and Quality Inn & Suites Riverfront of Oswego.
Gruel started on the outside of the front row for the 75-lap main event and beat polesitter Tyler Thompson to take the lead into turn one. Eventually, the race came down to an exciting wheel banging battle for victory between Gruel and Dave Danzer in the closing ten laps.
"This win ranks right up there," Gruel said. "I saw Dave (Danzer) was right there. We touched a couple times and it was just good, hard racing. He was getting to me right where I was getting on the gas. I knew if I made one small mistake it was going to cost me ten grand."
In the early going, Gruel inched away from Thompson, but the teenager, along with Brandon Bellinger and Dave Danzer, soon began to reel in the No. 50 car with Keith Shampine, Dave Shullick Jr, Michael Barnes, and Joe Gosek all in tow.
For twenty laps, two separate battles took place inside the top five as Thompson worked on Gruel while Danzer tried on several occasions to get by Bellinger until the field was slowed for a spinning Aric Iosue on lap 22.
Gruel and Thompson continued their battle on the restart, pulling away from the Danzer and Bellinger fight for third and fourth over Shampine in fifth, Shullick in sixth, Gosek in seventh, Barnes in eighth, Abold in ninth and Sitterly in tenth.
Just as the leaders had caught lapped traffic, Iosue spun again in turn three, slowing the field on another occasion. This would give Thompson, Bellinger, Danzer, and Shampine another shot at the otherwise dominant Gruel.
This time, however, it was Sitterly who was the show. In a matter of two laps, he passed Abold, Barnes, Gosek, and Shampine on the outside before moving in behind the Shullick No. 95 who had since gone past teammate Shampine for fifth.
On lap 40, Danzer finally made his move by the Bellinger No. 02 while Sitterly simultaneously went under Shullick and began to work on Bellinger as well.
As soon as Danzer got by Bellinger, he began to reel in Gruel and Thompson out front and it was only a matter of time before the No. 52 was right on Thompson's back bumper for the second spot.
Seven laps later, Danzer shot to the inside of Thompson going into turn three and took over second, now setting his sights on race leader Gruel. Further back in the top five, Sitterly was still looking for a way around Bellinger.
One lap later, Sitterly tried the same low move on Bellinger, but drifted way high in three and four, instead handing fourth back over to the No. 02 and settling back in ahead of Shullick inside the top five.
With twenty five laps to go, Iosue spun in turn four and this time made contact with the wall, also involving the 66 of Lou LeVea Sr. Both cars went off on the hook before the restart which would setup a twenty five lap shootout between Gruel and Danzer.
Gruel set a torrid pace for ten laps, but Danzer was finally able to draw to his back bumper with fifteen to go. Gruel was running about half a groove higher than Danzer, who was hugging the hub rail in both corners.
On lap 65, Danzer got the bite he needed down low coming out of turn four, but the two cars brushed wheels down the front straightaway, knocking the No. 52 out of shape and allowing Gruel to open a slight gap.
With eight laps to go, Sitterly made his low side move under Thompson, but it appeared that he would not have enough time to catch Gruel and Danzer who continued their battle for $10,000 while sand slipped out of the hourglass for Danzer.
Following the near miss on lap 65, Danzer was never able to completely recover. Although the leaders caught one last slower car with one to go, Gruel was able to safely navigate traffic and become the eighth different winner in nine events this season.
Completing the top five in Mr. Novelis Supermodified were Danzer, Sitterly, Thompson, and Shullick over Gosek, Bellinger, Shampine, Abold, and Doug Didero in the top ten.
Sitterly and Thompson earned the D&S Landscaping Hard Charger and Lighthouse Lanes Up & Comer Awards, respectively.
Oswego Speedway is off next week to accommodate Harborfest and Sandusky Speedway's Hy-Miler, but will return to action with the 'Retro Night' 45 for Novelis Supermodifieds plus a 30-lap main event for Pathfinder Bank SBS on Saturday, August 3.
For more information on Oswego Speedway, be sure to visit online at OswegoSpeedway.com. You can also FOLLOW on Twitter @OswegoSpeedway or LIKE on Facebook at Facebook.com/OswegoSpeedway.
BOX SCORE
Best Western PLUS Quality Inn & Suites Riverfront Mr. Novelis Supermodified
Oswego Speedway
Oswego, NY
Saturday, July 20, 2019
Novelis Supermodifieds
Feature (75-laps): 1. 50 DAVE GRUEL, 2. 52 Dave Danzer, 3. 7 Otto Sitterly, 4. 98T Tyler Thompson, 5. 95 Dave Shullick Jr, 6. 00 Joe Gosek, 7. 02 Brandon Bellinger, 8. 55 Keith Shampine, 9. 05 Jeff Abold, 10. 3 Doug Didero, 11. 01 Dan Connors Jr, 12. 39 ® Alison Sload, 13. 94 Logan Rayvals, 14. 0 Tim Snyder, 15. 56 Hal LaTulip, 16. 68 Michael Barnes, 17. 66 Lou LeVea Sr, 18. 11 Aric Iosue, 19. 54 ® Camden Proud
Heat 1 (12-laps): 1. 68 Michael Barnes, 2. 02 Brandon Bellinger, 3. 55 Keith Shampine, 4. 05 Jeff Abold, 5. 11 Aric Iosue, 6. 56 Hal LaTulip, 7. 54 ® Camden Proud
Heat 2 (12-laps): 1. 7 Otto Sitterly, 2. 39 ® Alison Sload, 3. 00 Joe Gosek, 4. 3 Doug Didero, 5. 94 Logan Rayvals, 6. 0 Tim Snyder
Heat 3 (12-laps): 1. 98T Tyler Thompson, 2. 50 Dave Gruel, 3. 95 Dave Shullick Jr, 4. 52 Dave Danzer, 5. 01 Dan Connors Jr, 6. 66 Lou LeVea Sr.
Group Time Trials: 1. 00 Joe Gosek – 15.893, 2. 05 Jeff Abold – 15.971, 3. 7 Otto Sitterly – 15.985, 4. 98T Tyler Thompson – 15.985, 5. 68 Michael Barnes – 16.046, 6. 50 Dave Gruel – 16.106, 7. 39 ® Alison Sload – 16.116, 8. 02 Brandon Bellinger – 16.117, 9. 52 Dave Danzer – 16.247, 10. 55 Keith Shampine – 16.251,11. 3 Doug Didero – 16.276, 12. 95 Dave Shullick Jr. – 16.285, 13. 11 Aric Iosue – 16.338, 14. 94 Logan Rayvals – 16.368, 15. 01 Dan Connors Jr. – 16.392, 16. 54 ® Camden Proud – 16.431, 17. 0 Tim Snyder – 16.483, 18. 66 Lou LeVea Sr. – 16.568, 19. 56 Hal LaTulip – 16.862
D&S Landscaping Hard Charger: #7 Otto Sitterly
Lighthouse Lanes Up and Comer: #98T Tyler Thompson