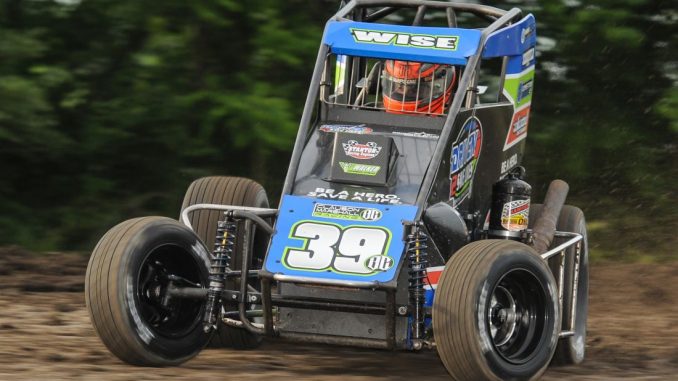 By: Richie Murray – USAC Media
Jonestown, Pennsylvania (August 2, 2019)………In six Pennsylvania Midget Week starts over the past two seasons, Zeb Wise has accumulated three victories and a runner-up finish. In fact, all three of his USAC NOS Energy Drink National Midget wins have come in the Keystone State.
Just two days earlier, the 16-year-old Angola, Ind. driver won a furious battle with Kyle Larson. The night prior, he was fast qualifier and led late in the going. Friday night, in the series' second-ever visit to Linda's Speedway, Wise returned to the win column with a late-race pass of teammate Tyler Courtney, sneaking by on the white flag lap to capture the victory in his Clauson-Marshall Racing/Driven2SaveLives – Sundollar Restoration/Spike/Stanton SR-11x.
Safe to say, Wise has taken a liking to Pennsylvania soil in his young career.
"Pennsylvania's been really nice to me," Wise exclaimed. "Tonight was a really good night. We qualified a little badly and weren't sure where we were going to end up. These little bullrings are kind of my forte and we got it done."
Wise had his work cut out for him, lining up eighth on the grid for the 30-lap main event. Early on, however, Tanner Thorson appeared to be the class of the field, racing from the outside of the front row to gain a half-straightaway lead by lap five over leading series Rookie contender and Pennsylvania native Andrew Layser, who started fourth.
On the eighth lap, pole sitter Kevin Thomas, Jr. reemerged into contention, exchanging sliders on both ends of the racetrack with Layser for the runner-up spot until Layser slid sideways to a stop between the middle of turns three and four to bring out the first yellow of the night.
When racing resumed, Thomas was on the hunt to run down Thorson as he sought his first series win since a last-lap Kokomo Grand Prix triumph in April. Thomas made gains through the middle to pull side-by-side with Thorson for the race lead nearing the midway point.
As the pair came off turn four wheel-to-wheel and headed for the crossed flags signaling the midway point, Thorson's right rear tire went flat before coming to a halt in turn one. Thorson ran three more laps before pulling in, taking an 18th place result.
Thorson's misfortune was to the benefit of Thomas who now occupied the lead as well as series point leader Tyler Courtney who now slotted into second. From the get-go at the start of the second half of the event, Thomas took the high road as Courtney clamped down on the bottom. Both remained even throughout the corners on both ends of the quarter-mile dirt oval, but Thomas had enough momentum in his back pocket to blitz by Courtney to lead by a half car length at the stripe on laps 17 and 18.
The two stuck to their guns on the following laps, but Courtney was able to get a better pull off the exit of turn two to charge into turns three and four with just enough gusto to nip Courtney at the line. The song remained the same on laps 21 and 22 as the two battled side-by-side on each entire lap with Courtney slowly able to gain bits and pieces of ground to distance himself from Thomas, finally grabbing some semblance of breathing room on lap 24 by three car lengths.
Just further back, third-running Wise was playing the role of a keen observer, watching his competition, then adjusting his plan of attack to see how it would play out in the ensuing laps.
"For the longest time, I was just up ripping the top," Wise recalled. "On that last restart, Sunshine started working the bottom under KT and I saw it working. I figured it was just going to get better and better as the top went away. So, I dropped down there and felt it out for a few laps."
With a mere five laps remaining, Wise, who had been running third since the halfway mark, began a sudden surge on the bottom, first by the rim-riding Thomas on the 26th lap, then had CMR teammate and race leader Courtney next in the pecking order.
Two laps were left on the board and Wise was closing on Courtney. Entering turn three, the two encountered the lapped car of Bruce Buckwalter, Jr. on the bottom. Courtney took a quick scan and opted to go to the top to maneuver around the outside while Wise followed Buckwalter down low and crossed under the white flag a car length ahead of Courtney.
All three of Zeb Wise's career USAC NOS Energy Drink National Midget victories have come during Pennsylvania Midget Week, including Friday night's at Linda's Speedway.
(Lee Greenawalt Photo)
With a slower car firmly planted on the path he intended to pursue, Wise still knew he needed a little luck to fall his way despite carrying the lead into the first turn.
"Once I got by KT and as the laps wound down, we got to a few more lapped cars," Wise remembered. "When Sunshine made the decision to go to the top on the last lap, I decided to stick the bottom and pray that the lapped car would miss the bottom just a little bit. He did. Into one, he missed it just a little bit, so I shoved my nose in there."
For Wise, it worked out to perfection as he pulled out to a four-car length lead entering the bottom of turn three. Second-running Courtney re-entered the bottom line, but this time, he was staring at the back of Wise who sprinted off the final corner to win by 0.537 sec.
Courtney, who earlier set quick time and won his heat, just barely missed his opportunity at picking up the night's sweep. He finished in the runner-up position for the second time during Pennsylvania Midget Week ahead of Thomas, Chris Windom and Jason McDougal, who rounded out the top-five.
By virtue of winning, Wise was awarded a one-of-a-kind pink Linda's Speedway edition pedal car, a unique trophy that Wise plans to proudly show off when he takes it back home.
"I didn't know that was the trophy," Wise admitted. "When they handed it to me, I was pretty surprised. Obviously, that's not an usual trophy that you get. I think we're going to put it in the shop right up front so everyone can see it."
Contingency award winners Friday night at Linda's Speedway were Tyler Courtney (Fatheadz Eyewear Fast Qualifier & Simpson Race Products First Heat Winner), Tanner Carrick (Competition Suspension, Inc. Second Heat Winner), Kevin Thomas, Jr. (AutoMeter/Indy Race Parts Third Heat Winner), Zeb Wise (KSE Racing Products Hard Charger) and Steven Drevicki (Wilwood Brakes 13th Place Finisher).
USAC NOS ENERGY DRINK MIDGET NATIONAL CHAMPIONSHIP RACE RESULTS: August 2, 2019 – Linda's Speedway – Jonestown, Pennsylvania – 1/4-Mile Dirt Oval – Pennsylvania Midget Week
FATHEADZ EYEWEAR QUALIFYING: 1. Tyler Courtney, 7BC, Clauson/Marshall-12.582; 2. Jason McDougal, 76m, FMR-12.748; 3. Andrew Layser, 47BC, Clauson/Marshall-12.783; 4. Jerry Coons, Jr., 25, Petry-12.813; 5. Tanner Thorson, 98, Kunz/Curb-Agajanian-12.858; 6. Kevin Thomas, Jr., 5, Petry-12.863; 7. Chris Windom, 17BC, Clauson/Marshall-12.879; 8. Zeb Wise, 39BC, Clauson/Marshall-12.964; 9. Chad Boat, 84, Tucker/Boat-13.003; 10. Tucker Klaasmeyer, 27, Kunz/Curb-Agajanian-13.049; 11. Logan Seavey, 67, Kunz/Curb-Agajanian-13.075; 12. Karsyn Elledge, 1, Tucker/Boat-13.089; 13. Timmy Buckwalter, 29, Seymour-13.170; 14. Tanner Carrick, 71K, Kunz/Curb-Agajanian-13.246; 15. Tommy Kunsman, 21, Kunsman-13.323; 16. Steve Buckwalter, 25B, Buckwalter-13.367; 17. Steven Drevicki, 12, Heckman-13.455; 18. Bruce Buckwalter, Jr., 83, Buckwalter-13.577; 19. Bobby Butler, 5B, Myers-13.708; 20. Steve Craig, 55, Craig-13.789; 21. Zach Curtis, 75, Curtis-14.571; 22. Kenney Johnson, 46, Johnson-NT.
SIMPSON RACE PRODUCTS FIRST HEAT: (10 laps, all transfer to the feature) 1. Tyler Courtney, 2. Chris Windom, 3. Tucker Klaasmeyer, 4. Jerry Coons, Jr., 5. Steve Buckwalter, 6. Bobby Butler, 7. Timmy Buckwalter. NT
COMPETITION SUSPENSION (CSI) SECOND HEAT: (10 laps, all transfer to the feature) 1. Tanner Carrick, 2. Jason McDougal, 3. Zeb Wise, 4. Logan Seavey, 5. Tanner Thorson, 6. Steven Drevicki, 7. Steve Craig. 2:14.31
AUTOMETER/INDY RACE PARTS THIRD HEAT: (10 laps, all transfer to the feature) 1. Kevin Thomas, Jr., 2. Tommy Kunsman, 3. Chad Boat, 4. Karsyn Elledge, 5. Andrew Layser, 6. Bruce Buckwalter, Jr., 7. Zach Curtis.
FEATURE: (30 laps, starting position in parentheses) 1. Zeb Wise (8), 2. Tyler Courtney (6), 3. Kevin Thomas, Jr. (1), 4. Chris Windom (7), 5. Jason McDougal (5), 6. Logan Seavey (11), 7. Jerry Coons, Jr. (3), 8. Tanner Carrick (13), 9. Chad Boat (9), 10. Steve Buckwalter (15), 11. Karsyn Elledge (12), 12. Tommy Kunsman (14), 13. Steven Drevicki (16), 14. Andrew Layser (4), 15. Bobby Butler (18), 16. Bruce Buckwalter, Jr. (17), 17. Zach Curtis (19), 18. Tanner Thorson (2), 19. Tucker Klaasmeyer (10). NT
————————–
FEATURE LAP LEADERS: Laps 1-14 Tanner Thorson, Laps 15-18 Kevin Thomas, Jr., Laps 19-28 Tyler Courtney, Laps 29-30 Zeb Wise.
KSE RACING PRODUCTS HARD CHARGER: Zeb Wise (8th to 1st)
WILWOOD BRAKES 13TH PLACE FINISHER: Steven Drevicki
NEW USAC NOS ENERGY DRINK MIDGET NATIONAL CHAMPIONSHIP POINTS: 1-Tyler Courtney-1,390, 2-Chris Windom-1,290, 3-Logan Seavey-1,222, 4-Zeb Wise-1,188, 5-Kevin Thomas, Jr.-1,162, 6-Chad Boat-1,109, 7-Jerry Coons, Jr.-1,032, 8-Tanner Carrick-1,031, 9-Jason McDougal-947, 10-Tucker Klaasmeyer-932.
NEXT USAC NOS ENERGY DRINK MIDGET NATIONAL CHAMPIONSHIP RACE: August 3, 2019 – Lanco's Clyde Martin Memorial Speedway – Newmanstown, Pennsylvania – Pennsylvania Midget Week – 1/8-Mile Dirt Oval