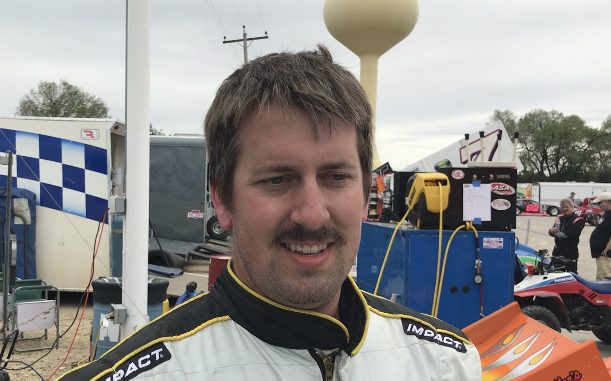 From David Sink
MERIDIAN, Idaho (May 16, 2020) – Cory Lockwood used a lap two restart to steal the lead from race leader Hunter Stanley en-route to the first of two-feature events Saturday afternoon at Meridian Speedway in Meridian, Idaho. The Speed Tour Regional Sprint Car Series 30-lap victory was worth $1,000 for Lockwood.
Hunter Stanley got the jump at the start of the race and lead the first two laps of the feature event before a caution flew when Rob Taylor and Zach Webster tangled exiting turn four. Lockwood was able to drag Stanley into turn one on the double-file restart to take command of the event. Lockwwod would build a sizeable lead and claim the victory by 4.614 seconds over Justin Segura. Colton Nelson was third followed by Hunter Stanley and Kyle Alberding rounding out the top five.
The race was run with no fans in attendance due to Idaho state regulations due to the current COVID-19 pandemic. The race was only available as a Pay-Per-View through Speedcast.tv. It was the first of two completed shows while the day with the second show starting at 8pm EST.
"I've learned about restarts from a dear good friend and great racer in the Northwest who passed away, Rick Brown". Explained Lockwood in victory lane. "You hang back and kinda get ahead of them on the start. You kinda watch then when they're coming up on you. You can get a pretty even jump. I just dove it in and hoped it stuck in one and two".
When asked about racing with no fans in attendance Lockwood commented "It's a different element. I've been trying for I don't know how long to get my first winged sprint car win here at Meridian Speedway. I finally get it. It's a little disappointing to not be able to do it in front of a packed grandstand and park on the front straightaway. But at the end of the day a race is a race" concluded Lockwood.
The second segment of racing at Meridian Speedway will begin at 8pm EST and will be headlined by a 40-lap $3,500 to win feature event available on Speedcast.tv.
Speed Tour Sprint Car Series
Meridian Speedway
Meridian, ID
Saturday May 16, 2020
Feature:
1. 99 – Cory Lockwood
2. 26 – Justin Segura
3. 28 – Colton Nelson
4. 24 – Hunter Stanley
5. 33 – Kyle Alberding
6. 91 – Bryan Warf
7. 81 – Casey Tillman
8. 7 – Randy Dubois
9. 16 – Rob Grice
10. 68 – Mike Anderson
11. 2 – Austin Carter
12. 77 – Matt Elliott
13. 11 – Mike Straub
14. 07 – Rob Taylor
15. 02 – Zach Webster
DNS 9 – Mike Smith