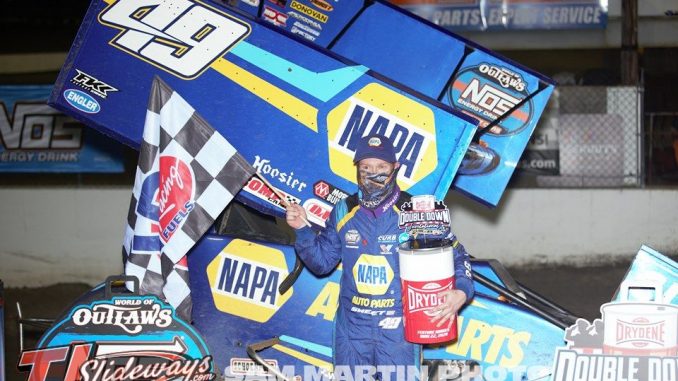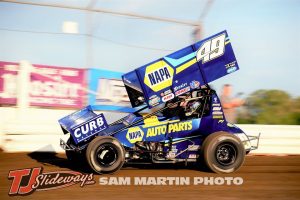 By T.J. Buffenbarger
PEVELY, MO (May 22, 2020) — Brad Sweet kicked off the Drydene Double Down Invitational in victory lane after holding off repeated challenges from his brother in law, Kyle Larson, to win the World of Outlaws NOS Energy Drink Sprint Car Series main event at Federated Auto Parts Raceway at I-55. The victory backed up Sweet's win last Friday in Interstate Racing Association action at Jackson Motorplex. The victory was Sweet's sixth victory of the 2020 calendar year and second with the World of Outlaws.
"That was a lot of fun," said Sweet. "Kyle is an unbelievable talent. He is my brother in law, but he makes me earn these wins damnit. That was a lot of fun, but I knew (Larson) would be up on the wheel. I gave it all we had and luckily we were able to overcome it."
Jacob Allen and Shane Stewart started on the front row for the 30-lap main event. Allen took the lead on the opening lap with Stewart and Sweet in tow. Behind the lead trio Larson and Logan Schuchart diced for the fourth position. Stewart, Sweet, and Schuchart closed in on Allen in slower traffic as the caution appeared on lap 10 when Terry McCarl slowed going into turn one.
After the restart Sweet was able to get under Allen coming off turn two to take the lead. Two laps later Larson also used the bottom of the track coming off turn two to take second from Allen. On lap 14 Schuchart drove by his teammate Allen for third as Sweet started to extend his lead through slower traffic.
After a red flag for Scotty Thiel getting upside down in turn two Sweet maintained the lead as Schuchart pressured Larson for second. On lap 24 Sweet was held up in slower traffic and gave Larson the opening he needed, setting up Larson to take the lead from Sweet on lap 25 through turns there and four. Sweet, the defending World of Outlaws Series champion, quickly countered and took the lead back through turns one and two.
"There were some different lines developing out there on the racetrack. With (Larson) behind me, I thought the top would be the better spot to be, but he found the middle and bottom down there and I got stuck behind lapped traffic for second," said Sweet of Larson briefly getting by him. "Just need to do a little better job on my end, the crew gave me a great race car."
Larson was able to close in on Sweet again but could not setup a pass as Sweet crossed the finish line with Larson, Schuchart, Stewart, and Allen rounding out the top five.
After winning in front of an empty grandstand, Sweet was excited to perform in front of a limited capacity crowd at Pevely.
"It was a lot of fun to see you fans back in the grandstands," said Sweet. "It's not a lot of fun celebrating and racing in front of an empty grandstands, so we appreciate you guys coming out. Hopefully, the crowds will just get bigger and bigger."
World of Outlaws NOS Energy Drink Sprint Car Series
Drydene Double Down Invitational
Federated Auto Parts Raceway at I-55
Pevely, MO
Saturday May 22, 2020
World of Outlaws NOS Energy Drink Sprint Car Series
Federated Auto Parts Raceway at I-55
Pevely, MO
Friday May 22, 2020
Qualifying Flight-A
1. 57-Kyle Larson, 9.995
2. 71-Shane Stewart, 10.12
3. 41-David Gravel, 10.176
4. 21-Brian Brown, 10.185
5. 83-Daryn Pittman, 10.212
6. 4-Terry McCarl, 10.238
7. 13-Paul McMahan, 10.241
8. 51-Freddie Rahmer, 10.247
9. 83R-Lynton Jeffrey, 10.255
10. 15-Donny Schatz, 10.261
11. 48-Danny Dietrich, 10.269
12. 55-Hunter Schuerenburg, 10.288
13. 17B-Bill Balog, 10.289
14. 11K-Kraig Kinser, 10.311
15. 6-Bill Rose, 10.326
16. 24W-Lucas Wolfe, 10.353
17. 39M-Anthony Macri, 10.356
18. 35-Zach Hampton, 10.361
19. 24-Rico Abreu, 10.373
20. 5-Brent Marks, 10.394
21. 35X-Stuart Brubaker, 10.454
22. 21X-Brinton Marvel, 10.457
23. 49J-Josh Schneiderman, 10.488
24. 41S-Dominic Scelzi, 10.493
25. 2KS-Chad Boespflug, 10.532
26. 18-Ian Madsen, 10.537
27. 2C-Wayne Johnson, 10.543
28. 11-Zeb Wise, 10.558
29. 3-Ayrton Gennetten, 10.609
30. 42-Cory Bruns, 10.788
31. 9K-Kyle Schuett, 10.848
Qualifying Flight-B
1S-Logan Schuchart, 10.113
2. 1A-Jacob Allen, 10.148
3. 7S-Jason Sides, 10.241
4. 64-Scotty Thiel, 10.251
5. 49-Brad Sweet, 10.256
6. 87-Aaron Reutzel, 10.277
7. 2-Carson Macedo, 10.278
8. 9-Kasey Kahne, 10.302
9. 2M-Kerry Madsen, 10.312
10. 15H-Sam Hafertepe, 10.323
11. 3Z-Brock Zearfoss, 10.336
12. 26-Cory Eliason, 10.346
13. 17-Sheldon Haudenschild, 10.353
14. 11T-T.J. Stutts, 10.384
15. 91-Cale Thomas, 10.397
16. 13JT-Mark Dobmeier, 10.416
17. W20-Greg Wilson, 10.456
18. 14-Parker Price-Miller, 10.464
19. 55W-Logan Wagner, 10.51
20. 9X-Paul Nienhiser, 10.516
21. 17A-Austin McCarl, 10.517
22. 44-Jeff Swindell, 10.531
23. 70-Justin Peck, 10.532
24. 91R-Kyle Reinhardt, 10.574
25. 17W-Shane Golobic, 10.58
26. 23B-Brian Bell, 10.594
27. 33M-Mason Daniel, 10.646
28. 99M-Kyle Moody, 10.656
29. 51B-Joe B. Miller, 10.688
30. 44S-Trey Starks, 10.694
Non-Qualifier #1(8 Laps)
35X-Stuart Brubaker [1]
2. 21X-Brinton Marvel [2]
3. 18-Ian Madsen [6]
4. 41S-Dominic Scelzi [4]
5. 2C-Wayne Johnson [7]
6. 49J-Josh Schneiderman [3]
7. 2KS-Chad Boespflug [5]
8. 3-Ayrton Gennetten [9]
9. 9K-Kyle Schuett [11]
10. 42-Cory Bruns [10]
11. 11-Zeb Wise [8]
Non-Qualifier #2 (8 Laps)
17A-Austin McCarl [6]
2. 44-Jeff Swindell [7]
3. 91R-Kyle Reinhardt [9]
4. 70-Justin Peck [8]
5. 17W-Shane Golobic [10]
6. 99M-Kyle Moody [13]
7. 23B-Brian Bell [11]
8. 33M-Mason Daniel [12]
9. 44S-Trey Starks [15]
10. 51B-Joe B.Miller [14]
DRYDENE Heat #1
Flight (A) (10 Laps)
1. 41-David Gravel [2]
2. 57-Kyle Larson [1]
3. 13-Paul McMahan [4]
4. 83-Daryn Pittman [3]
5. 48-Danny Dietrich [6]
6. 83R-Lynton Jeffrey [5]
7. 17B-Bill Balog [7]
8. 24-Rico Abreu [10]
9. 39M-Anthony Macri [9]
10. 6-Bill Rose [8]
11. 35X-Stuart Brubaker [11]
DRYDENE Heat #2
Flight (A) (10 Laps)
1. 21-Brian Brown [2]
2. 71-Shane Stewart [1]
3. 15-Donny Schatz [5]
4. 51-Freddie Rahmer [4]
5. 4-Terry McCarl [3]
6. 55-Hunter Schuerenburg [6]
7. 11K-Kraig Kinser [7]
8. 5-Brent Marks [10]
9. 24W-Lucas Wolfe [8]
10. 21X-Brinton Marvel [11]
11. 35-Zach Hampton [9]
DRYDENE Heat #3
Flight (B) (10 Laps)
1. 1S-Logan Schuchart [1]
2. 49-Brad Sweet [3]
3. 2-Carson Macedo [4]
4. 7S-Jason Sides [2]
5. 3Z-Brock Zearfoss [6]
6. 2M-Kerry Madsen [5]
7. 17-Sheldon Haudenschild [7]
8. 55W-Logan Wagner [10]
9. 17A-Austin McCarl [11]
10. 91-Cale Thomas [8]
11. W20-Greg Wilson [9]
DRYDENE Heat #4
Flight (B) (10 Laps)
1. 1A-Jacob Allen [1]
2. 64-Scotty Thiel [2]
3. 26-Cory Eliason [6]
4. 87-Aaron Reutzel [3]
5. 9-Kasey Kahne [4]
6. 15H-Sam Hafertepe [5]
7. 14-Parker Price-Miller [9]
8. 13JT-Mark Dobmeier [8]
9. 9X-Paul Nienhiser [10]
10. 44-Jeff Swindell [11]
11. 11T-T.J. Stutts [7]
DIRTVision Fast Pass Dash (8 Laps)
1. 1A-Jacob Allen [2]
2. 71-Shane Stewart [4]
3. 49-Brad Sweet [1]
4. 57-Kyle Larson [3]
5. 1S-Logan Schuchart [5]
6. 64-Scotty Thiel [6]
7. 21-Brian Brown [7]
8. 41-David Gravel [8]
D-main (8 Laps)
Top 2 Transfer
1. 99M-Kyle Moody [2][-]
2. 49J-Josh Schneiderman [1][-]
3. 2KS-Chad Boespflug [3][$125]
4. 44S-Trey Starks [8][$125]
5. 33M-Mason Daniel [6][$125]
6. 11-Zeb Wise [11][$125]
7. 51B-Joe B. [10][$125]
8. 9K-Kyle Schuett [7][$125]
9. 42-Cory Bruns [9][$125]
10. 3-Ayrton Gennetten [5][$125]
11. 23B-Brian Bell [4][$125]
C-Main (10 Laps)
Top 2 Transfer
1. 91-Cale Thomas [2][-]
2. 6-Bill Rose [1][-]
3. 44-Jeff Swindell [4][$150]
4. 18-Ian Madsen [9][$150]
5. W20-Greg Wilson [6][$150]
6. 41S-Dominic Scelzi [11][$125]
7. 21X-Brinton Marvel [3][$125]
8. 91R-Kyle Reinhardt [10][$125]
9. 17W-Shane Golobic [14][$125]
10. 35X-Stuart Brubaker [5][$125]
11. 11T-T.J. Stutts [8][$125]
12. 99M-Kyle Moody [15][$125]
13. 35-Zach Hampton [7][$125]
14. 2C-Wayne Johnson [13][$125]
15. 49J-Josh Schneiderman [16][$125]
16. 70-Justin Peck [12][$125]
Last Chance Showdown (12 Laps)
Top 4 Transfer
17-Sheldon Haudenschild [6][-]
2. 11K-Kraig Kinser [7][-]
3. 14-Parker Price-Miller [8][-]
4. 83R-Lynton Jeffrey [1][-]
5. 15H-Sam Hafertepe [4][$300]
6. 5-Brent Marks [11][$250]
7. 24-Rico Abreu [9][$225]
8. 17A-Austin McCarl [14][$200]
9. 55W-Logan Wagner [10][$200]
10. 39M-Anthony Macri [13][$200]
11. 17B-Bill Balog [5][$200]
12. 9X-Paul Nienhiser [16][$200]
13. 24W-Lucas Wolfe [15][$200]
14. 91-Cale Thomas [17][$200]
15. 13JT-Mark Dobmeier [12][$200]
16. 2M-Kerry Madsen [2][$200]
17. 6-Bill Rose [18][$200]
18. 55-Hunter Schuerenburg [3][$200]
NOS Energy Drink Feature (30 Laps)
1. 49-Brad Sweet [3][$6,000]
2. 57-Kyle Larson [4][$3,000]
3. 1S-Logan Schuchart [5][$2,300]
4. 71-Shane Stewart [2][$2,000]
5. 1A-Jacob Allen [1][$1,850]
6. 41-David Gravel [8][$1,750]
7. 15-Donny Schatz [11][$1,550]
8. 17-Sheldon Haudenschild [21][$1,350]
9. 21-Brian Brown [7][$1,250]
10. 87-Aaron Reutzel [16][$1,100]
11. 26-Cory Eliason [12][$1,000]
12. 3Z-Brock Zearfoss [18][$950]
13. 83-Daryn Pittman [13][$900]
14. 13-Paul McMahan [9][$850]
15. 14-Parker Price-Miller [23][$800]
16. 48-Danny Dietrich [17][$750]
17. 7S-Jason Sides [14][$700]
18. 9-Kasey Kahne [20][$700]
19. 11K-Kraig Kinser [22][$700]
20. 6-Bill Rose [25][$]
21. 64-Scotty Thiel [6][$700]
22. 51-Freddie Rahmer [15][$700]
23. 83R-Lynton Jeffrey [24][$700]
24. 4-Terry McCarl [19][$700]
25. 2-Carson Macedo [10][$700]
Lap Leaders: Jacob Allen 1-9, Brad Sweet 10-24, 26-30, Kyle Larson 25
KSE Hard Charger Award: 17-Sheldon Haudenschild[+13]