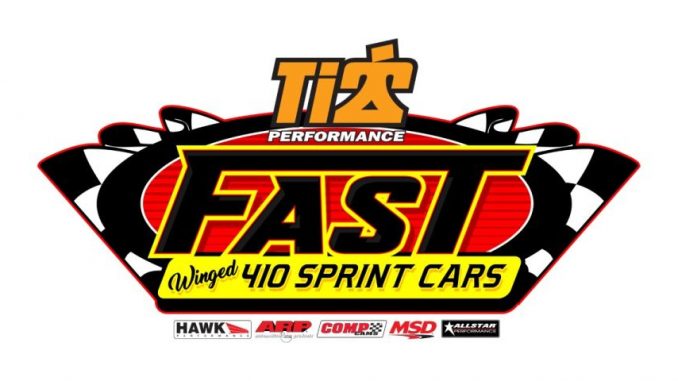 By Mike Swanger
When you think about Wayne County Speedway's history, some of the first names you think about is Jacobs, Gentry and Moore and the second or more generations of those names added to their families legacy last night with feature wins at the 3/8 mile dirt track. The FAST series presented by TI 22 for a $3,000 to win 30 lap feature that started with TJ Michael using his pole position starting spot to take the lead and hold it for the first 13 circuits. Dean Jacobs of Wooster and his Harbaugh Electronics, B&B Drain Service, Accu-Force Shocks and McClure Motorsports #9 would take second on lap three from Lee Jacobs and then set sail to track down Michael. Slowly closing the gap, Jacobs would catch up to Michael and caught him on lap 13 and would take the high groove in turn two and make the pass for the lead at that time. The race would come to a stop on lap 16 when Chris Myers went end over end at the flagstand as he walked away unhurt and five laps later the action was slowed as Tyler Gunn splintered a tire as he was running fifth. The race would go green the rest of the way as Jacobs would pull away for the win by almost two seconds over Michael. Fast qualifier Lee Jacobs finished third while Jordan Harble held off RJ Jacobs for fourth who was as battling off Jamie Myers for fifth. Heat winners were Chris Myers, Dean Jacobs and Jordan Harble.
Wooster's JR Gentry would out run Brad Malcuit into the first turn and lead all the way to capture the Malcuit Tavern Super Late Model feature. Mitch Caskey would move into second on lap two as Malcuit dropped to third. Caskey could never make a real strong challenge to overtake the El Campesino, Holmes Pest Control and Skurts Custom Apparel #14 of Gentry, although Gentry would bounce off the guardrail in turns one and two a couple of times but Caskey was not in position to take advantage of Gentry's miscues. Cody Scott was running third until lap 22 when his powerplant gave out on him as that would move Malcuit back to third as Justin Chance and Alan Baker going back and forth for fourth place as Chance would win that spot at the finish line. Caskey and Ryan Markham would win the heat races as Todd Brennan was fast timer and Alan Baker was the hard charger and Markham received the hard luck award.
The McKenzie Concrete Super Stock main would start with Gary Hensel Jr. taking the lead as fellow front row starter Matt Shroyer would stay close and on lap five take the point and keep the Coshocton based, Buckeye Auto Care #115s out front the rest of the way for his first win of the season at WCS. Chase Alexander moved into second on lap 6 and stayed within a couple of car lengths of Shroyers car to finish second. Hensel Jr. would drop to third where Bob Daugherty, Seth Dickerson and Don Rutt made it a four car battle for third. Daugherty's race would end with three laps to go with a flat tire. Hensel Jr. held on to third with Dickerson and Rutt filling out the top five. Shroyer and Alexander topped the heats as Alexander was the hard charger while T A Perrine was the hard luck receipent.
For the JoyRide Transport Mini Stock feature, it was a four car tug of war between Bobby Searls, Doug Hensel, Cory Staley and Dustin Bedlion. With numerous caution flags throughout the race, it kept the whole field bunched together. Searls would be the front runner for the opening four circuits when Doug Hensel would lay claim to the lead as he then would fend off Staley lap after lap. Following the last caution with three laps to go, Hensel and Staley would be side by side with Bedlion right behind. As the threesome went down the back stretch Bedlion was able to get by Staley and pull alongside Hensel and as the came out of turn four for the checkered flag, Bedlion would edge past Hensel by a bumper at the line for his first win as the driver of the Wooster based BS Express Motorsports and Fought Signs #18x. It was an emotional win for Bedlion as his father had passed away the day before. Staley, Searls and Jordan James rounded out the top five. Bedlion, Jolene Voshel, and Zach Myers won the heat races asJames was the hard charger and Kyle Noel took the hard luck award.
Steve Rex set the pace for the first circuit of the Modified main but was overtaken by Nathan Loney on lap two with Mansfield's Kyle Moore moving into third on lap three and then to second on lap five. A caution on lap four would put Loney and Moore side by side for the double file restart and Moore and his Kepling Flooring, Moore's Used Tires and Arnold Motorsports #1* took the lead and not look back to capture his first win this year at 'Orrville's Historic Oval' and his sixth overall this year. Loney, the fast qualifier, a heat winner and hard luck driver, would have a couple of chances on restarts but his night would come to an end when he tagged the turn three wall and was towed off. The race would go green the rest of the way as Moore, who was a heat winner and hard charger, drove away for the win. Rex finished second followed by Hensel Jr., Robbie Ledger and Richard Grogg.
The next racing action at Wayne County Speedway will be on Monday, July 6th with Ohio Sprint Speedweek and the Ollie's Bargain Outlet All Star Circuit of Champions for the Duffy Smith Memorial. Past winners have been Sheldon Haudenschild, Rico Abreau, Kyle Larson and Aaron Reutzel. Gates will open at 3 pm with hot laps and qualifying at 6 pm and racing to start around 7 pm.
WAYNE COUNTY SPEEDWAY RESULTS
Saturday, July 27, 2020
FAST & PINE TREE TOWING & RECOVERY SPRINTS
Fast Qualifier Lee Jacobs 14.845 seconds
Napa Auto Parts Heat 1 Chris Myers, Lee Jacobs, Tyler Gunn, Bryan Nuckles, Jason Dolick, Mitch Harble dns
Helms & Sons Construction Heat 2 Dean Jacobs, R J Jacobs, Henry Malcuit, Cody Gardner, Wyatt Zimmerman, Danny Mumaw
Hoosier Tire Midwest Heat 3 Jordan Harble, TJ Michael, Jamie Myers, Nick Patterson, Ray Miller, Dylan Kingan dns
Feature Dean Jacobs, TJ Michael, Lee Jacobs, Jordan Harble, RJ Jacobs, Jamie Myers, Nick Patterson, Cody Gardner, Henry Malcuit, Tyler Gunn, Bryan Nuckles, Jason Dolick, Wyatt Zimmerman, Ray Miller, Chris Myers, Dylan Kingan, Mitch Harble dns, Danny Mumaw dns
MALCUIT TAVERN SUPER LATE MODELS
Fast Qualifier Todd Brennan 16.856 seconds
Heat 1 Mitch Caskey, Brad Malcuit, Todd Brennan, Cody Scott, Larry Bellman, Rick Mardis, Craig Hartong
Heat 2 Ryan Markham, Justin Chance, JR Gentry, Brett Bee, Alan Baker, Wes Morrison, TJ Enos
Feature JR Gentry, Mitch Caskey, Brad Malcuit, Justin Chance, Alan Baker, Ryan Markham, Rick Mardis, Cody Scott, Todd Brennan, Craig Hartong, Larry Bellman, Wes Morrison, Brett Bee, TJ Enos
MCKENZIE CONCRETE SUPER STOCKS
Heat 1 Matt Shroyer, Curt Zimmerman, Don Rutt, James Alleman, Jimmy Humphrey, Luke Sprouse, TA Perrine
Heat 2 Chase Alexander, Seth Dickerson, Gary Hensel Jr., Tyler Wiles, Brad Hensel, Brandon Craver, Bob Daugherty
Feature Matt Shroyer, Chase Alexander, Gary Hensel Jr., Seth Dickerson, Don Rutt, Jimmy Humphrey, Luke Sprouse, Brandon Craver, James Alleman, Curt Zimmerman, Bob Daugherty, Brad Hensel, TA Perrine, Tyler Wiles
JOYRIDE TRANSPORT MINI STOCKS
Heat 1 Dustin Bedlion, Dakota Graciani, Doug Hensel, Travis Hutton, Briyant Worthy, Stephen Crowe, Ashley Evans, Dylan Tanner
Heat 2 Jolene Voshel, Cory Staley, Wayne Newbury, Cory Cecil, Mitch Reichard, Jordan James, Ryan Carder, John Louis
Heat 3 Zach Myers, Anthony Collins, Bobby Searls, Steven Lester, Coree Boyd, Kyle Noel, Molly Rannigan, Wes Staley
Feature Dustin Bedlion, Doug Hensel, Cory Staley, Bobby Searls, Jordan James, Anthony Collins, Wayne Newbury, Zach Myers, Briyant Worthy, Ryan Carder, John Louis, Dakota Graciani, Coree Boyd, Ashley Evans, Steven Lester, Jolene Voshel, Stephen Crowe, Kyle Noel, Travis Hutton, Dylan Tanner, Molly Rannigan, Mitch Reichard, Wes Staley, Cory Cecil dns
MODIFIEDS
Fast Qualifier Nathan Loney 18.388 seconds
Heat 1 Nathan Loney, Steve Rex, Robbie Ledger, Pauly Hess, Rory Reed, Cody Basinger, Scott Smith
Heat 2 Kyle Moore, Dustin Daugherty, Gary Hensel Jr., Richard Grogg, Jeremy Waite, Todd Rohr, Mark Gardner
Feature Kyle Moore, Steve Rex, Gary Hensel Jr., Robbie Ledger, Richard Grogg, Jeremy Waite, Scott Smith, Todd Rohr, Nathan Loney, Dustin Daugherty, Cody Basinger, Pauly Hess, Rory Reed, Mark Gardiner dns