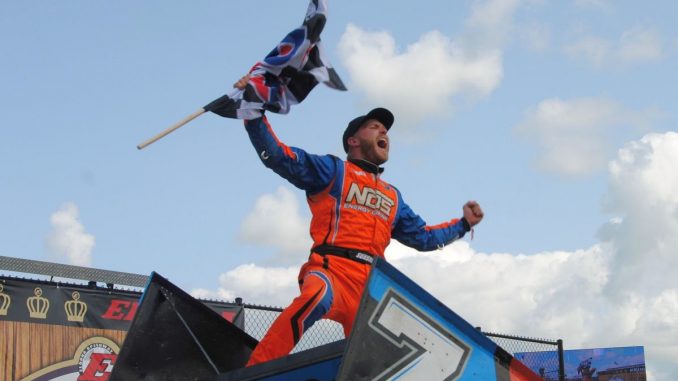 ROSSBURG, Ohio (July 17, 2021) — By T.J. Buffenbarger
ROSSBURG, Ohio (July 17, 2021) – "Sunshine" Tyler Courtney has had considerable success at Eldora Speedway in USAC competition, but Saturday afternoon Courtney elevated his career by winning the 38th Kings Royal with the World of Outlaws NOS Energy Drink Sprint Car Series. Courtney took the lead after Brad Sweet suffered a flat right rear tire under caution and held off multiple challenges by David Gravel for the victory.
The victory was worth $175,000 for the 27 year old driver from Indianapolis, Indiana. Previous to the Royal Courtney indicated his biggest payday was significantly less than the winner's share at Eldora
"This is by far the biggest win of my career," said Courntye. "I don't think I've won over $12,000 before, let alone a crown jewel event like this."
Courtney was visibly emotional in victory lane and during the post race press conference
"I don't even know how to describe it honestly," Courtney said about how he felt about winning the Kings Royal. "Excitement is probably the biggest word. I saw everyone (in the crowd) stand up. That is something you dream about as a kid. I've watched a lot of these races on TV and I've been to Knoxville, I've seen the crowd go crazy when people win like this . You think in your dream it's going to be you, but not very often does it ever actually happen. The fact that it happened today. It really sank in once we cleared the scales and went back on the track and turned out of the pit gate and everyone cheered again. That got me, that got my tears flowing a little bit. I had to suck them back in before I got on top of that wing."
The win also was Courtney's first career World of Outlaws victory and the first for Clauson/Marshall Racing.
Courtney started on the outside front row with fellow All Star Circuit of Champions competitor Justin Peck. Courtney jumped into the lead on the opening lap, but that was negated but a crash on the front stretch involved Kerry Madsen, Giovanni Scelzi, and Cory Eliason bringing out the red flag. All three drivers exited their cars under their own power, but none were able to rejoin the event.
The second attempt to start the feature saw Courtney in the lead being pursued by 2019 Kings Royal winner Brad Sweet. Sweet dove under Courtney to take the lead through turns one and two and built up a half of a second lead. Five laps into the race Sweet entered slower traffic as Courtney was able to hang onto Sweet's back bumper.
Behind the lead duo, Logan Schuchart was just starting to assert himself passing Donny Schatz to crack the top five when the race took a dramatic turn. Schuchart slowed with a mechanical issue while Lachlan McHugh blew a right rear tire to bring out the caution flag with 19 laps in While under caution Brian Brown also entered the work area with a right rear tire going down.
While idling under caution Sweet also suffered a flat right rear tire and had to go to the work area, giving Courtney the lead.
Courtney pulled away during the restart while Dietrich passed Schatz and Daryn Pittman to move up to third. Gravel quickly closed in on Courtney, diving to the inside of turn four on lap 24, but could not make the pass.
As the track took rubber with 11 laps to go Courtney started to encounter slower traffic. Courtney was able to lap Lachlan McHugh with nine laps to go, giving him some breathing room. It took Gravel several laps to pass McHugh, but once Gravel made the pass he quickly closed in on Courtney.
Gravel had one more opportunity to pass Courtney coming through turns three and four on the outside, but Courtney was able to thwart the challenge and drove on to the biggest win of his career. Gravel crossed the finish line in the runner up position, but his car did not make minimum weight requirements after the race, elevating Danny Dietrich to the second position. Daryn Pittman, Bill Balog, and Sheldon Haudenschild rounded out the top five.
When asked how Courtney would prepare for an attempt to win another $175,000 during second program at Eldora Saturday night, Courtney was still trying to figure that part out.
"I have no idea honestly," Courtney said with a smile. "I know my guys will be hard at work getting it back dialed in again and I'll try my damndest to get mentally prepared to do it again. We have a really good racecar, and we will see what we can do for the 37th annual."
38th Kings Royal
World of Outlaws NOS Energy Drink Sprint Car Series
Eldora Speedway
Rossburg, Ohio
Saturday, July 17, 2021
Qualifying (Held July 15):
1. 21-Brian Brown, 13.326
2. 10B-Dave Blaney, 13.345
3. 41-Carson Macedo, 13.401
4. 1S-Logan Schuchart, 13.418
5. 7BC-Tyler Courtney, 13.478
6. 14-Kerry Madsen, 13.484
7. 5-Paul McMahan, 13.499
8. 48-Danny Dietrich, 13.558
9. 57-Kyle Larson, 13.577
10. 24-Rico Abreu, 13.598
11. 10-Zeb Wise, 13.623
12. 83-Aaron Reutzel, 13.651
13. 26-Cory Eliason, 13.659
14. 15-Donny Schatz, 13.671
15. 17B-Bill Balog, 13.725
16. 101-Lachlan McHugh, 13.748
17. 42-Sye Lynch, 13.758
18. 55V-C.J. Leary, 13.767
19. 39-Daryn Pittman, 13.774
20. 5T-Travis Philo, 13.798
21. 49-Brad Sweet, 13.815
22. 2-David Gravel, 13.832
23. 49D-Shawn Dancer, 13.867
24. 13-Justin Peck, 13.870
25. 55-Hunter Schuerenberg, 13.877
26. 18-Giovanni Scelzi, 13.889
27. 22-Jac Haudenschild, 13.904
28. 9JR-Derek Hagar, 13.907
29. 12N-Joey Saldana, 13.950
30. 17-Sheldon Haudenschild, 13.963
31. 9-James McFadden, 13.968
32. 15X-Sam Hafertepe Jr., 13.977
33. 11-Spencer Bayston, 13.994
34. 7S-Jason Sides, 13.998
35. 19-Parker Price-Miller, 14.020
36. 19M-Brent Marks, 14.021
37. 3Z-Brock Zearfoss, 14.107
38. 7-John Carney, 14.123
39. 71-Anthony Macri, 14.136
40. 49X-Ian Madsen, 14.154
41. 29-D.J. Foos, 14.158
42. 11K-Kraig Kinser, 14.195
43. 11N-Harli White, 14.250
44. 1A-Jacob Allen, 14.281
45. 2C-Wayne Johnson, 14.290
46. 91-Kyle Reinhardt, 14.298
47. 70-Henry Malcuit, 14.339
48. 22M-Dan McCarron, 14.341
49. 18-Bryce Schmidt, 14.476
50. 19-Paige Polyak, 14.482
51. 70-Carson Short, 14.499
52. 25R-Jordan Ryan, 14.510
53. 97-Greg Wilson, 14.532
54. 47M-Marcus Dumesny, 14.622
55. 83X-Nate Reeser, 14.753
56. 4X-Bradley Ashford, 15.387
57. 23-Jordan Harble, 15.725
58. 18X-Cole Macedo, 13.843 (DQ'ed due to nose wing infraction)
59. 3J-Trey Jacobs, NT
60. 6-Ryan Smith, NT
61. 28-Tim Shaffer, NT
Heat Race #1 (10 Laps, Held July 15):
1. 39-Daryn Pittman
2. 26-Cory Eliason
3. 21-Brian Brown
4. 5-Paul McMahan
5. 3Z-Brock Zearfoss
6. 55-Hunter Schuerenberg
7. 18X-Cole Macedo
8. 11N-Harli White
9. 18S-Bryce Schmidt
10. 83X-Nate Reeser
11. 9-James McFadden
(First three finishers transferred to the A-Main)
Heat Race #2 (10 Laps):
1. 15-Donny Schatz
2. 48-Danny Dietrich
3. 18-Giovanni Scelzi
4. 5T-Travis Philo
5. 10B-Dave Blaney
6. 1A-Jacob Allen
7. 15H-Sam Haferepe Jr.
8. 19P-Paige Polyak
9. 4X-Bradley Ashford
DNS: 7-John Carney
(First three finishers transferred to the A-Main)
Heat Race #3 (10 Laps):
1. 49-Brad Sweet
2. 17B-Bill Balog
3. 41-Carson Macedo
4. 11-Spencer Bayston
5. 57-Kyle Larson
6. 22-Jac Haudenschild
7. 2C-Wayne Johnson
8. 70-Carson Short
9. 71-Anthony Macri
10. 23-Jordan Harble
(First three finishers transferred to the A-Main)
Heat Race #4 (10 Laps):
1. 2-David Gravel
2. 1S-Logan Schuchart
3. 24-Rico Abreu
4. 101-Lachlan McHugh
5. 49X-Ian Madsen
6. 91-Kyle Reinhardt
7. 7S-Jason Sides
8. 9JR-Derek Hagar
9. 3J-Trey Jacobs
10. 25R-Jordan Ryan
(First three finishers transferred to the A-Main)
Heat Race #5 (10 Laps):
1. 7BC-Tyler Courtney
2. 42-Sye Lynch
3. 49D-Shawn Dancer
4. 12N-Joey Saldana
5. 19-Parker Price-Miller
6. 10-ZebWise
7. 29-D.J. Foos
8. 6-Ryan Smith
9. 70M-Henry Malcuit
10. 97-Greg Wilson
(First three finishers transferred to the A-Main)
Heat Race #6 (10 Laps):
1. 13-Justin Peck
2. 14-Kerry Madsen
3. 11K-Kraig Kinser
4. 17-Sheldon Haudenschild
5. 47N-Marcus Dumesny
6. 55V-C.J. Leary
7. 28-Tim Shaffer
8. 83-Aaron Reutzel
9. 22M-Dan McCarron
10. 19M-Brent Marks
(First three finishers transferred to the A-Main)
C-Main (12 Laps):
1. 9JR-Derek Hagar
2. 28-Tim Shaffer
3. 71-Anthony Macri
4. 9-James McFadden
5. 15H-Sam Hafertepe Jr.
6. 7S-Jason Sides
7. 2C-Wayne Johnson
8. 29-D.J. Foose
9. 25R-Jordan Ryan
10. 11N-Harli White
11. 3J-Trey Jacobs
12. 23-Jordan Harble
13. 22M-Dan McCarron
14. 70M-Henry Malcuit
15. 83X-Nate Reeser
16. 97-Greg Wilson
17. 18X-Cole Macedo
18. 70-Carson Short
19. 19P-Paige Polyak
DNS: 19M-Brent Marks
DNS: 7-John Carney
(First Six Finishers transferred to the B-Main)
B-Main:
1. 101-Lachlan McHugh
2. 11-Spencer Bayston
3. 17-Sheldon Haudenschild
4. 3Z-Brock Zearfoss
5. 12N-Joey Saldana
6. 55-Hunter Schuerenberg
7. 49X-Ian Madsen
8. 19-Parker Price-Miller
9. 71-Anthony Macri
10. 22-Jac Haudenschild
11. 55V-C.J. Leary
12. 9JR-Derek Hagar
13. 9-James McFadden
14. 91-Kyle Reinhardt
15. 47N-Marcus Dumesny
16. 7S-Jason Sides
17. 1A-Jacob Allen
18. 5T-Travis Philo
19. 57-Kyle Larson
20. 28-Tim Shaffer
21. 10-Zeb Wise
22. 15H-Sam Hafertepe Jr.
(First Four finishers transferred to the A-Main)
A-Main (40 Laps):
1. 7BC-Tyler Courtney
2. 48-Danny Deitrich
3. 39-Daryn Pittman
4. 17B-Bill Balog
5. 17-Sheldon Haudenschild
6. 41-Carson Macedo
7. 15-Donny Schatz
8. 24-Rico Abreu
9. 49-Brad Sweet
10. 21-Brian Brown
11. 13-Justin Peck
12. 42-Sye Lynch
13. 11-Spencer Bayston
14. 3Z-Brock Zearfoss
15. 11K-Kraig Kinser
16. 5-Paul McMahan
17. 101-Lachlan McHugh
18. 1S-Logan Schuchart
19. 49D-Shawn Dancer
20. 10B-Dave Blaney
21. 26-Cory Eliason
22. 18-Giovanni Scelzi
23. 14-Kerry Madsen
24. 2-David Gravel