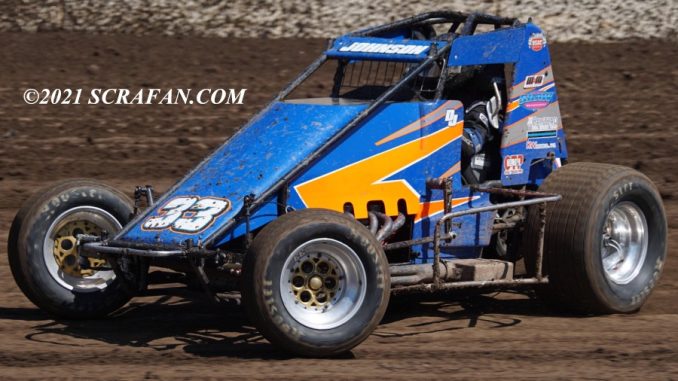 From Lance Jennings
(February 7, 2022) – The USAC West Coast 360 Sprint Cars are poised for at least nine (9) dates at three (3) different racetracks in 2022. At press time, there are also three dates to be announced as Series Director Stephanie Odom looks for more shows to be added to the schedule. The Dirt Track at Kern County Raceway Park (Bakersfield, CA) hosts the season opener on February 26th and the "Championship Night" on October 15th. The series will also share the spotlight with the non-point 81st Running of the Turkey Night Grand Prix at Ventura Raceway (Ventura, CA) in late November.
The Dirt Track at Kern County Raceway Park (KCRP) in Bakersfield, California has two dates on the calendar. The season will kick off at the fast 1/3-mile oval on February 26th and the champion will be crowned at the October 15 "Championship Night." Chase Johnson won the series' inaugural appearance at Kern County on September 19th and posted the 1-lap track record of 14.604. The Dirt Track at Kern County Raceway Park is located at 13500 Raceway Blvd. at the intersection of Interstate 5 and Enos Lane. For more information, visit kernraceway.com or call 661.835.1264.
Promoted by Scott Schweitzer, Bakersfield Speedway will host two events on the schedule. "The West's Fastest 1/3-Mile High Banked Clay Oval" will feature the non-winged 360s on March 12th and September 10th. On September 18th, Chase Johnson raced to victory following a new 1-lap track record of 12.354 that was posted by Brody Fuson. To date, Davey Pombo leads all series drivers with three triumphs at Bakersfield. Bakersfield Speedway is located at 5001 North Chester Extension in Bakersfield, California and for more details, visit bakersfieldspeedway.com or call 661.393.3373.
Located at the Ventura County Fairgrounds, Ventura Raceway has five shows on the calendar. Promoted by Jim Naylor, "The Best Little Dirt Track in America" will host the traditional 360s on May 21, June 4, August 27, September 24, and the non-point Turkey Night Grand Prix on November 25th. Last year, Troy Rutherford, Ryan Timmons, and A.J. Bender claimed wins at the seaside 1/5-mile oval. Jake Swanson and 2019 champion Tristan Guardino lead all drivers with three Ventura victories and the 1-lap track record of 11.958 was posted by Guardino on March 23, 2019. Ventura Raceway is located at 10 West Harbor Boulevard in Ventura, California and for more details, visit venturaraceway.com or call 805.648.RACE.
If you or your company would like to become part of the series, email Stephanie Odom at Odom.Stephanie@me.com or Lance Jennings at lwjennings@earthlink.net.
For more information on the USAC Western States Midget Series, visit the United States Auto Club (USAC) website at usacracing.com and the social media for USAC Racing. You can also find exclusive content on the USAC Western States Midget Facebook, Twitter, and Instagram pages.
FloRacing.com has live, flag-to-flag coverage of the USAC Western States Midget Series. You can catch the action by subscribing to FloRacing on a monthly or yearly basis to view their huge catalog of live and on-demand auto racing and sporting events.