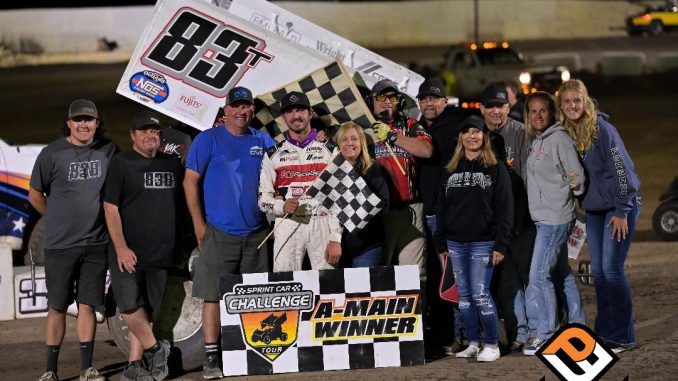 By Gary Thomas
Marysville, CA…The Marysville Raceway provided a vast number of thrills and excitement on Sunday night for the Sprint Car Challenge Tour presented by Elk Grove Ford and Abreu Vineyards. In the end it was Tanner Carrick of nearby Lincoln who held off all challengers for the $3,500 grand prize at the 22nd "Mel and Marlyn Hall Memorial."
It marked Carrick's second career Sprint Car Challenge Tour win and came aboard the CVC Concrete/ Harris and Sloan No. 83T entry. Over $2,000 in additional cash prizes were raised by the Hall Family and handed out during the event. High Sierra Industries also kicked in an extra $500 to the winner during the night. An excellent evening of racing was presented in memory of long-time track Promoters Mel and Marlyn Hall.
Early in the 35-lapper it was a battle of the Carrick's as Tanner jumped out to the lead ahead of younger brother Blake. A multi-groove surface was seen and allowed the top 360 drivers in the west an opportunity to showcase their skills to the solid crowd on hand. Fremont's Shane Golobic worked his way to the front on lap eight when he slipped to the inside of T. Carrick on lap nine.
It didn't last long however, as Carrick powered back to the outside to regain the spot with lapped cars in the mix.
Several movers and shakers were seen with Roseville's Sean Becker, Modesto's Tony Gomes and others in the mix. Becker navigated the Cook Motorsports No. 22x into the runner up spot when he sliced to the inside of Golobic, before then feeling the heat from Gomes. A lap 19 restart saw Becker make his move for the top spot when he got to the inside of Carrick to nip him at the line, but it was negated when the red lights flashed for Dawson Hammes.
Carrick then held command but felt heavy pressure lap after lap from Becker who pounded the cushion in pursuit of the Lincoln driver. With 26 circuits complete the "Shark" crossed under Carrick to snag the lead heading down the front stretch with the fans coming to their feet. Carrick remained poised though and fought back by to lead lap 27. After going back and forth with Gomes for second Becker gave it a shot on the final lap, but Carrick hit his marks to accept the checkered flag.
Becker crossed the stripe in second, followed by the Menne Motorsports 75 of Gomes, the Matt Wood Racing 17w of Golobic and the Berco Redwood 31c piloted by Justyn Cox. The remainder of the top-10 was filled out by DJ Netto, Brad Bumgarner, Dylan Bloomfield, Ryan Robinson and Bradley Terrell. Robinson earned the Pit Stop USA Hard Charger Award after start 21st on the grid. At one point he blasted through the pack and got as high as sixth, before suffering a flat tire and having to do it again from the rear.
Robinson captured the B-main, while Tanner Carrick won the High Sierra Industries Dash. Tiner-Hirst Ent. heat race one went to Justyn Cox, BR Motorsports heat two was claimed by Blake Carrick, the King Racing Products third heat went to Tony Gomes and A.R.T. Speed Equipment heat four was won by Jodie Robinson. Shane Golobic took home the $200 prize in Bianchi Farms and Paul Olmstead Plastering Qualifying with a lap of 12.601.
Results can be found at https://speedhive.mylaps.com/Events/1990281
The Sprint Car Challenge Tour presented by Elk Grove Ford and Abreu Vineyards returns to action this Saturday June 4th at the Silver Dollar Speedway in Chico.
Sprint Car Challenge Tour
Hall Memorial
Placerville Speedway
Placerville, California
Sunday, May 29, 2022
Winged 360 Sprint Cars
Feature:
1. 83T-Tanner Carrick
2. 22X-Sean Becker
3. 75-Tony Gomes
4. 17W-Shane Golobic
5. 31C-Justyn Cox
6. 88N-D.J. Netto
7. 88-Brad Bumgarner
8. 33-Dylan Bloomfield
9. 14W-Ryan Robinson
10. 43-Bradley Terrell
11. X1-Michael Facinto
12. 21X-Gage Garcia
13. 12J-John Clark
14. 7B-Brent Bjork
15. 21-Shane Hopkins
16. 34-Landon Brooks
17. 92-Andy Forsberg
18. 38B-Blake Carrick
19. 55D-Dawson Hammes
20. 12-Steel Powell
21. 4D-Jodie Robinson
22. 1F-D.J. Freitas
23. 6W-Billy Wallace
24. 7H-Jake Haulot.