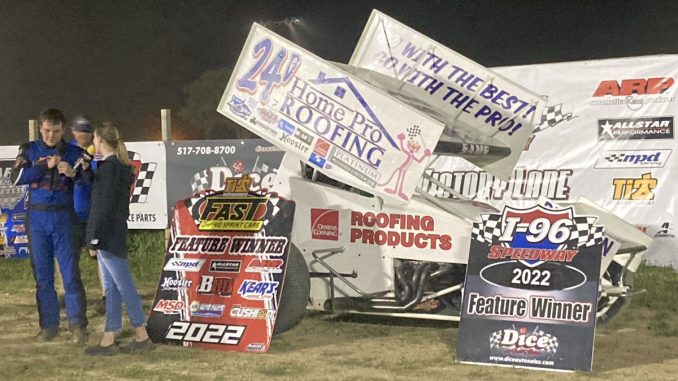 By T.J. Buffenbarger
LAKE ODESSA, Mich. (June 3, 2022) — Danny Sams III continued his breakout season by winning the FAST on Dirt 410 sprint car series main event Friday during the opening night of the Full Throttle Nationals. Sams was able to pass Great Lakes Super Sprint feature winner Nate Dussel for the lead during a late race restart and held off a last lap surge by Dussel to win by just 0.094 seconds at the finish line.
Sams, who made just his seventh start in a 410 sprint car, now has two victories this year in the division and four sprint car victories overall during the 2022 season. This win came from the narrowest of margins after Sams' car came to life halfway through the main event.
"Midway through the race I got passed on the bottom and I realized that I really got to start going and started to hit the top really hard and it was fast," said Sams. "It was a matter of lap traffic. I had no idea where I was when the caution came out and it ended up that I was in third. Then I got a good start and I passed second on the first corner and was catching Dussel when he slid up the track and I went to go under him in a way to try to fool them so he wouldn't go to the top, so I just kept running the top and I waited so I could get a good run to shoot around him."
After the race Sams was still processing his quick success in the 410 sprint car division.
"We've won two in each car, and this is our first year in a 410," said Sams. "I think this is my seventh nine out in this car. To be able to get to so far is incredible. We're going to try to keep the momentum building but it's hard to run with these guys are also fast. We just have to stay on our game and see what we can do with the rest of year."
Zeth Sabo and Ricky Peterson started on the front row of the main event with Sabo leading while Dussel drove under Dustin Daggett and Peterson into third and carried his momentum to drive by Tylar Rankin in the same move to dive into second.
The first caution appeared for Zane DeVault who made hard contact head on with the turn four wall. DeVault walked away under his own power, but his care sustained heavy damage.
Sabo pulled away during the restart while Dustin Daggett began pressuring Dussel for second position. Daggett was able to take the spot away from Dussel down the backstretch on lap four, but Dussel took the spot back one lap later in turn one before Daggett secured second on lap seven.
Sabo began overtaking slower cars on lap eight and allowed Daggett to close. On lap 10 Sabo and Daggett split a lapped car racing for the lead in turn two with Daggett coming out with the lead. Sabo attempted to counter but drove over Daggett's front end sending him spinning into the infield. Daggett's car came to rest far enough off the racing surface that the feature remained under green.
During that exchange Dussel was able to sneak by Sabo on the bottom of the track to take the lead. On lap 19 Sams made his presence felt from eight starting position driving by Sabo for second. One lap later he started to pressure Dussel for the lead.
Sams was able to drive around the top of Dussel to take the lead on lap 24. Dussel continued to adjust his line and caught Sams to set up a final lap move of the bottom of turn four that came up short by inches. Sabo, Peterson, and Rankin rounded out the top five.
Sams knew the finish would be close as his car started to slow down towards the end of the race.
"The car started falling off falling off," said Sams. "I knew he was catching me because I couldn't get that run I had before. I knew I was going to be close when I saw the white flag. Nate was able to get a better run off four and I wasn't I knew I had to make my car 100 feet wide, but I was able to block him and I think we beat him by a foot."
FAST 410 sprint Car Series
Full Throttle Nationals
I-96 Speedway
Lake Odessa, Michigan
Friday, June 3, 2022
Qualifying
1. 1-Nate Dussel, 13.881[2]
2. 12-Corbin Gurley, 14.025[4]
3. 9-Ricky Peterson, 14.364[1]
4. 25M-Ryan Ruhl, 14.394[3]
5. 19-Mitch Harble, 14.515[6]
6. 71H-Max Stambaugh, 14.610[7]
7. 7N-Dain Naida, 16.404[5]
Qualifying 2
1. 85-Dustin Daggett, 13.908[1]
2. 81-Lee Jacobs, 14.174[7]
3. 24D-Danny Sams III, 14.202[6]
4. 29-Zeth Sabo, 14.961[4]
5. 9G-Cody Gardner, 15.405[2]
6. 7-Alex Aldrich, 15.539[3]
7. 17S-Reece Saldana, 15.713[5]
Qualifying 3
1. 7D-Zane Devault, 14.224[3]
2. 16C-Tyler Rankin, 14.339[2]
3. 14-Sean Rayhall, 14.906[5]
4. 10-Justin Adams, 16.679[6]
5. 2A-AJ Aldrich, 16.879[4]
DNS: 27K-Zac Broughman, 16.879
Heat Race #1 (8 Laps)
1. 9-Ricky Peterson[2]
2. 25M-Ryan Ruhl[1]
3. 1-Nate Dussel[4]
4. 71H-Max Stambaugh[6]
5. 12-Corbin Gurley[3]
6. 7N-Dain Naida[7]
7. 19-Mitch Harble[5]
Heat Race #2 (8 Laps)
1. 29-Zeth Sabo[1]
2. 24D-Danny Sams III[2]
3. 85-Dustin Daggett[4]
4. 81-Lee Jacobs[3]
5. 9G-Cody Gardner[5]
6. 17S-Reece Saldana[7]
7. 7-Alex Aldrich[6]
Heat Race #3 (8 Laps)
1. 16C-Tyler Rankin[3]
2. 7D-Zane Devault[4]
3. 10-Justin Adams[1]
4. 2A-AJ Aldrich[5]
5. 27K-Zac Broughman[6]
6. 14-Sean Rayhall[2]
A-Main (30 Laps)
1. 24D-Danny Sams III[8]
2. 1-Nate Dussel[5]
3. 29-Zeth Sabo[1]
4. 9-Ricky Peterson[2]
5. 16C-Tyler Rankin[3]
6. 81-Lee Jacobs[11]
7. 25M-Ryan Ruhl[7]
8. 71H-Max Stambaugh[10]
9. 12-Corbin Gurley[13]
10. 19-Mitch Harble[19]
11. 17S-Reece Saldana[17]
12. 7N-Dain Naida[16]
13. 9G-Cody Gardner[14]
14. 7-Alex Aldrich[20]
15. 14-Sean Rayhall[18]
16. 10-Justin Adams[9]
17. 2A-AJ Aldrich[12]
18. 27K-Zac Broughman[15]
19. 85-Dustin Daggett[4]
20. 7D-Zane Devault[6]