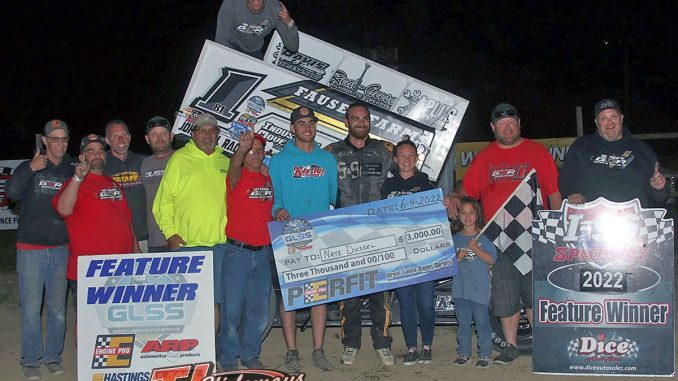 LAKE ODESSA, Mich. (June 4, 2022) — LAKE ODESSA, Mich. (June 4, 2022) – Nate Dussel completed the biggest weekend of his sprint car career after winning his third feature of the weekend during the Full Throttle Nationals at I-96 Speedway in Lake Odessa, Michigan.
Dussel backed his victory earlier in the night with the FAST 410 sprint car series by winning the Great Lakes Super Sprints main event on Saturday night. Dussel, from Bradner, Ohio, also was one spot away from winning four features during the weekend finishing in second during Friday's FAST 410 sprint car event.
Saturday's victory did not come easy for Dussel charging from 13th starting position to join Dustin Daggett and Max Stambaugh's torrid race for the lead 11 laps into the feature event. Dussel drove to the lead on lap 15 with Stambaugh remaining right on his back bumper.
During the closing laps of the feature Stambaugh closed in on Dussel and got a look under him in turn one with just two laps to go, but Dussel was up for the challenge winning the feature event over Stambaugh, Horstman, Gregg Dalman from 12th starting position, and Daggett.
Full Throttle Nationals
Great Lakes Super Sprints
I-96 Speedway
Lake Odessa, Michigan
Saturday, June 4, 2022
Qualifying
1. 66-Chase Dunham, 14.097[1]
2. 71H-Max Stambaugh, 14.246[4]
3. 23-Devon Dobie, 14.270[6]
4. 7C-Phil Gressman, 14.277[13]
5. 19M-Brett Mann, 14.281[8]
6. 27-Brad Lamberson, 14.415[2]
7. X-Mike Keegan, 14.439[12]
8. 84-Kyle Poortenga, 14.494[5]
9. 1D-Nate Dussel, 14.534[14]
10. 21-Linden Jones, 14.571[3]
11. 46-Ryan Coniam, 14.699[11]
12. 16B-Chase Ridenour, 14.717[7]
13. 38-Max Frank, 14.750[9]
14. 3A-Mike Astrauskas, 15.047[15]
15. 0-Brayton Phillips, 15.438[16]
16. 11-Joe Conway, 16.102[10]
Qualifying 2
1. 16C-Tyler Rankin, 14.343[6]
2. 24D-Danny Sams III, 14.358[3]
3. 28-Shawn Valenti, 14.428[15]
4. 85-Dustin Daggett, 14.444[14]
5. 17-Jared Horstman, 14.524[7]
6. 49T-Gregg Dalman, 14.657[8]
7. 13-Andy Teunessen, 14.761[11]
8. 15K-Creed Kemenah, 14.822[10]
9. 86-Keith Sheffer Jr, 14.835[5]
10. 10S-Jay Steinebach, 14.835[9]
11. 14H-Zane Devault, 14.869[1]
12. 70-Eli Lakin, 14.890[4]
13. 2-Ricky Peterson, 14.894[12]
14. 20I-Kelsey Ivy, 15.142[13]
15. 55-Matt Cogley, 15.301[2]
Heat Race #1 (8 Laps)
1. 19M-Brett Mann[2]
2. X-Mike Keegan[1]
3. 23-Devon Dobie[3]
4. 1D-Nate Dussel[5]
5. 66-Chase Dunham[4]
6. 38-Max Frank[7]
7. 0-Brayton Phillips[8]
8. 46-Ryan Coniam[6]
Heat Race #2 (8 Laps)
1. 7C-Phil Gressman[3]
2. 71H-Max Stambaugh[4]
3. 84-Kyle Poortenga[1]
4. 16B-Chase Ridenour[6]
5. 21-Linden Jones[5]
6. 3A-Mike Astrauskas[7]
7. 11-Joe Conway[8]
8. 27-Brad Lamberson[2]
Heat Race #3 (8 Laps)
1. 17-Jared Horstman[2]
2. 13-Andy Teunessen[1]
3. 14H-Zane Devault[6]
4. 28-Shawn Valenti[3]
5. 16C-Tyler Rankin[4]
6. 86-Keith Sheffer Jr[5]
7. 55-Matt Cogley[8]
8. 2-Ricky Peterson[7]
Heat Race #4 (8 Laps)
1. 85-Dustin Daggett[3]
2. 24D-Danny Sams III[4]
3. 49T-Gregg Dalman[2]
4. 15K-Creed Kemenah[1]
5. 70-Eli Lakin[6]
6. 20I-Kelsey Ivy[7]
7. 10S-Jay Steinebach[5]
B-Main (12 Laps)
1. 66-Chase Dunham[1]
2. 70-Eli Lakin[4]
3. 86-Keith Sheffer Jr[7]
4. 20I-Kelsey Ivy[8]
5. 16C-Tyler Rankin[3]
6. 10S-Jay Steinebach[12]
7. 2-Ricky Peterson[15]
8. 38-Max Frank[5]
9. 55-Matt Cogley[11]
10. 0-Brayton Phillips[9]
11. 11-Joe Conway[10]
12. 3A-Mike Astrauskas[6]
DNS: 21-Linden Jones
DNS: 46-Ryan Coniam
DNS: 27-Brad Lamberson
A-Main (30 Laps)
1. 1D-Nate Dussel[13]
2. 71H-Max Stambaugh[7]
3. 17-Jared Horstman[1]
4. 49T-Gregg Dalman[12]
5. 85-Dustin Daggett[5]
6. X-Mike Keegan[4]
7. 15K-Creed Kemenah[16]
8. 86-Keith Sheffer Jr[19]
9. 28-Shawn Valenti[15]
10. 23-Devon Dobie[9]
11. 16C-Tyler Rankin[21]
12. 7C-Phil Gressman[3]
13. 20I-Kelsey Ivy[20]
14. 19M-Brett Mann[8]
15. 13-Andy Teunessen[2]
16. 10S-Jay Steinebach[22]
17. 14H-Zane Devault[11]
18. 84-Kyle Poortenga[10]
19. 70-Eli Lakin[18]
20. 24D-Danny Sams III[6]
21. 66-Chase Dunham[17]
22. 16B-Chase Ridenour[14]