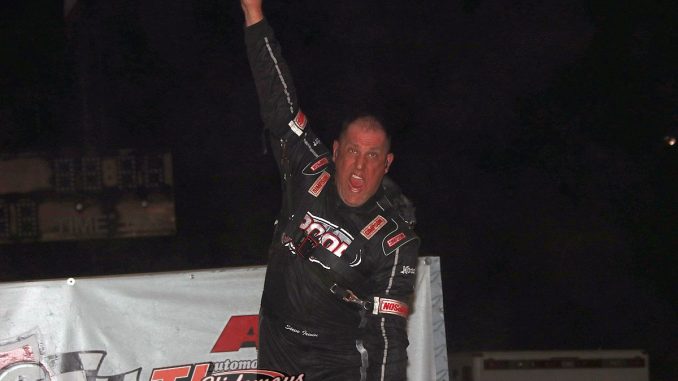 LAKE ODESSA, Mich. (June 3, 2022) — Steve Irwin dominated the Buckeye Outlaw Sprint Series / Great Lakes Traditional Sprints feature during the second night of the Full Throttle Nationals Saturday at I-96 Speedway. Irwin, from Fenton, Michigan, started on the front row and was never seriously challenged over the 25-lap distance in route to victory. Keith Sheffer II, Issac Chapple, Matt Westfall and Dallas Hewitt rounded out the top five. The victory was Irwin's first of the 2022 season.
Irwin and Friday night's winner at I-96 Speedway, Matt Westfall, started on the front row for the 25-lap main event. The initial start only lasted half a lap when the caution flag appeared for J.J. Hughes stopped backwards off turn two. Hughes car had to be towed and he was unable to joint he field for the complete restart.
Irwin drove to the lead using the bottom of the racetrack on the opening lap of the main event while Keith Sheffer II shot into second place using the bottom around Westfall. One lap later Issac Chapple also drove by Westfall to take away third position.
Once that took place a majority of the field glued themselves to the bottom of the track due to the moisture content compared to the top side of the racetrack. This allowed Irwin to drive away and dominate the remainder of the main event with the margin of victory being 3.827 seconds over Sheffer, Chapple, Westfall, and Dallas Hewitt.
Full Throttle Nationals
Buckeye Outlaw Sprint Series / Great Lakes Traditional Sprints
I-96 Speedway
Lake Odessa, Michigan
Saturday, June 4, 2022
Qualifying
1. 0-Steve Irwin, 16.161[5]
2. 52-Isaac Chapple, 16.192[6]
3. 18H-Dallas Hewitt, 16.257[1]
4. 14-Chad Wilson, 16.425[2]
5. 24-Lee Underwood, 16.751[4]
6. 31-Mike Astrauskas, 17.109[9]
7. 33F-Jason Ferguson, 17.472[8]
8. 5X-Trent Musk, 17.745[3]
9. 00-Joseph (Joey) Irwin, 17.810[7]
Qualifying 2
1. 86-Keith Sheffer Jr, 15.882[7]
2. 76-JJ Hughes, 16.109[2]
3. 85-Dustin Daggett, 16.346[3]
4. 24S-Landon Simon, 16.500[9]
5. 28-Shawn Valenti, 16.561[8]
6. 5V-Jesse Vermillion, 16.592[6]
7. 34-Parker Frederickson, 16.692[5]
8. 49-Brian Ruhlman, 17.362[4]
9. 54-Joel Hummel, 18.146[1]
Qualifying 3
1. 10-Saban Bibent, 15.675[1]
2. 33M-Matt Westfall, 16.087[6]
3. 41-Rick Lewis, 16.507[5]
4. 25-Max Frank, 16.806[2]
5. 73-Blake Vermillion, 16.976[4]
6. 53-Steve Little, 17.020[7]
7. 26-Ian Hunter, 17.415[3]
8. 10S-Jay Steinebach, 17.830[8]
9. 4G-Kent Gardner, 18.690[9]
Heat Race #1 (8 Laps)
1. 0-Steve Irwin[4]
2. 18H-Dallas Hewitt[2]
3. 14-Chad Wilson[1]
4. 52-Isaac Chapple[3]
5. 24-Lee Underwood[5]
6. 31-Mike Astrauskas[6]
7. 00-Joseph (Joey) Irwin[9]
8. 33F-Jason Ferguson[7]
9. 5X-Trent Musk[8]
Heat Race #2 (8 Laps)
1. 76-JJ Hughes[3]
2. 86-Keith Sheffer Jr[4]
3. 85-Dustin Daggett[2]
4. 24S-Landon Simon[1]
5. 34-Parker Frederickson[7]
6. 5V-Jesse Vermillion[6]
7. 28-Shawn Valenti[5]
8. 49-Brian Ruhlman[8]
9. 54-Joel Hummel[9]
Heat Race #3 (8 Laps)
1. 33M-Matt Westfall[3]
2. 41-Rick Lewis[2]
3. 10-Saban Bibent[4]
4. 73-Blake Vermillion[5]
5. 53-Steve Little[6]
6. 25-Max Frank[1]
7. 10S-Jay Steinebach[8]
8. 26-Ian Hunter[7]
9. 4G-Kent Gardner[9]
B-Main (10 Laps)
1. 5V-Jesse Vermillion[2]
2. 31-Mike Astrauskas[1]
3. 49-Brian Ruhlman[8]
4. 10S-Jay Steinebach[6]
5. 28-Shawn Valenti[5]
6. 54-Joel Hummel[11]
7. 4G-Kent Gardner[12]
8. 26-Ian Hunter[9]
9. 33F-Jason Ferguson[7]
10. 5X-Trent Musk[10]
11. 00-Joseph (Joey) Irwin[4]
12. 25-Max Frank[3]
A-Main (25 Laps)
1. 0-Steve Irwin[1]
2. 86-Keith Sheffer Jr[3]
3. 52-Isaac Chapple[5]
4. 33M-Matt Westfall[2]
5. 18H-Dallas Hewitt[7]
6. 24-Lee Underwood[13]
7. 14-Chad Wilson[9]
8. 5V-Jesse Vermillion[16]
9. 41-Rick Lewis[8]
10. 49-Brian Ruhlman[18]
11. 73-Blake Vermillion[12]
12. 10S-Jay Steinebach[19]
13. 28-Shawn Valenti[20]
14. 34-Parker Frederickson[14]
15. 85-Dustin Daggett[10]
16. 31-Mike Astrauskas[17]
17. 53-Steve Little[15]
18. 24S-Landon Simon[11]