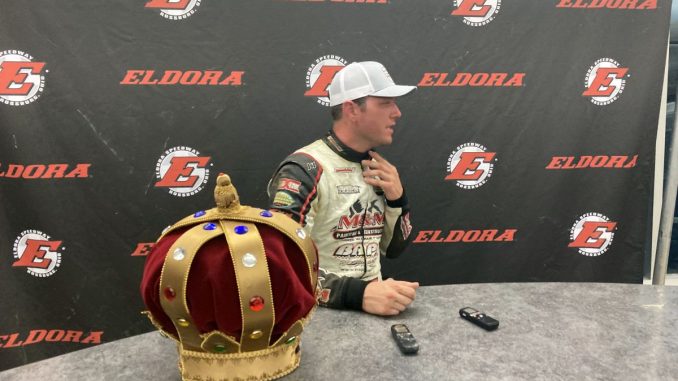 By T.J. Buffenbarger
(July 15, 2022) — After four nights of racing and a day of cramming two shows into one while trying to outrun the rain I have three takeaways from the 39th Kings Royal Weekend.
Brent Marks was already having a career best season in 2022, but this past weekend at Eldora Speedway propels his year into something historic. Marks became the first driver to win the Historical Big One and the Kings Royal in the same weekend taking home $275,000 in the process.

Marks' success is remarkable on statistics alone. When you look at how Marks is going about it we have not seen a driver with this kind of success in major events while not following the Outlaw tour since Doug Wolfgang's historic 1985 season in Bob Weikert's car or in Danny Peace's car in 1989, or some of Kyle Larson's more recent exploits.

The other thing that is remarkable is some of the decisions Marks is making. They are not following the World of Outlaws tour. While many of their counterparts were grinding away doing maintenance after a daytime show, Marks' team was relaxed just spot-checking things after sitting that race out. I already discussed how they took last weekend off to come into this event rested, but Marks outsmarted some of his counterparts again that don't have to run the Outlaw tour for points and yet ran that daytime show before the $175,000. Donny Schatz even remarked they had to pull their favored engine after the daytime program. I don't think enough is being made about those two decisions being key to Marks victories this weekend, proving that with the proper planning and being fortunate enough to be based in a location where racing at home frequently can make sense.

Smart decisions on and off the racetrack between Marks, crew chief Heath Moyle, and the rest of the team is providing the sport an awesome storyline to follow into the rest of the season. Do we consider Marks one of the sport's elite at this point? I think he is well on his way to that and could be by seasons end. I think the key to that goes with Marks' demeanor as one of the most level headed people I've dealt with in the sport..

I do know this season is going to be one we will be talking about 20 years from now for how extraordinary it is.
Donny Schatz looked like the Schatz of old during the Kings Royal on Saturday. Schatz was able to roll the center of the corner better than we have seen in quite some time at the Big E. In the post-race press conference Schatz himself was as upbeat as I've ever seen him for a second-place finish.
There were moments where Schatz looked like he had something for Marks in the closing laps of Saturday's Kings Royal finale. While there are still a few lingering boos for Schatz when his name is called over the p.a. system, I think he is getting to the point in his career where the fans would welcome a Schatz victory in a major event. Much like Steve Kinser as he won some of his final big races.
While Schatz said that Steve Swenson took a big swing on the setup on Saturday, and whatever they hit on makes me think that we could see Schatz on his way to being a contender with the Knoxville Nationals right around the corner.
Brian Brown has steadily improved his Eldora performances over the past several seasons. Brown looked stout up front during the first half of the Kings Royal feature and had me wondering if we were going to see him pick up a sprint car major victory that wasn't the Knoxville Nationals.

While Brown dropped back late in the 40-lap feature I have the same feeling about him as I do with Schatz. After some years where some of the big race performances were not matching expectations, Brown is seeing a resurgence in the major events with Danny Lasoski turning the wrenches.

I don't think it's unrealistic to think Brown could win a major race at Eldora now, nor do I think it's unlikely that it may happen here before Knoxville. If Brown and Lasoski can improve on finishing late in the major races we could see that magical moment finally happen.
Eldora Speedway deserved the break with the weather they had Saturday at the Kings Royal. After a wet spring, issues with new clay that the wet spring didn't help, and then rain throughout the Million and Dream late model weekend, Eldora has taken hits with the weather this season.

Saturday Eldora made their own luck calling an audible to use modern communication technology to relay they would be starting early Saturday to the capacity crowd. After running a complete daytime show Eldora pushed the start time of the Kings Royal up two hours and took the checkered flag as sprinkles began to fall in victory lane.

Kudos to Jerry Gappens and the entire crew at Eldora for making those decisions and finally getting a big win against Mother Nature.