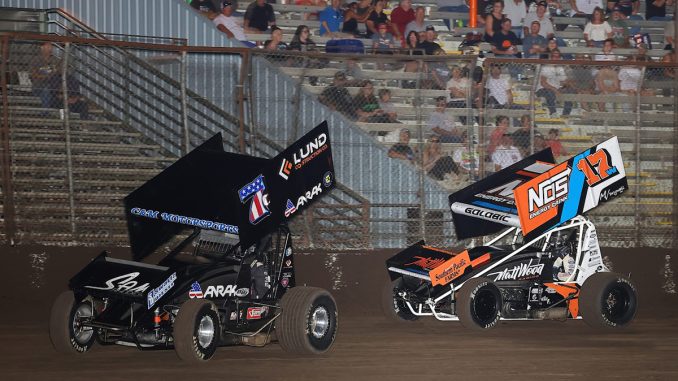 By Gary Thomas
Placerville, CA…With the season roughly two months away the Elk Grove Ford Sprint Car Challenge Tour presented by Abreu Vineyards has announced several technical and general rules updates for the fast-approaching campaign.
Some of the pertinent rule updates and modifications for this season include the implementation of fire suppression systems, along with an update to the weight rule, tires, aluminum block engines, double file restarts and guaranteed time in the work area. Traction control devices as always, are prohibited, and will present a stiff penalty if found.
Details of the updates can be found below. The full rulebook can be found at https://www.sprintcarchallengetour.com/rules
-A fire suppression system that meets the SFI 17.3 specification must be installed and functional in all race cars at all times when competing at Sprint Car Challenge Tour events by May 1, 2023.
The fire suppression system must include a thermal trigger and a manual trigger, both mounted in the driver's compartment. The thermal trigger must be in the lower area of the drivers compartment forward of the seat near the area of the fuel pump. The manual trigger must be mounted within reach of the driver on the forward left-hand side of the cockpit. A minimum of one nozzle must be mounted in the lower area of the cockpit forward of the seat.
The DOT approved cylinder manufactured of aluminum or steel must be securely mounted to the frame per the manufacturer's instructions and the discretion of the Sprint Car Challenge Tour officials. The cylinder must have a minimum capacity of 5 lbs.
The system must be fully charged and display a legible and valid SFI 17.3 and manufacture label, easily viewable at any time by the Sprint Car Challenge Tour officials. Cylinders that are beyond useful certification date must be inspected, serviced and re-labeled by the manufacturer.
If a nozzle is connected to the cylinder with a line, the line must be steel or steel reinforced and must be triggered at the end of the line.
Approved Manufacturers
Lifeline Fire & Safety USA, 540-251-2724
Safety Systems Inc. (Firebottle), Ft Myers, FL, 239-995-6300
Spa Technique Inc. Indianapolis, IN 317-271-7941
Safecraft Safety Equipment, Martinez, CA, 800-400-2259
……
-Aluminum Block Engines will be allowed in SCCT competition
Aluminum Block Requirements:
Absolutely NO lightening of any kind allowed
Standard or raised cam allowed
Oversized cams allowed
Roller cam bearings allowed
Minimum allowed deck height is 8.970″
Maximum allowed deck height is 9.020″
Oversized and keyed lifters allowed
Must be standard or GS-1 lifter location only. No exceptions
Must be standard oil pan rail
Full bellhousing must remain
……
-Minimum Weight Rule Update
The MINIMUM weight rule with SCCT is now 1500 pounds with the driver fully suited in the car at any time before, during or after the racing event. ASCS head engine will also be 1500 pounds with the driver fully suited in the car at any time.
……
-Traction control devices of any type are NOT permitted at any time, during any event.
Any team found with a traction control device in any pre and/or post-race inspection will be disqualified from that event and face the following penalties:
• $10,000 car owner fine
• $10,000 driver fine
• Loss of all Sprint Car Challenge Tour championship points and winnings
• Banned/suspended for a minimum of one calendar year.
From time-to-time random inspections will occur and various components may be impounded for further analysis and inspection including, but not limited to ignition systems, ignition boxes, wiring looms, and or tachometers.
……
-Hoosier Tire Rule Update
Only the following designated Hoosier Racing Tires will be permitted for competition on all four (4) positions of the racecar at all Sprint Car Challenge Tour events.
Front tires: D12, D15, D20
Right Rear Tire: H15, Medium or D15A
Left Rear Tire: H12, RD12 or D12A
NO HTW right rear Tires will be allowed.
……
-Double File Restarts Update
All Feature events will go to SINGLE FILE restarts with 10 or less laps remaining.
……
-Guaranteed Time in the Work Area
There will be NO guaranteed time in the work area after the halfway point of any event held during the night.