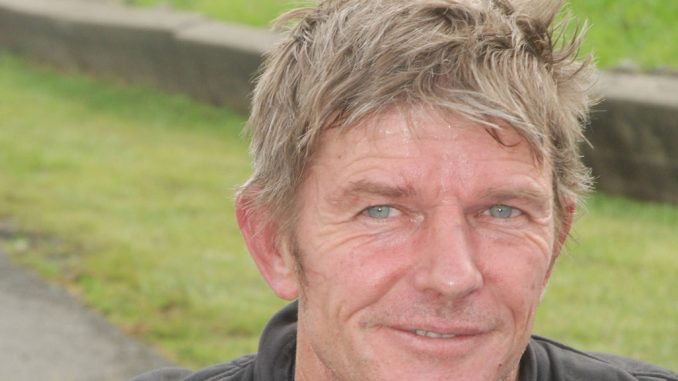 From Must See Racing
February 16, 2023 – Must See Racing Sprint Series presented by Engine Pro announced today yet another new full-time team that will compete with the 410-winged pavement sprint car series in 2023.
Forty-five-year-old Bapsfonntein, South African native Quintin Saayman has announced he will chase the entire MSR schedule as a full-time driver in 2023.
Saayman made his U.S.A. debut at the young age of 21 in 1999. Saayman was nothing short of impressive once he arrived in the U.S.A. during the summer of 1999. He picked up AVSS victories in Michigan at Jones, Kalamazoo, and Birch Run. In addition, he found victory lane at Owosso, Michigan during a Pennzoil Outlaw Winged Sprints event.
It would be nearly twenty-five years before he would race on U.S. soil again. He returned last season and purchased an existing BEAST chassis with the intention of competing in his first Little 500. After thrashing to get the car finished in time for qualifying, Saayman was unsuccessful at cracking the starting line-up. He would stay the rest of the summer competing exclusively in non-winged pavement sprint car events.
Saayman has returned to the U.S.A. once again in 2023, but under entirely different circumstances. Saayman has moved to Michigan with his daughter Ashley with the intentions of staying permanently. In addition, he plans to get back to his roots and compete entirely with winged asphalt sprint cars, and in particular, Must See Racing.
"I'm moving here (USA) permanently" Saayman proudly stated. "Things back home are really turning bad. I'm looking for a better quality of life and a future for my daughter.
I've mainly only done winged racing back home. When I came over in 1999, I had a bit of success with the AVSS series doing winged racing. I most definitely have had most of my success in winged racing. Last season was my first season I ever ran non-winged. It was fun, but different, from what I'm used to doing.
I've won at a few of the tracks we're going to this year. I think I'll just stick with a wing completely this year. It would be fun to do the Little 500. But sponsor wise, and money wise, we can't get to it now at this stage, it's too late. We'll just stick with Must See this year."
Due to his years of experience in winged racing, Saayamn is confident he'll find success in North America in 2023."It would be nice to get in the top three at the end of the year and get a win or more along the way. I'm looking forward to racing at Berlin again. It's a real nice track. There are a few guys I think will help me again. George Gustafson and John Boy Hotchkiss. It will be good to get the guys back together. It will be a fun season" concluded Saayman.
With the addition of Saayman as a full-time competitor, it gives Must See Racing a true international flavor. The series already features London, Ontario, Canada driver Ryan Litt. The series can now boast claim to featuring drivers from three different countries in 2023.
For more info on MSR please visit www.mustseeracing.com.