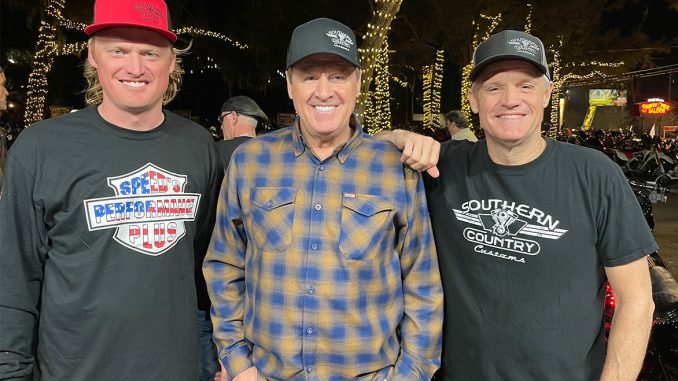 By Nick Graziano
BARBERVILLE, FL (Feb. 24, 2023) – Southern Country Customs, a premier builder of custom Harley-Davidson motorcycles owned by NASCAR legend Rusty Wallace and his son, Stephen, will ride into Volusia Speedway Park along with Kenny Wallace to serve as Grand Marshals at the upcoming World of Outlaws NOS Energy Drink Sprint Car Series Low-E Insulation Spring Showdown.
The two-day event, which also includes the completion of the final rain-delayed Feature from February's Federated Auto Parts DIRTcar Nationals, runs during Daytona Beach Bike Week on Sunday, March 5, and Monday, March 6. The Wallaces will bring their Southern Country Customs motorcycles to the Monday night portion of the event.
"Volusia Speedway Park is a special place for me," said Kenny Wallace, the only driver to win a NASCAR race on pavement and a DIRTcar race on dirt at Volusia. "To be part of a World of Outlaws event at Volusia outside of the DIRTcar Nationals is extra special. So many legends raced with the World of Outlaws, some serious bad-ass racers, I can't wait to see them again. Plus, with everyone coming to Daytona Beach for Bike Week, we're looking forward to seeing them all at Volusia to watch the World of Outlaws sprint cars … The Greatest Show on Dirt!"
The Wallace family is synonymous with racing as Rusty, Kenny and Stephen have all found success on the track, including Rusty's 1989 NASCAR Cup Series championship and his 2013 NASCAR Hall of Fame induction. Their Southern Country Customs, based in the heart of NASCAR country in Mooresville, NC, offers a range of services, from full custom design and build, to suspension and engine upgrades, tuning and more.
Follow the Wallaces from Daytona Beach to Volusia Speedway Park, The World's Fastest Half-Mile, which is on State Road 40 in Barberville, 15 miles west of I-95's Ormond Beach Exit 268.
The World of Outlaws NOS Energy Drink® Sprint Car Series is brought to fans across the country by many important sponsors and partners, including: NOS Energy Drink (Official Energy Product), CASE Construction Equipment (Official Construction Equipment), CASE No.1 Engine Oil™ (Official Oil and Lubricant), DIRTVision (Official Live Broadcast Partner), Hoosier Racing Tire (Official Tire), iRacing (Official Online Racing Game), SIS Insurance (Official Insurance Provider), Toyota (Official Vehicle), and VP Racing Fuels (Official Racing Fuel); contingency sponsors include ACME Trading, ARP (Automotive Racing Products), Cometic Gasket, COMP Cams, Federated Auto Parts, KSE Racing Products (Hard Charger Award), Lifeline USA, Low-E Insulation, Micro-Lite LLC, MSD, and Whiskey Myers; manufacturer sponsors include, FIREBULL, Intercomp, Racing Electronics, and Sea Foam.
Founded in 1978, the World of Outlaws®, based in Concord, NC, is the premier national touring series for dirt track racing in North America, featuring the most powerful cars on dirt, the World of Outlaws NOS Energy Drink Sprint Car Series and the World of Outlaws Late Model Series. Annually, the two series race nearly 140 times at tracks across the United States and Canada. CBS Sports Network is the official broadcast partner of the World of Outlaws. DIRTVision® also broadcasts all World of Outlaws events over the Internet to fans around the world. Learn more about the World of Outlaws.