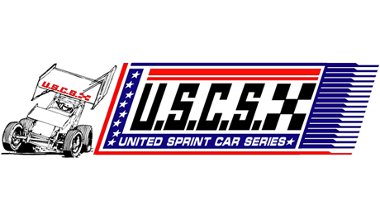 Pete Walton
Gaffney, SC – April 1, 2023 – Local favorite, Johnny Bridges from nearby Cherryville, North Carolina took advantage of several misques by others that placed him in the race lead with five laps to go in Saturday nights USCS Thunder in Carolinas United Sprint Car Series main event at Cherokee Speedway.
Bridges held the point for the restart after Ohion, Zane Devault, who led the first 20 Laps of the race, went over the backstretch wall and out of the park exiting turn two.
Bridges led the final five laps while fending off the charges of Mark Ruel from Jacksonville, Florida and, Lance Moss from Cherryville, North Carolina.
Another caution flag flew with two laps to go for a car slowing to a halt entering turn one. This left Mark Ruel, Jr. in second place and , Lance Moss in third. 15 year-old sprint car Rookie, Gavan Boeschele from Mooresville, North Carolina had advanced to fourth after doing a 360 degree spin and going to the rear early in the race before charging back into the top five.
Hall of Famers, Danny Smith from Chillicothe, Ohio and Terry Gray occupied the fifth and sixth places for the final two lap dash.
When the green flag waved for the final two laps Bridges sped toward the finish line while Boschele took to a rim riding strategy that took him past Lance Moss on the lap coming to white and into the runner-up spot with Bridges just out of reach.
As the checkers waved Bridges raced by the flagstand and into the USCS Victory Lane to collect the $2500 winners check. Boschele got his career-best USCS Outlaw Thunder Tour finish in the runner-up spot followed by Ruel, Jr. in third place, Lance Moss followed in fourth place. Danny Smith completed the top five.
Terry Gray was sixth, Eric Riggins Jr. from Charlotte, North Carolina finished in seventh, followed by Nebraskan Ryan Roberts in eight place. CJ Miller from Mooresville, North Carolina and Brandon Grubaugh from Ocala, Florida rounded out the top ten.
Havan Boschele garnered the Wilwood Disc Brakes Hardcharger Award after advancing seven positions from his initial ninth place start.
Heat winners were CJ Miller in the Engler First Heat. Zane Devault won the JJ Supply of NC Second Heat and Mark Ruel, Jr. won the Racing Electronics Third Heat. Eric Riggins, Jr. gained the K&N Filters Pole Position by winning theUSCS Hoosier Speed Dash.
USCS Outlaw Thunder Tour winged sprint car results for 4/1/2023 at Cherokee Speedway – Gaffney, SC
USCS Outlaw Thunder Tour Sprint Cars – 21 Entries
USCS Feature – 25 Laps
1. 07-Johnny Bridges[6]; 2. 21-Gavan Boschele[9]; 3. 83-Mark Ruel Jr[4]; 4. 23-Lance Moss[8]; 5. 66-Danny Smith[11]; 6. 10-Terry Gray[7]; 7. 47-Eric Riggins Jr[1]; 8. 23R-Ryan Roberts[12]; 9. 9-CJ Miller[5]; 10. G6-Brandon Grubaugh[13]; 11. 49-Brian Paulus[14]; 12. 28-Jeff Willingham[10]; 13. 33-Joe Larkin[15]; 14. 7J-Gregg Jones[20]; 15. (DNF) B5-Brianna Lawson[18]; 16. (DNF) 23Z-Zane Devault[2]; 17. (DNF) 11-Ryan Stillwaggon[3]; 18. (DNF) 67-Jake McLain[17]; 19. (DNF) 21B-Brandon McLain[16]; 20. (DNF) 17-Camden Jackson[21]; 21. (DNF) 48G-George Loux[19]
Hoosier Speed Dash 6 Laps
1. 47-Eric Riggins Jr[4]; 2. 23Z-Zane Devault[1]; 3. 11-Ryan Stillwaggon[2]; 4. 83-Mark Ruel Jr[3]; 5. 9-CJ Miller[5]; 6. (DNF) 07-Johnny Bridges[6]
Engler Machine & Tool Heat 1 8 Laps
1. 9-CJ Miller[1]; 2. 11-Ryan Stillwaggon[6]; 3. 07-Johnny Bridges[5]; 4. 10-Terry Gray[7]; 5. 33-Joe Larkin[2]; 6. B5-Brianna Lawson[3]; 7. 17-Camden Jackson[4]
JJ Supply of NC Heat 2 8 Laps
1. 23Z-Zane Devault[7]; 2. 23-Lance Moss[2]; 3. 21B-Brandon McLain[6]; 4. 66-Danny Smith[4]; 5. 49-Brian Paulus[3]; 6. 21-Gavan Boschele[1]; 7. 7J-Gregg Jones[5]
DHR Heat 3 8 Laps
1. 83-Mark Ruel Jr[3]; 2. 47-Eric Riggins Jr[5]; 3. 28-Jeff Willingham[1]; 4. 23R-Ryan Roberts[6]; 5. G6-Brandon Grubaugh[7]; 6. 67-Jake McLain[2]; 7. (DNF) 48G-George Loux[4]