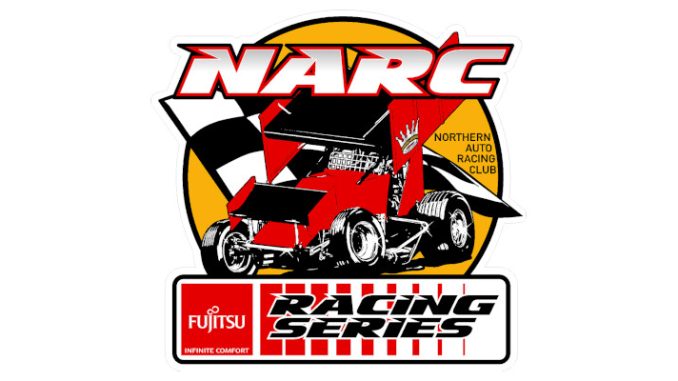 By Ben Deatherage
(April 10, 2023 ), Tulare, CA … Thunderbowl Raceway will feature two nights of incredible action this weekend as NAPA Auto Parts presents the NARC 410 Sprint Series for the Dennis Roth Classic. The Tulare 1/3-mile action track will host the tour on Friday, April 14th, and Saturday, the 15th, for the series' first doubleheader of the 2023 season. Saturday night will have a fantastic payout of $18,383.00 to the winner. Rico Abreu won the race last year in an electrifying battle in the main event.
"This race is a true honor to Dennis and Teresa Roth." said Roth Motorsports Team Manager Todd Ventura. "Fellow competitors and Dennis' peers were the ones that wanted to have this event. When you have people with that amount of respect for you like Brent Kaeding, Jim Allen, and Ashley Smith who talked about it and made it come together, we are honored to be a part of it."
Dennis Roth and his wife, Teresa, are longtime Sprint Car supporters nationwide. Their race team, Roth Motorsports, boasts over 100 World Of Outlaw feature victories and multiple titles in California.
"It's a big deal for us because Dennis has been a great supporter of this race track," commented Steve Faria, promoter of Thunderbowl Raceway. "He's a special friend and we're trying to make something special out of it."
Thunderbowl Raceway, since 2001, has had twenty-six different winners in the last fifty-six shows that the NARC 410 Sprint Series has put on. The house of Kaeding has reigned supreme as they are level at the top with seven wins each for Brent and Tim. Amazingly sixteen drivers have accomplished just a single triumph over the years.
"It's an honor to be able to put on this race for Dennis Roth," stated NARC 410 Series General Manager Jim Allen, "he's done so much for motorsports, and this is a real-world and real-life tribute that we are proud to honor those contributions."
Who to Watch
Corey Day is coming off an incredible win at Kings Speedway last weekend at the Anthony Simone Classic. It was his seventh career NARC 410 Sprint Series triumph in twenty-eight starts. The Clovis teenager was third at last year's Roth Classic, and this is the only time he has been on the podium at the Thunderbowl with the tour.
Aromas driver Justin Sanders was the runner-up to Day last Saturday in Hanford. Over the years at Thunderbowl, Justin has netted just one top five, a fourth at last year's Roth, and two tens in five career NARC 410 Sprint Series starts at the track.
Tim Kaeding is again teaming up with the famed Williams Motorsports #0 team. As mentioned above, the San Jose driver was sixth at the Simone last weekend and is tied with Brent Kaeding, for the most wins at Tulare. TK was seventh in the 2022 edition of the Roth Classic and, on top of his seven wins, has ten podiums, fourteen Top 5s, and twenty-one Top 10s in thirty-one starts.
Kraig Kinser of Bloomington, Indiana, will make a guest appearance with the NARC 410 Sprint Series. He has four career starts with the series, all in 2015, co-sanctioned with the World Of Outlaws, and just one top ten result. That was a tenth-place result at Tulare on March 14th.
Bud Kaeding is a driver to be on the lookout for, as the Campbell chauffeur knows how to pilot his way around the 1/3-mile clay oval. Bud has three career NARC 410 Sprint Series victories at the facility, most recently in 2018, in thirty-eight starts since 2001. Kaeding is also second on the all-time modern era list in the podium (14), Top 5 (20), and Top 10 (30) categories, with an average finish of 7.57.
Also expected to compete will be Lemoore's Cole Macedo, Fremont standout Shane Golobic, Tanner Holmes of Jacksonville, Oregon, Penngrove pilot Chase Johnson, two-time defending series champion Dominic Scelzi from Fresno, Clarksburg driver Justyn Cox, Ryan Bernal from Roseville, Oakley's Dylan Bloomfield; Templeton's Kaleb Montgomery, Nick Parker from Tuscon, and many more!
Fan & Competitor Info
Thunderbowl Raceway is located at the Tulare County Fairgrounds in Tulare, California. Grandstand tickets are priced at $30.00 for Adults, $28.00 for Seniors, and Children (6-12) $15.00. Bleacher tickets are priced at $25.00 for Adults, $23.00 for Seniors, and Children (6-12) $13.00. Front Gates open at 4:00, Hot Laps at 5:00, and Racing is scheduled to kick off around 7:00. Also, visit the track website, www.thunderbowlraceway.com.
The NARC 410 Sprint Series, presented by Napa Auto Parts, is the leading 410 Sprint Car tour west of the Rocky Mountains. Since 1960, they have enthralled countless thousands of fans from tracks up and down the Pacific Coast. For more information, visit their website at www.narc410.com or social media pages.
The Dennis Roth Classic can be viewed live on Floracing.com, along with every NARC 410 Sprint Car Series race.
The NARC 410 Sprint Car Racing Series is also sponsored by Hoosier Racing Tires, Floracing.com, and NAPA Auto Parts. Associate and product award sponsors include Automotive Racing Products (ARP), Beacon Wealth Strategies-Raymond James Financial, Brown & Miller Racing Solutions, Bullet Impressions, D & D Roofing, Diversified Machine Inc., Johnstone Supply, Kaeding Performance Center, Kimo's Tropical Car Wash, KSE Racing Enterprises, Lifeline LLC, Starr Property Management, Sunnyvalley Bacon, System 1 Ignition, Ultra Lite Brakes, Williams Roofing, Wilwood Disc Brakes, and Winters Performance Products.
NARC 410 SPRINT CAR SERIES
CHAMPIONSHIP POINT STANDINGS
(AFTER ONE EVENT IN 22-RACE SERIES)
1 Corey Day, Clovis 142
2 Justin Sanders, Aromas 139
3 Shane Golobic, Fremont 138
4 Chase Johnson, Penngrove 137
5 Dominic Scelzi, Fresno 136
6 Tim Kaeding, San Jose 135
7 Justyn Cox, Clarksburg 135
8 Tanner Holmes, Jacksonville, OR 133
9 Bud Kaeding, Campbell 132
10 Kaleb Montgomery, Templeton 131
11 Sean Becker, Roseville 130
12 Ryan Bernal, Roseville 129
13 Joey Ancona ®, Concord 128
14 Dawson Faria ®, Fresno 127
15 Mauro Simone ®, Fresno 126
16 Michael Pombo ®, Easton 125
17 Jake Hodges ®, Camarillo 124
18 Dylan Bloomfield, Oakley 123
19 Craig Stidham, Fresno 122
20 Nick Parker ®, Tuscon, AZ 121
SOCIAL MEDIA INFORMATION
Facebook: NARCKingoftheWest
Facebook (History page): NARCSprintCarHistory
Twitter: NARC410
Instagram: NARC410
YouTube: NARC410
TikTok: NARC410
Live Stream PPV: Floracing.com
UPCOMING EVENTS:
April 29th – Antioch Speedway – The Contra Costa County Clash
May 6th- Silver Dollar Speedway – David Tarter Memorial
May 13th-14th-Kings Speedway – Peter Murphy Classic