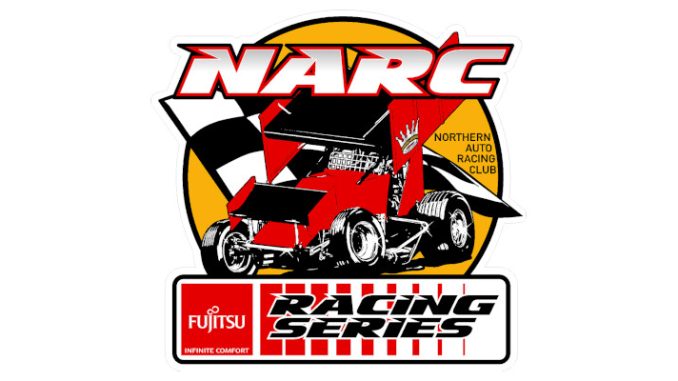 By James Allen
(5/2/23) Chico, California – The high-powered 900-horsepower NARC 410 Sprint Cars will be making their only appearance of the year at Silver Dollar Speedway on Saturday, May 6th for the 11th Annual David Tarter Memorial. At stake will be a $3,500.00 winner's payday to the winner of the 35-lap feature, plus other bonuses.
The race is run in honor of David Tarter, who tragically lost his life on June 8th, 2012, in a freak pit accident at Silver Dollar.
The event marks the fifth stop of the 22-race NARC campaign that travels throughout California, Oregon, and Washington. To date, the NARC series has produced three winners in four races, led by 17-year-old driving sensation Corey Day of Clovis, who has scored two victories.
"After getting rained out earlier this season at Chico, it great to finally get a chance to return to Silver Dollar," said series GM Jim Allen. "This place is not only a fan favorite, but our teams love coming here also because the racing is always good. It's super-competitive and nobody ever runs away and hides at this track as proven at last year's Tarter Memorial. It was an exciting show and we expect more of the same."
When you figure in lap leader money contributed by the Tarter Family and sponsors, this show represents a very lucrative payday for the winner. The top three drivers will earn lap money for each lap in the feature event ($50-$30-$20., so there are benefits to running up front.
Since 2013, there have been five winners of the Tarter Memorial, including the all-time leader Kyle Hirst with five triumphs. Hirst is a four-time NARC King of the West champion. Corey Day is the defending race champion, while Sean Becker, Craig Stidham, and Justin Sanders join him as one-time winners.
Twenty-six drivers have parked it at Chico's victory lane since 2001. Tim Kaeding has amassed the most triumphs with sixteen, while Jonathan Allard has done so nine times, and Brent Kaeding is a five-time winner. Corey Day won the lone event at SDS last season.
Who to Watch
Day has been a force to reckon with in 2023 with the NARC 410 Sprint Series. Racing for car owner and former World of Outlaw champion Jason Meyers, he has yet to finish off the podium all season. He currently leads Aromas driver Justin Sanders by 13-points and Fresno's Dominic Scelzi by 15.
Two-time defending champion Scelzi got a big monkey off his back last week in Antioch by winning his first win with NARC in 2023. Dominic was third in the lone appearance that NARC made in 2022. However, he hit the "pay dirt" in 2021 for his sole Silver Dollar Speedway triumph in thirteen career series starts.
Sanders looks to finally open his 2023 NARC winning account up at Chico for himself and car owner Demo Mittry. Two of his thirteen total NARC tour triumphs have come at Silver Dollar, achieved in 2019 and 2021. Of his seven starts at the quarter-mile clay oval, five have resulted in top-ten finishes, including last year when he posted a second-place finish and marked his fourth top-five. Sanders won this event in 2021, but that was when it was a 360 Sprint Car show.
Shane Golobic is the defending Silver Dollar Speedway champion and wants to continue his commanding grip on the facility. Despite never winning a NARC-sanctioned event in Chico, the Fremont flyer has seven top fives and twelve top tens in nineteen main event starts. Last year Golobic finished sixth when the checkered flag dropped. Golobic will be returning to driver duties of the Works Limited #57 entry.
Four-time Silver Dollar Speedway title winner Andy Forsberg will be competing. The Auburn-based racer has won a total of four NARC feature events in his stellar career. The most recent was April 5th, 2003. Forsberg has eight podiums, eleven fives, and twenty-three top-ten finishes in forty-three NARC starts.
Sean Becker, from Roseville, will be at the site where he has captured seven track championships. Becker has won four times in NARC competition at Chico and 11 times overall. The 2005 NARC series champion, will be piloting the Antaya Motorsports 16A this weekend. He also won the first edition of the David Tarter Memorial in 2013 when it was an unsanctioned event. In fifty starts, Becker has generated thirty-four top tens, seventeen top fives, and nine podium finishes.
Also competing in the stellar field on Saturday will be Chase Johnson of Penngrove, Justyn Cox and Ryan Bernal of Roseville, Oakley's Dylan Bloomfield, Kaleb Montgomery of Templeton, Campbell's Bud Kaeding, Joey Ancona of Concord, Benicia's Billy Aton, Oregon's Tanner Holmes, Bill Smith of Sparks, and Tucson's Nick Parker, and many more!
Fan & Competitor Info
Silver Dollar Speedway, managed by SLC Promotions, is located at the Silver Dollar Fairgrounds at 2357 Fair Street in Chico, California. For ticket information, log on to https://silverdollar.ticketspice.com/mini-gold-cup for online purchases. Tickets are priced at $30.00 for Adults, Juniors (13-17) at $20.00, and Children (6-12) at $15.00. Also, be sure to visit the track website at www.silverdollarspeedway.com.
Pit Gates open at 2:00 pm, with the drivers meeting being conducted at 4:30 pm. Front Gates open at 3:00 pm, with Hot Laps around 5:15 pm and Time Trials at 6:00 pm. Opening Ceremonies are planned to kick off around 6:00 pm followed by Racing at 7:00 pm
The NARC 410 Sprint Series is the leading 410 Sprint Car tour west of the Rocky Mountains. Since 1960, they have enthralled countless thousands of fans from tracks up and down the Pacific Coast. For more information, visit their website at www.narc410.com or social media pages.
The David Tarter Memorial can be viewed live on floracing.com, along with every NARC 410 Sprint Car Series race.
The NARC 410 Sprint Car Racing Series is also sponsored by Hoosier Racing Tires, Floracing.com, and NAPA Auto Parts. Associate and product award sponsors include Automotive Racing Products (ARP), Beacon Wealth Strategies-Raymond James Financial, Brown & Miller Racing Solutions, Bullet Impressions, D & D Roofing, Diversified Machine Inc., Johnstone Supply, Kaeding Performance Center, Kimo's Tropical Car Wash, KSE Racing Enterprises, Lifeline LLC, Maxim Racing Products, Mettec Titanium, Pyrotect, Safecraft Safety Equipment, Saldana Racing Products, Schoenfeld Headers, Scelzi Enterprises, SCI Racing Products, Starr Property Management, Sunnyvalley Bacon, System 1 Ignition, Ultra Lite Brakes, Williams Roofing, Wilwood Disc Brakes, and Winters Performance Products.
NARC 410 SPRINT CAR SERIES
CHAMPIONSHIP POINT STANDINGS
(AFTER FOUR EVENTS IN 22-RACE SERIES – 5/1/23)
Corey Day, Clovis – 562
Justin Sanders, Aromas – 549
Dominic Scelzi, Fresno – 547
Chase Johnson, Penngrove – 540
Justyn Cox, Roseville – 534
Bud Kaeding, Campbell – 530
Shane Golobic, Fremont – 526
Ryan Bernal, Roseville – 525
Joey Ancona, Concord (R) – 523
Dylan Bloomfield, Oakley – 508
Kaleb Montgomery, Templeton (R) – 488
Nick Parker, Tucson, AZ (R) – 479
Billy Aton, Benicia – 456
Bill Smith, Sparks, NV – 454
Tim Kaeding, San Jose – 402
Colby Copeland, Roseville – 394
Tanner Holmes, Central Point, OR – 383
DJ Netto, Hanford – 374
Craig Stidham, Fresno – 369
Michael Pombo, Easton – 367
UPCOMING EVENTS:
May 12th-13th – Kings Speedway – Peter Murphy Classic
May 20th – Petaluma Speedway – Salute to First Responders
June 3rd – Placerville Speedway – Dave Bradway Jr. Memorial Race