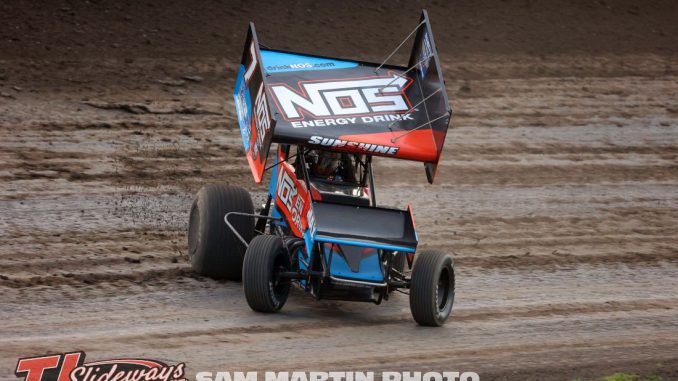 From Tyler Altmeyer
WILMOT, Wi. (May 13, 2023) — Two-time and defending All Star champion, Tyler Courtney, made it look easy on Saturday night at Wilmot Raceway in Wilmot, Wisconsin, cruising home by a margin of six seconds to score round one of the Tezos All Star Circuit of Champions presented by Mobil 1 and IRA Outlaw Sprint Series challenge. The triumph, a $6,000 occasion for the Indianapolis, Indiana, native, was accomplished from the outside of row one, forced to outduel Friday night Jacksonville Speedway winner Hunter Schuerenberg.
Courtney, now a 19-time winner with "America's Series" with two occurring at Wilmot Raceway, took command officially on lap ten, scooting by "Hunter Percent" in turns one and two after a drag race down the front straightaway. From that point forward, it was the Tyler Courtney show, maneuvering through heavy traffic with ease before stretching his advantage to the six second mark; the 30-lap program went non-stop.
Chris Windom, who raced by Schuerenberg for the runner-up spot on lap 12, finished second for the second time in as many tries, followed by Schuerenberg, Scotty Thiel, and Tim Shaffer.
"I've lost a lot of races in lapped traffic, so I wanted to make sure I was able to pick them up and put them down here tonight," Tyler Courtney said. "I felt our car was really good the last time we were here, but I think our car was even better here tonight. We were in a bad spot after qualifying, but my guys never gave up on me. It's a long season, but we've been on the right pace to contend for a third consecutive championship."
"I'm happy with two seconds on the weekend, but we want that first All Star win," Windom expressed. "A little frustrated, but in all, happy with our results. You have to be on your game all thirty laps or you're going to be second, especially with a guy like Tyler [Courtney]. You could race anywhere tonight. Tyler was just a little better than me getting through the slower cars."
Tezos All Star Circuit of Champions presented by Mobil 1
Wilmot Raceway
Wilmot, Wisconsin
Saturday, May 13, 2023
Hercules Tire Qualifying
1. 45-Tim Shaffer, 12.398[1]
2. 29-Sye Lynch, 12.469[11]
3. 70-Scotty Thiel, 12.501[17]
4. 26-Parker Price Miller, 12.564[29]
5. 4-Chris Windom, 12.578[38]
6. 10W-Mike Reinke, 12.589[32]
7. 96-Jake Blackhurst, 12.619[4]
8. 28M-Conner Morrell, 12.625[6]
9. 23-Zeth Sabo, 12.644[25]
10. 87A-Austin Hartmann, 12.650[20]
11. 23B-Russel Borland, 12.650[26]
12. 7BC-Tyler Courtney, 12.661[30]
13. 17B-Bill Balog, 12.670[10]
14. 25-Danny Schlafer, 12.725[24]
15. 79-Blake Nimee, 12.758[33]
16. 55-Hunter Schuerenberg, 12.761[23]
17. 49-Josh Schneiderman, 12.790[40]
18. 65-Jordan Goldesberry, 12.801[15]
19. 55T-McKenna Haase, 12.812[27]
20. 1-Brenham Crouch, 12.826[21]
21. 2W-Scott Neitzel, 12.838[36]
22. 9K-Kyle Schuett, 12.846[43]
23. 25T-Travis Arenz, 12.886[14]
24. 68-Dave Uttech, 12.891[5]
25. 4K-Kris Spitz, 12.919[19]
26. 3B-Shelby Bosie, 12.929[37]
27. 24-Scott Conger, 12.981[3]
28. 19T-Todd Daun, 13.007[16]
29. 51B-Joe B Miller, 13.019[28]
30. 29C-Hunter Custer, 13.088[9]
31. 10V-Kurt Davis, 13.220[34]
32. 43-Jereme Schroeder, 13.258[7]
33. 70K-Chris Klemko, 13.264[8]
34. 19CW-Ion Stear, 13.291[18]
35. 26R-Preston Ruh, 13.314[42]
36. 26T-Tyler Tischendorf, 13.444[31]
37. 88-Christopher Flick, 13.469[13]
38. U2-Jack Vanderboom, 13.483[44]
39. 55D-Austin Deblauw, 13.490[12]
40. 34-Kevin Hinich, 13.515[41]
41. 4P-Jordan Paulsen, 13.560[2]
42. 39V-William Huck, 13.647[39]
DNS: 97-JJ Hickle, 13.264
DNS: 55S-Ryan Sawusch, 13.264
Hunt Brothers Pizza Heat Race #1 (8 Laps)
1. 96-Jake Blackhurst[1]
2. 28M-Conner Morrell[2]
3. 45-Tim Shaffer[4]
4. 70K-Chris Klemko[8]
5. 43-Jereme Schroeder[7]
6. 24-Scott Conger[5]
7. 29C-Hunter Custer[6]
8. 68-Dave Uttech[3]
9. 4P-Jordan Paulsen[9]
CSI Shocks Heat Race #2 (8 Laps)
1. 70-Scotty Thiel[1]
2. 17B-Bill Balog[2]
3. 29-Sye Lynch[4]
4. 25T-Travis Arenz[5]
5. 65-Jordan Goldesberry[3]
6. 19CW-Ion Stear[7]
7. 19T-Todd Daun[6]
8. 55D-Austin Deblauw[9]
9. 88-Christopher Flick[8]
All Pro Aluminum Cylinder Heads Heat Race #3 (8 Laps)
1. 55-Hunter Schuerenberg[5]
2. 23B-Russel Borland[1]
3. 87A-Austin Hartmann[2]
4. 25-Danny Schlafer[3]
5. 1-Brenham Crouch[7]
6. 55T-McKenna Haase[6]
7. 4K-Kris Spitz[8]
8. 23-Zeth Sabo[4]
DNS: 55S-Ryan Sawusch
Kistler Racing Products Heat Race #4 (8 Laps)
1. 7BC-Tyler Courtney[2]
2. 10W-Mike Reinke[1]
3. 51B-Joe B Miller[6]
4. 79-Blake Nimee[3]
5. 26-Parker Price Miller[4]
6. 2W-Scott Neitzel[5]
7. 97-JJ Hickle[9]
8. 26T-Tyler Tischendorf[8]
9. 10V-Kurt Davis[7]
Mobil 1 Heat Race #5 (8 Laps)
1. 4-Chris Windom[4]
2. 9K-Kyle Schuett[2]
3. 49-Josh Schneiderman[1]
4. 26R-Preston Ruh[5]
5. U2-Jack Vanderboom[6]
6. 34-Kevin Hinich[7]
7. 39V-William Huck[8]
8. 3B-Shelby Bosie[3]
Elliotts Custom Trailers and Carts Dash (4 Laps)
1. 55-Hunter Schuerenberg[1]
2. 7BC-Tyler Courtney[4]
3. 4-Chris Windom[2]
4. 29-Sye Lynch[6]
5. 70-Scotty Thiel[7]
6. 45-Tim Shaffer[8]
7. 96-Jake Blackhurst[3]
8. 23B-Russel Borland[5]
9. 10W-Mike Reinke[9]
Classic Ink USA B-Main (12 Laps)
1. 26-Parker Price Miller[1]
2. 65-Jordan Goldesberry[3]
3. 1-Brenham Crouch[4]
4. 23-Zeth Sabo[2]
5. 2W-Scott Neitzel[8]
6. 55T-McKenna Haase[7]
7. 97-JJ Hickle[15]
8. U2-Jack Vanderboom[6]
9. 43-Jereme Schroeder[5]
10. 4K-Kris Spitz[12]
11. 19CW-Ion Stear[10]
12. 3B-Shelby Bosie[16]
13. 24-Scott Conger[9]
14. 19T-Todd Daun[13]
15. 10V-Kurt Davis[19]
16. 4P-Jordan Paulsen[21]
17. 34-Kevin Hinich[11]
18. 88-Christopher Flick[20]
19. 26T-Tyler Tischendorf[17]
20. 55D-Austin Deblauw[18]
21. 39V-William Huck[14]
DNS: 29C-Hunter Custer
DNS: 68-Dave Uttech
DNS: 70K-Chris Klemko
DNS: 55S-Ryan Sawusch
Tezos A-Main (30 Laps)
1. 7BC-Tyler Courtney[2]
2. 4-Chris Windom[3]
3. 55-Hunter Schuerenberg[1]
4. 70-Scotty Thiel[5]
5. 45-Tim Shaffer[6]
6. 29-Sye Lynch[4]
7. 51B-Joe B Miller[15]
8. 17B-Bill Balog[11]
9. 96-Jake Blackhurst[7]
10. 26-Parker Price Miller[21]
11. 23B-Russel Borland[8]
12. 28M-Conner Morrell[10]
13. 97-JJ Hickle[25]
14. 25T-Travis Arenz[18]
15. 79-Blake Nimee[17]
16. 1-Brenham Crouch[23]
17. 9K-Kyle Schuett[12]
18. 65-Jordan Goldesberry[22]
19. 25-Danny Schlafer[16]
20. 87A-Austin Hartmann[13]
21. 10W-Mike Reinke[9]
22. 23-Zeth Sabo[24]
23. 70K-Chris Klemko[19]
24. 49-Josh Schneiderman[14]
25. 26R-Preston Ruh[20]
26. 2W-Scott Neitzel[26]
Contingency Awards:
Kistler Racing Products Pill Draw | Entries: 44
Macri Concrete Hot Laps: Tyler Courtney | 12.259
Hercules Tires Fast Qualifier: Tim Shaffer | 12.397
Hunt Brothers Pizza Heat #1 Winner: Conner Morrell
Competition Suspension Inc Heat #2 Winner: Scotty Thiel
All Pro Aluminum Cylinder Heads Heat #3 Winner: Hunter Schuerenberg
Kistler Racing Products Heat #4 Winner: Tyler Courtney
Mobil 1 Heat #5 Winner: Chris Windom
Elliott's Custom Trailers and Carts Dash Winner: Chris Windom
Classic Ink USA Screenprinting and Embroidery B-Main Winner: Parker Price-Miller
Rayce Rudeen Foundation Contingency Award: Scotty Neitzel
Tezos A-Main Winner: Tyler Courtney
Tezos A-Main Hard Charger: JJ Hickle (+12)
Carquest Perseverance Award: Preston Rue
Qualifying Flight A
1. 14Z-Ryan Zielski, 14.610[13]
2. 09-Clayton Rossmann, 14.653[7]
3. 38-Allen Hafford, 14.692[15]
4. 01-Chris Dodd, 14.740[17]
5. 40-Tim Cox, 14.857[4]
6. 70H-Tate Hensley, 15.065[10]
7. 7X-Ryan Marshall, 15.068[2]
8. 9-Greg Olsen, 15.132[12]
9. 13A-Dave Wallace, 15.213[11]
10. 7-Trinity Uttech, 15.255[18]
11. 17-Bryce Andrews, 15.321[8]
12. 41-Dennis Spitz, 15.445[6]
13. 22-Greg Alt, 15.580[5]
14. 0-John Fahl, 16.074[1]
15. 15-Dan Wade, 16.212[3]
16. 57F-Tristan Furseth, 16.249[16]
17. 29J-Ralph Johnson, 16.249[9]
18. 22S-Brian Strane, 16.249[14]
Qualifying Flight B
1. 91-Jimmy Sivia, 14.517[3]
2. 14AJ-Derek Crane, 14.541[14]
3. 11D-Nathan Crane, 14.623[6]
4. 13-CJ Malueg, 14.701[12]
5. 70-Chris Klemko, 14.711[17]
6. 20-Natalie Klemko, 14.796[15]
7. 50-Rusty Egan, 14.865[11]
8. 24-Eric Wilke, 14.877[16]
9. 9X-Tom Brown, 14.900[2]
10. 99J-Seth Johnson, 14.939[1]
11. 18S-Aiden Salisbury, 15.029[7]
12. 29OG-Tom Eller, 15.118[4]
13. 52-Craig Lager, 15.143[5]
14. 11-Austin Hansen, 15.144[10]
15. 7L-Ellie Hensley, 15.491[9]
16. 7D-Josh Davidson, 15.550[8]
17. 89-George Gaertner Jr, 15.611[13]
18. 711-Tyler Kuxhouse, 15.703[18]
Heat Race #1 (8 Laps)
1. 7X-Ryan Marshall[1]
2. 40-Tim Cox[2]
3. 14Z-Ryan Zielski[4]
4. 38-Allen Hafford[3]
5. 13A-Dave Wallace[5]
6. 29J-Ralph Johnson[9]
7. 22-Greg Alt[7]
8. 17-Bryce Andrews[6]
9. 15-Dan Wade[8]
Heat Race #2 (8 Laps)
1. 9-Greg Olsen[1]
2. 09-Clayton Rossmann[4]
3. 70H-Tate Hensley[2]
4. 01-Chris Dodd[3]
5. 41-Dennis Spitz[6]
6. 7-Trinity Uttech[5]
7. 0-John Fahl[7]
8. 22S-Brian Strane[9]
9. 57F-Tristan Furseth[8]
Heat Race #3 (8 Laps)
1. 50-Rusty Egan[1]
2. 70-Chris Klemko[2]
3. 91-Jimmy Sivia[4]
4. 18S-Aiden Salisbury[6]
5. 11D-Nathan Crane[3]
6. 52-Craig Lager[7]
7. 9X-Tom Brown[5]
8. 7L-Ellie Hensley[8]
9. 89-George Gaertner Jr[9]
Heat Race #4 (8 Laps)
1. 20-Natalie Klemko[2]
2. 14AJ-Derek Crane[4]
3. 29OG-Tom Eller[6]
4. 24-Eric Wilke[1]
5. 13-CJ Malueg[3]
6. 99J-Seth Johnson[5]
7. 7D-Josh Davidson[8]
8. 11-Austin Hansen[7]
9. 711-Tyler Kuxhouse[9]
B-Main (10 Laps)
1. 7-Trinity Uttech[1]
2. 29J-Ralph Johnson[3]
3. 52-Craig Lager[6]
4. 7D-Josh Davidson[8]
5. 22-Greg Alt[5]
6. 711-Tyler Kuxhouse[16]
7. 22S-Brian Strane[11]
8. 15-Dan Wade[13]
9. 9X-Tom Brown[2]
10. 11-Austin Hansen[10]
11. 0-John Fahl[7]
12. 7L-Ellie Hensley[12]
13. 57F-Tristan Furseth[15]
14. 89-George Gaertner Jr[14]
15. 17-Bryce Andrews[9]
DNS: 99J-Seth Johnson
A-Main (20 Laps)
1. 09-Clayton Rossmann[3]
2. 38-Allen Hafford[1]
3. 91-Jimmy Sivia[6]
4. 14Z-Ryan Zielski[5]
5. 14AJ-Derek Crane[4]
6. 11D-Nathan Crane[2]
7. 50-Rusty Egan[10]
8. 40-Tim Cox[11]
9. 70-Chris Klemko[12]
10. 9-Greg Olsen[9]
11. 70H-Tate Hensley[13]
12. 01-Chris Dodd[15]
13. 18S-Aiden Salisbury[18]
14. 41-Dennis Spitz[19]
15. 24-Eric Wilke[16]
16. 20-Natalie Klemko[8]
17. 7X-Ryan Marshall[7]
18. 7-Trinity Uttech[21]
19. 52-Craig Lager[23]
20. 13-CJ Malueg[20]
21. 29J-Ralph Johnson[22]
22. 7D-Josh Davidson[24]
23. 13A-Dave Wallace[17]
24. 29OG-Tom Eller[14]