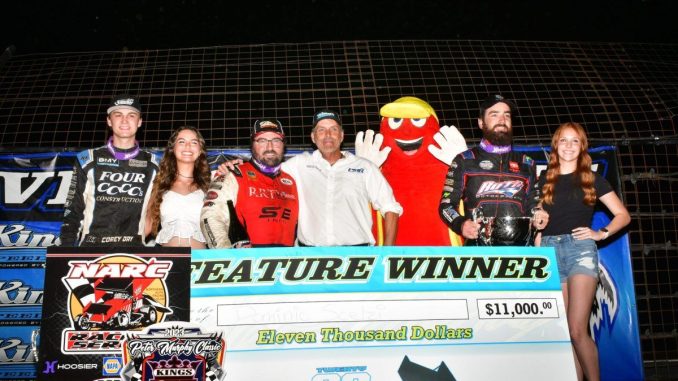 From James Allen
HANFORD, Ca. (May 13, 2023) — Two-time defending NARC champion Dominic Scelzi continued his dominance of the Peter Murphy Classic Saturday night finale by posting his third straight $11,000 sprint car victory at Kings Speedway. The winning ride in this 30-lap NAPA Auto Parts feature was the Jimmy Carr-wrenched, Scelzi Enterprise/Whipple Superchargers/Red Rose Transportation #41 Maxim.
Scelzi, who won the hotly contested pole shuffle, jumped out to an early lead but had his advantage negated by caution flags in the early going. Shane Golobic was in the hunt from the start and battled wheel-to-wheel with the leader for several circuits before taking the lead on lap five. Golobic, in the Works Limited #57 EMI, and Scelzi would slide and counter-slide for several laps before Scelzi secured the point on the seventh trip past the flag stand. Golobic would be credited with leading laps five and six.
Scelzi had his hands full negotiating lapped traffic shortly thereafter, but made all the right moves navigating his way around and through slower cars. Golobic mounted one more solid challenge for the point on a lap 13 restart, but was unable to make anything stick. Scelzi proceeded to master the three-eighths mile oval the remaining distance to secure his second win of the season by a healthy 4.7 second margin.
"This used to be a race that plagued me," said Scelzi in victory lane, after scoring his 21st career NARC victory. "I broke my back at his race in 2015, and then in 2021, we couldn't lose, and we were strong in 2022. Last night I felt like I knew what we needed to be a little bit better, but I truly didn't know what it was going to take to win. Corey (Day) is so talented and tough to beat, and he's only getting better, and he's got such a talented group of drivers behind him. Still, this old guy isn't done yet."
"My relationship has changed with Peter from when I met him to now has evolved, and this race means more than Trophy Cup, Dirt Cup, or winning an Outlaw show. I've been lucky to win many cool races in my life, but these Peter Murphy Classic trophies have a special spot in our shop."
Day would end his weekend second in the Jason Meyers Racing fielded Meyers Constructors/Four C's Construction #14 KPC, chased by the Toyota Racing Development/Roth Motorsports/HR Livestock #83 Maxim driven by James McFadden. Justin Sanders brought the Demo Mittry-owned Farmer's Brewing/North County Plastering #2X Maxim home in fourth. Golobic rounded out the top five.
"Losing to Dominic says a lot, and this race means a lot to him," stated Day, "the dynamic of the race didn't play out the way I needed to for me. I wasted too much time at the beginning of the race, and starting seventh was not great for us. I knew Dominic was going to be good up front. He was coming in the 360 race, and I knew Jimmy (Carr, crew chief) would have his car going well."
"I was there for Pete's first win in Alice Springs, and it's been cool to be here for this race," commented McFadden. "These guys are tough. It's tougher to win out here than it is an Outlaw show. Dom was dominant. That was a pretty big ass whooping there. We struggled a lot, but we'll return to the drawing board and figure out what to do."
The rest of the top ten finishers included Cole Macedo, D.J. Netto, 13th starter Kaleb Montgomery, Chase Johnson, and Justyn Cox. Three-time NARC King of the West champion Jonathan Allard started 25th and finished 11th to earn the Williams Roofing Hardcharger Award.
Corey Day picked up his third feature victory of the weekend completing a sweep of the 360 sprint car competition.
NARC King of the West Sprint Car Series
Peter Murphy Classic
Kings Speedway
Hanford, California
Saturday, May 13, 2023
Qualifying
1. 57W-Shane Golobic[18]
2. 41-Dominic Scelzi[2]
3. 83JR-Michael Kofoid[12]
4. 2X-Justin Sanders[23]
5. 42X-Justyn Cox[11]
6. 83-James McFadden[10]
7. 14-Corey Day[16]
8. 21T-Cole Macedo[17]
9. 24-Chase Johnson[19]
10. 69-Bud Kaeding[25]
11. 16A-Colby Copeland[7]
12. 88N-DJ Netto[9]
13. 2K-Kaleb Montgomery[15]
14. 18T-Tanner Holmes[13]
15. X1-Michael Faccinto[6]
16. 0-Jonathan Allard[3]
17. 46JR-Joel Myers Jr[8]
18. 36-Craig Stidham[24]
19. 88A-Joey Ancona[20]
20. 83V-Dylan Bloomfield[5]
21. 72W-Kurt Nelson[4]
22. 37-Michael Pombo[21]
23. 4-Burt Foland Jr[1]
24. 115-Nick Parker[22]
25. 12B-Dawson Faria[14]
26. 26-Billy Aton[26]
Heat Race #1 (8 Laps)
1. 2X-Justin Sanders[1]
2. 14-Corey Day[2]
3. 57W-Shane Golobic[4]
4. 69-Bud Kaeding[3]
5. 2K-Kaleb Montgomery[5]
6. 88A-Joey Ancona[7]
7. 12B-Dawson Faria[9]
8. 37-Michael Pombo[8]
9. 0-Jonathan Allard[6]
Heat Race #2 (8 Laps)
1. 42X-Justyn Cox[1]
2. 41-Dominic Scelzi[4]
3. 21T-Cole Macedo[2]
4. 18T-Tanner Holmes[5]
5. 46JR-Joel Myers Jr[6]
6. 26-Billy Aton[9]
7. 83V-Dylan Bloomfield[7]
8. 4-Burt Foland Jr[8]
9. 16A-Colby Copeland[3]
Heat Race #3 (8 Laps)
1. 83-James McFadden[1]
2. 83JR-Michael Kofoid[4]
3. 24-Chase Johnson[2]
4. 88N-DJ Netto[3]
5. 36-Craig Stidham[6]
6. 115-Nick Parker[8]
7. X1-Michael Faccinto[5]
8. 72W-Kurt Nelson[7]
Pole Shuffle (6 Laps)
1. 41-Dominic Scelzi[2]
2. 57W-Shane Golobic[1]
3. 83JR-Michael Kofoid[3]
4. 83-James McFadden[6]
5. 2X-Justin Sanders[4]
6. 42X-Justyn Cox[5]
A-Main (30 Laps)
1. 41-Dominic Scelzi[1]
2. 14-Corey Day[7]
3. 83-James McFadden[4]
4. 2X-Justin Sanders[5]
5. 57W-Shane Golobic[2]
6. 21T-Cole Macedo[8]
7. 88N-DJ Netto[11]
8. 2K-Kaleb Montgomery[13]
9. 24-Chase Johnson[9]
10. 42X-Justyn Cox[6]
11. 0-Jonathan Allard[25]
12. 12B-Dawson Faria[20]
13. 18T-Tanner Holmes[12]
14. 83V-Dylan Bloomfield[21]
15. 69-Bud Kaeding[10]
16. X1-Michael Faccinto[19]
17. 46JR-Joel Myers Jr[14]
18. 37-Michael Pombo[22]
19. 115-Nick Parker[17]
20. 26-Billy Aton[18]
21. 36-Craig Stidham[15]
22. 4-Burt Foland Jr[23]
23. 88A-Joey Ancona[16]
24. 83JR-Michael Kofoid[3]
25. 72W-Kurt Nelson[24]
Winged 360 Sprint Cars
Qualifying (2 Laps)
1. 121-Caeden Steele, 14.926[6]
2. 12R-Mitchell Faccinto, 14.929[10]
3. 42X-Justyn Cox, 15.183[2]
4. 4SA-Justin Sanders, 15.351[3]
5. 14-Mariah Ede, 15.575[9]
6. 88V-Jace VanderWeerd, 15.635[5]
7. 18-Grant Champlin, 15.706[4]
8. 87-Ashlyn Rodriguez, 15.726[7]
9. 25S-Seth Standley, 16.167[8]
10. 21X-Gauge Garcia, 16.356[1]
Qualifying 2 (2 Laps)
1. 41S-Dominic Scelzi, 14.829[8]
2. 7-Jake Morgan, 15.012[2]
3. 5R-Ryan Rocha, 15.162[1]
4. 92-Andy Forsberg, 15.307[4]
5. 3QC-Michael Pombo, 15.402[5]
6. 38N-Kyle Rasmussen, 15.404[9]
7. 21-Michael Ing, 15.426[7]
8. 15-Cody Key, 15.472[3]
9. 77-Ryan Lippincott, 15.642[6]
Qualifying 3 (2 Laps)
1. 94TH-Kyle Hirst, 14.720[3]
2. 10-Dominic Gorden, 14.754[4]
3. 83V-Dylan Bloomfield, 14.849[5]
4. 28-Chase Johnson, 14.925[8]
5. 22-Ryan Bernal, 15.059[1]
6. 9-Dustin Freitas, 15.264[7]
7. 94-Greg Decaires V, 15.475[9]
8. 09S-Geoffrey Strole, 16.088[2]
DNS: 7X-Steven Kent, 16.089
Qualifying 4 (2 Laps)
1. 41-Corey Day, 14.338[4]
2. 3-Kaleb Montgomery, 14.681[9]
3. 7B-Sean Becker, 14.728[8]
4. 67G-Grant Duinkerken, 14.739[1]
5. 17W-Shane Golobic, 14.918[2]
6. 9L-Luke Hayes, 15.014[6]
7. 23T-George Tristao Jr, 15.059[5]
8. 1-Chance Grasty, 15.167[7]
9. 31H-Phil Heynen, 15.967[3]
Heat Race #1 (8 Laps)
1. 12R-Mitchell Faccinto[1]
2. 4SA-Justin Sanders[3]
3. 42X-Justyn Cox[2]
4. 121-Caeden Steele[4]
5. 21X-Gauge Garcia[10]
6. 14-Mariah Ede[5]
7. 18-Grant Champlin[7]
8. 88V-Jace VanderWeerd[6]
9. 25S-Seth Standley[9]
10. 87-Ashlyn Rodriguez[8]
Heat Race #2 (8 Laps)
1. 41S-Dominic Scelzi[4]
2. 7-Jake Morgan[1]
3. 5R-Ryan Rocha[2]
4. 92-Andy Forsberg[3]
5. 38N-Kyle Rasmussen[6]
6. 21-Michael Ing[7]
7. 3QC-Michael Pombo[5]
8. 77-Ryan Lippincott[9]
9. 15-Cody Key[8]
Heat Race #3 (8 Laps)
1. 28-Chase Johnson[3]
2. 94TH-Kyle Hirst[4]
3. 83V-Dylan Bloomfield[2]
4. 22-Ryan Bernal[5]
5. 94-Greg Decaires V[7]
6. 10-Dominic Gorden[1]
7. 09S-Geoffrey Strole[8]
8. 9-Dustin Freitas[6]
Heat Race #4 (8 Laps)
1. 7B-Sean Becker[2]
2. 41-Corey Day[4]
3. 67G-Grant Duinkerken[3]
4. 17W-Shane Golobic[5]
5. 3-Kaleb Montgomery[1]
6. 1-Chance Grasty[8]
7. 9L-Luke Hayes[6]
8. 23T-George Tristao Jr[7]
9. 31H-Phil Heynen[9]
Dash #1 (6 Laps)
1. 12R-Mitchell Faccinto[2]
2. 7B-Sean Becker[1]
3. 41-Corey Day[6]
4. 28-Chase Johnson[4]
5. 41S-Dominic Scelzi[3]
6. 121-Caeden Steele[8]
7. 94TH-Kyle Hirst[5]
8. 7-Jake Morgan[7]
B-Main (15 Laps)
1. 10-Dominic Gorden[1]
2. 1-Chance Grasty[2]
3. 14-Mariah Ede[4]
4. 9L-Luke Hayes[5]
5. 21-Michael Ing[3]
6. 3QC-Michael Pombo[6]
7. 23T-George Tristao Jr[9]
8. 18-Grant Champlin[7]
9. 77-Ryan Lippincott[12]
10. 09S-Geoffrey Strole[8]
11. 87-Ashlyn Rodriguez[16]
12. 15-Cody Key[13]
13. 31H-Phil Heynen[14]
14. 88V-Jace VanderWeerd[11]
DNS: 9-Dustin Freitas
DNS: 25S-Seth Standley
A-Main (25 Laps)
1. 41-Corey Day[3]
2. 4SA-Justin Sanders[9]
3. 12R-Mitchell Faccinto[1]
4. 94TH-Kyle Hirst[7]
5. 42X-Justyn Cox[13]
6. 28-Chase Johnson[4]
7. 83V-Dylan Bloomfield[11]
8. 22-Ryan Bernal[15]
9. 3-Kaleb Montgomery[17]
10. 7B-Sean Becker[2]
11. 67G-Grant Duinkerken[10]
12. 7-Jake Morgan[8]
13. 10-Dominic Gorden[21]
14. 5R-Ryan Rocha[12]
15. 92-Andy Forsberg[16]
16. 94-Greg Decaires V[19]
17. 1-Chance Grasty[22]
18. 14-Mariah Ede[23]
19. 41S-Dominic Scelzi[5]
20. 9L-Luke Hayes[24]
21. 121-Caeden Steele[6]
22. 17W-Shane Golobic[14]
23. 21X-Gauge Garcia[20]
24. 38N-Kyle Rasmussen[18]