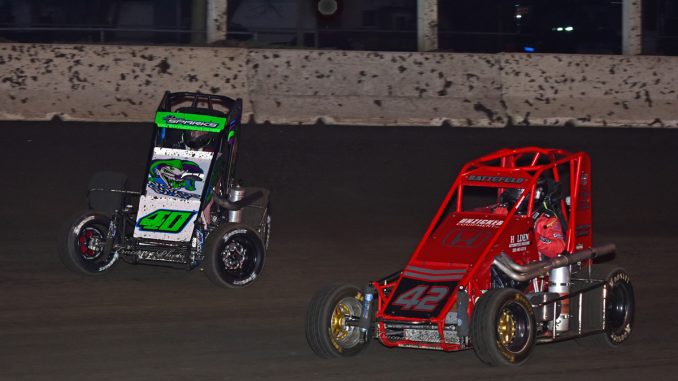 By Quinn McCabe
Lincoln, IL (May 16, 2023) – The Midget Auto Racing Association returns home to Lincoln Speedway in Lincoln, IL for the fourth race of the 2023 season on Friday, May 19th.
The MARA midgets are coming off the first race away from Lincoln Speedway for the series. The Friday, May 5th event, held at Kankakee County Speedway, was co-sanctioned with the Badger Midget Auto Racing Association. The two series saw 37 midgets sign in and the night had a significant impact on the 2023 MARA series standings.
Daltyn England lead the standings into Kankakee but was unable to secure an A-main starting spot, missing it by just one position in the B-main. This allowed Adam Taylor, the eventual race winner, to close in and tie England with 187 points. By virtue of having a race win this season, Taylor earns the tie-breaker and is the current point leader.
Following the lead duo in the standings is Mark McMahill who finished sixth at Kankakee. McMahill rebounded nicely at Kankakee after having mechanical issues and missing the A-main at Lincoln Speedway on April 28th. He sits just shy of the lead with 184 points.
Jace Sparks sits fourth in the standings coming off a 16th-place finish. Sparks looked strong at Kankakee finishing second in the B-main. He will look to carry his momentum into Lincoln on Friday.
Tommy Colburn rounds out the top five in the standings after an unfortunate brake failure and fire at Kankakee which resulted in a DNF. Colburn was credited with an 18th-place finish but looks to rebound heading into the next event at Lincoln Speedway.
Pit gates will open at 4 pm, spectator gates open at 5 pm with hot laps beginning at 6 pm and racing to follow. Watch the event live at lincolnspeedwayil.tv and keep up on all the happenings of the MARA Midgets by visiting mararacing.com or the MARA Racing Facebook page.