By Steven Blakesley
WATSONVILLE, CALIFORNIA (June 8, 2023) –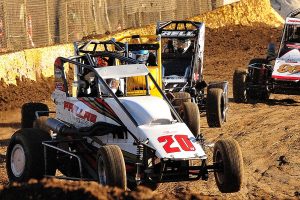 The NorCal double header includes 360 Sprint Cars on both nights with Petaluma's event featuring the Sprint Car Challenge Tour.
Ocean Speedway's event also has IMCA Modifieds and IMCA Sport Modifieds in action at the Santa Cruz County Fairgrounds dirt track. More information can be found at www.OceanSpeedway.com Ocean's races are streamed live on www.StarsonDirt.TV
Saturday's Petaluma Speedway round includes Sprint Car Challenge Tour and Hobby Stocks. Fans can learn more at www.Petaluma-Speedway.com Petaluma racing can be streamed live on www.CaliDirt.TV
Following the doubleheader, WMR heads south to Ventura Raceway on June 17th for the prestigious "Wagsdash Reunion in Honor of Mrs. Wags". The Midget feature will pay $1,000 to win and the event will be joined by USAC West Coast 360s, California Lightning Sprints, and Dwarf Cars with great planning and support from Ken Wagner.
The countdown is also on for the 13th Howard Kaeding Classic, bringing Midgets to Ocean Speedway for two nights of competition on July 14 and 15. Friday's action features 360 Sprint Cars while the NARC 410s highlight Saturday's festivities. WMR will compete for extra purse and bonus money, to be announced soon! Live music, barbeques, and entertainment are planned all weekend thanks to the efforts of Bud Kaeding and the entire Kaeding family.
The 2023 season is off to an exciting start for WMR with a 17-car average throughout the season. The Tony Boscacci owned entries driven by 2022 champion Blake Bower of Brentwood and Bryant Bell of Oakley have snared all three California rounds. Bell grabbed the Ventura Raceway feature on April 29 and followed that up with an exciting win at Petaluma Speedway on May 13. Friday May 12 at Ocean Speedway was claimed by the defending champion, for Bower's tenth career Ocean victory.
Teenager Adrianna DeMartini of Brentwood is expected to join the action this weekend, bringing a tremendous racing background including over 80 starts in a Micro Sprint over to her Midget debut.
Logan Mitchell of Santa Cruz has scored a pair of top-five finishes this year and looks to add to that total this weekend at his home track, driving the No. 96x Boss Chassis. Las Vegas' Kyle Hawse has earned two fifth place finishes and a sixth-place finish as he continues his march up the pecking order in the Sunland Wood Products No. 20. Todd Hawse of Moorpark has a best finish of fifth in 2023 as well in the Hawse Abbey Carpet No. 31N.
San Jose's Anthony Bruno brings experience in Micro Sprints and Wingless Spec Sprints to WMR, competing in the No. 10 Stealth Chassis for Bay Muffler this weekend.
Lodi's Nate Wait has been close to breaking through for a win in 2023. He finished in second at Ocean on May 12 and led the first nine laps at Petaluma the following night in his bid for a WMR victory driving car No. 76.
For more information on Western Midget Racing, visit them at www.WesternMidgetRacing.com or follow them on Facebook!