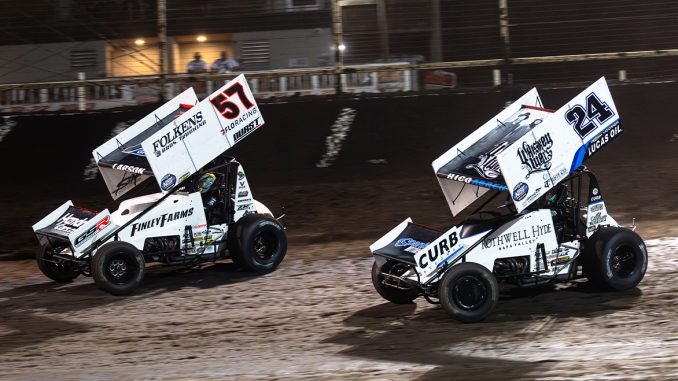 By Alex Nieten
BRANDON, SD (June 21, 2023) – Yung Money has no intentions of sharing the wealth at the Billion Auto Huset's High Bank Nationals presented by Menards.
Kyle Larson was nearly perfect on Wednesday night at Huset's Speedway with the World of Outlaws NOS Energy Drink Cars. Second quickest in Qualifying. A sixth to third charge in his Heat Race. And then a masterful drive from fifth to the lead in the Feature, sealing the deal with a perfect slider on Rico Abreu with seven laps to go on his way to Victory Lane where a $20,000 check awaited him.
Not only did Larson win, he took a commanding lead in the points that play an important role in positioning for Saturday's $250,000 finale. The Elk Grove, CA native tallied 443 points on Wednesday with Rico Abreu – his closest competition – 17 markers back. For reference on how dominating that advantage is, only 16 points separate positions two through six.
For Larson, who has to miss Friday's prelim for NASCAR obligations, getting a strong start was vital in his effort to claim the High Bank Nationals title.
"Good to have a good first night," Larson said. "I only get to run two of these prelim nights so I've got to make them count. We had a great night tonight. Qualified good, went forward in the Heat race, and then obviously won the Feature. Hopefully we have another good run tomorrow."
Larson's first victory of 2023 with the World of Outlaws came in only his third start. He now sits at 29 career Series wins in 130 starts with The Greatest Show on Dirt – a nearly 10-percent clip. The 30-year-old is two for five at Huset's in World of Outlaws competition.
"They do a great job with this event, this racetrack," Larson said. "We all appreciate the big money. I'm glad Tod (Quiring, track owner) did this. I hope all of the fans enjoy it."
The race began with a front row consisting of Rico Abreu and Cory Eliason leading the field to green. After battling a pair of caution flags on the opening lap, Abreu powered ahead of Eliason to take the early lead.
As the first laps clicked off, Abreu stretched his advantage heading into traffic. As he was facing a hornet's nest of lapped cars, another yellow flag flew. On the restart Larson picked off his first car by ripping around Spencer Bayston for fourth.
It was another restart a few laps later when Larson slid Lachlan McHugh to climb onto the podium. While the cautions disturbed the flow of the race, they proved to be a helpful factor for Larson as he made his way forward.
"The restarts definitely helped me," Larson admitted. "The engine took off really good, and I was able to get good runs in the first laps and move forward."
Another restart slightly beyond the halfway point gave Larson the opportunity to move by Eliason for second and bring a hard charging David Gravel – who started 12th – with him.
Once Larson moved into the runner-up spot, Abreu was unable to pull away like he had previously. Larson kept the Silva Motorsports #57 only a few car lengths behind as they worked their way into traffic.
With seven laps remaining, Larson saw the chance he needed with a run out of Turn 2 and down the backstretch. As the duo entered Turn 3, Larson pulled the trigger on a slide job and cleared Abreu in the center of the corner. He got to the cushion quick enough to build speed on the corner exit preventing Abreu from crossing him over.
"Once I got to second there behind Rico, I could pace him," Larson explained. "I felt really good behind him. I could close on him a good bit in (Turns) 1 and 2. He'd pull away a little bit in (Turns) 3 and 4, but he looked like he was getting tight as he got to traffic. I started cheating my entry a little bit and making sure I didn't make mistakes and get good runs on exit, enough to clear him there into (Turn) 3."
After Larson passed Abreu, Gravel wheeled his Big Game Motorsports/Billion Auto #2 into second and began to run Larson down. On the final lap, Gravel looked under Larson in the last set of corners but couldn't quite get by as Larson raced to the checkered flag.
"I know Gravel was probably really close to me there at the end," Larson admitted. "I just kind of stuck in traffic. Those guys were running two-wide in front of me, and I just didn't want to give up the top."
Gravel's second place run was his third consecutive runner-up and fourth straight top two. While the Watertown, CT native was satisfied with he and the Big Game Motorsports team's continued speed, he really wanted to start the week off with a win.
"Damn I wanted to beat Larson there," Gravel said with a smile. "I was definitely motivated. The Heat Race was something to forget about. We had a pretty solid car there (in the Feature). I'm glad we had the open red. Cody (Jacobs) was able to work on it and get it better. I had great restarts there, starting on the top and going through that middle. That middle was actually pretty good there. I wish I was closer to him earlier to give that a try. Lapped traffic was just starting bunch things up on that last lap."
After leading the opening 28 laps, Rico Abreu completed the podium for his eighth top three of the year with the World of Outlaws. A few missteps late in the going kept the St. Helena, CA native from collecting his fourth Series win of 2023.
"I didn't really execute that well at the end of the race," Abreu said. "I felt like when I caught traffic my pace really slowed down. It's just things I've got to work on as a driver, just executing the back half of these races and keeping the speed of the car up."
Carson Macedo and Cory Eliason completed the top five.
Tim Kaeding claimed the KSE Racing Hard Charger with a drive from 22nd to 10th in the Lunstra #3.
Kaeding also topped CASE No.1 Engine Oil Heat One (76th Heat Race win of career). NOS Energy Drink Heats Two through Six went to Brad Sweet (223rd of career), Mark Dobmeier (18th of career), Kasey Kahne (18th of career), Noah Gass (second of career), and Austin McCarl (fifth of career).
David Gravel claimed his seventh Simpson Performance Products QuickTime of the season and the 104th of his career.
UP NEXT: The World of Outlaws NOS Energy Drink Sprint Cars are right back at Huset's Speedway for night two of the Billion Auto Huset's High Bank Nationals presented by Menards on Thursday, June 22. For tickets, CLICK HERE.
If you can't make it to the track, catch all of the action live on DIRTVision.
RESULTS:
NOS Energy Drink Feature (35 Laps): 1. 57-Kyle Larson[5]; 2. 2-David Gravel[12]; 3. 24-Rico Abreu[1]; 4. 41-Carson Macedo[9]; 5. 11-Cory Eliason[2]; 6. 1S-Logan Schuchart[10]; 7. 18-Giovanni Scelzi[8]; 8. 17B-Bill Balog[17]; 9. 5-Spencer Bayston[3]; 10. 3-Tim Kaeding[22]; 11. 25-Lachlan McHugh[4]; 12. 5X-Kerry Madsen[11]; 13. 83JR-Michael Kofoid[7]; 14. 13-Mark Dobmeier[14]; 15. 20G-Noah Gass[18]; 16. 49-Brad Sweet[24]; 17. 7S-Robbie Price[20]; 18. 19-Ayrton Gennetten[16]; 19. 21-Brian Brown[13]; 20. (DNF) 88-Austin McCarl[23]; 21. (DNF) 29-Sye Lynch[21]; 22. (DNF) 10-Matt Juhl[6]; 23. (DNF) 14T-Tim Estenson[15]; 24. (DNF) 5T-Ryan Timms[19]
Last Chance Showdown (12 Laps): 1. 29-Sye Lynch[1]; 2. 3-Tim Kaeding[6]; 3. 88-Austin McCarl[4]; 4. 49-Brad Sweet[8]; 5. 1A-Jacob Allen[3]; 6. 24T-Christopher Thram[2]; 7. 17-Sheldon Haudenschild[12]; 8. 9R-Chase Randall[9]; 9. 83H-Justin Henderson[5]; 10. 9-Kasey Kahne[11]; 11. 6C-Carson McCarl[7]; 12. 101-Cody Maroske[16]; 13. 52-Blake Hahn[17]; 14. 11M-Brendan Mullen[10]; 15. 15H-Sam Hafertepe Jr[13]; 16. 7BC-Tyler Courtney[18]; 17. 15-Donny Schatz[14]; 18. 83-James McFadden[20]; 19. 22-Riley Goodno[19]; 20. 22K-Kaleb Johnson[21]; 21. 3J-Dusty Zomer[22]; 22. 2AG-Trent Pigdon[15]
C Feature (10 Laps): 1. 22K-Kaleb Johnson[2]; 2. 3J-Dusty Zomer[3]; 3. 81-Jack Dover[6]; 4. 16-Brooke Tatnell[10]; 5. 3Z-Brock Zearfoss[8]; 6. 12-Tyler Drueke[9]; 7. 17D-Ryan Bickett[13]; 8. 6-Bill Rose[7]; 9. 105-Cody Ihlen[4]; 10. G5-Gage Pulkrabek[5]; 11. 2K-Kevin Ingle[11]; 12. 78-Bill Wagner[12]; 13. (DNS) 11S-Parker Price Miller; 14. (DNS) 24W-Garet Williamson
Heat 1 (10 Laps): 1. 3-Tim Kaeding[1]; 2. 11-Cory Eliason[4]; 3. 83H-Justin Henderson[2]; 4. 18-Giovanni Scelzi[5]; 5. 17-Sheldon Haudenschild[3]; 6. 52-Blake Hahn[7]; 7. 2-David Gravel[6]; 8. 12-Tyler Drueke[9]; 9. 6-Bill Rose[8]
Heat 2 (10 Laps): 1. 49-Brad Sweet[1]; 2. 10-Matt Juhl[3]; 3. 57-Kyle Larson[6]; 4. 15-Donny Schatz[2]; 5. 7S-Robbie Price[4]; 6. 7BC-Tyler Courtney[7]; 7. 29-Sye Lynch[5]; 8. 16-Brooke Tatnell[9]; 9. 3Z-Brock Zearfoss[8]
Heat 3 (10 Laps): 1. 13-Mark Dobmeier[2]; 2. 15H-Sam Hafertepe Jr[1]; 3. 5-Spencer Bayston[4]; 4. 6C-Carson McCarl[3]; 5. 83JR-Michael Kofoid[6]; 6. 5T-Ryan Timms[5]; 7. G5-Gage Pulkrabek[9]; 8. 105-Cody Ihlen[8]; 9. (DNS) 24W-Garet Williamson
Heat 4 (10 Laps): 1. 9-Kasey Kahne[1]; 2. 24-Rico Abreu[4]; 3. 11M-Brendan Mullen[2]; 4. 9R-Chase Randall[3]; 5. 5X-Kerry Madsen[5]; 6. 41-Carson Macedo[6]; 7. 22K-Kaleb Johnson[8]; 8. 11S-Parker Price Miller[7]; 9. 2K-Kevin Ingle[9]
Heat 5 (10 Laps): 1. 20G-Noah Gass[2]; 2. 2AG-Trent Pigdon[1]; 3. 17B-Bill Balog[3]; 4. 19-Ayrton Gennetten[4]; 5. 21-Brian Brown[5]; 6. 1S-Logan Schuchart[6]; 7. 22-Riley Goodno[7]; 8. 81-Jack Dover[8]; 9. 78-Bill Wagner[9]
Heat 6 (10 Laps): 1. 88-Austin McCarl[2]; 2. 101-Cody Maroske[1]; 3. 1A-Jacob Allen[3]; 4. 25-Lachlan McHugh[6]; 5. 14T-Tim Estenson[5]; 6. 83-James McFadden[8]; 7. 24T-Christopher Thram[4]; 8. 3J-Dusty Zomer[7]; 9. 17D-Ryan Bickett[9]
Qualifying: 1. 2-David Gravel, 00:10.804[23]; 2. 57-Kyle Larson, 00:10.806[31]; 3. 83JR-Michael Kofoid, 00:10.841[5]; 4. 41-Carson Macedo, 00:10.848[44]; 5. 1S-Logan Schuchart, 00:10.860[26]; 6. 25-Lachlan McHugh, 00:10.883[11]; 7. 18-Giovanni Scelzi, 00:10.897[8]; 8. 29-Sye Lynch, 00:10.902[15]; 9. 5T-Ryan Timms, 00:10.904[21]; 10. 5X-Kerry Madsen, 00:10.905[4]; 11. 21-Brian Brown, 00:10.907[16]; 12. 14T-Tim Estenson, 00:10.929[6]; 13. 11-Cory Eliason, 00:10.931[32]; 14. 7S-Robbie Price, 00:10.935[7]; 15. 5-Spencer Bayston, 00:10.936[24]; 16. 24-Rico Abreu, 00:10.936[40]; 17. 19-Ayrton Gennetten, 00:10.949[3]; 18. 24T-Christopher Thram, 00:11.029[14]; 19. 17-Sheldon Haudenschild, 00:11.042[13]; 20. 10-Matt Juhl, 00:11.043[25]; 21. 6C-Carson McCarl, 00:11.044[2]; 22. 9R-Chase Randall, 00:11.054[51]; 23. 17B-Bill Balog, 00:11.062[17]; 24. 1A-Jacob Allen, 00:11.062[53]; 25. 83H-Justin Henderson, 00:11.066[47]; 26. 15-Donny Schatz, 00:11.069[54]; 27. 13-Mark Dobmeier, 00:11.074[19]; 28. 11M-Brendan Mullen, 00:11.079[28]; 29. 20G-Noah Gass, 00:11.083[41]; 30. 88-Austin McCarl, 00:11.084[45]; 31. 3-Tim Kaeding, 00:11.086[35]; 32. 49-Brad Sweet, 00:11.100[30]; 33. 15H-Sam Hafertepe Jr, 00:11.109[18]; 34. 9-Kasey Kahne, 00:11.118[29]; 35. 2AG-Trent Pigdon, 00:11.121[1]; 36. 101-Cody Maroske, 00:11.122[37]; 37. 52-Blake Hahn, 00:11.150[34]; 38. 7BC-Tyler Courtney, 00:11.172[43]; 39. 24W-Garet Williamson, 00:11.176[22]; 40. 11S-Parker Price Miller, 00:11.180[46]; 41. 22-Riley Goodno, 00:11.195[27]; 42. 3J-Dusty Zomer, 00:11.198[33]; 43. 6-Bill Rose, 00:11.199[20]; 44. 3Z-Brock Zearfoss, 00:11.233[48]; 45. 105-Cody Ihlen, 00:11.240[12]; 46. 22K-Kaleb Johnson, 00:11.246[10]; 47. 81-Jack Dover, 00:11.290[36]; 48. 83-James McFadden, 00:11.316[49]; 49. 12-Tyler Drueke, 00:11.319[39]; 50. 16-Brooke Tatnell, 00:11.362[42]; 51. G5-Gage Pulkrabek, 00:11.707[52]; 52. 2K-Kevin Ingle, 00:11.836[50]; 53. 78-Bill Wagner, 00:12.451[9]; 54. 17D-Ryan Bickett, 00:12.451[38]
Hot Laps: 1. 41-Carson Macedo, 00:10.977[44]; 2. 88-Austin McCarl, 00:10.990[45]; 3. 1A-Jacob Allen, 00:10.994[53]; 4. 83H-Justin Henderson, 00:11.109[47]; 5. 15-Donny Schatz, 00:11.126[54]; 6. 83-James McFadden, 00:11.171[49]; 7. 11S-Parker Price Miller, 00:11.193[46]; 8. 3Z-Brock Zearfoss, 00:11.212[48]; 9. 7BC-Tyler Courtney, 00:11.235[43]; 10. 20G-Noah Gass, 00:11.251[41]; 11. 52-Blake Hahn, 00:11.263[34]; 12. 9R-Chase Randall, 00:11.271[51]; 13. 24-Rico Abreu, 00:11.283[40]; 14. 101-Cody Maroske, 00:11.345[37]; 15. 16-Brooke Tatnell, 00:11.356[42]; 16. 3-Tim Kaeding, 00:11.388[35]; 17. 81-Jack Dover, 00:11.390[36]; 18. 57-Kyle Larson, 00:11.392[31]; 19. 9-Kasey Kahne, 00:11.395[29]; 20. 1S-Logan Schuchart, 00:11.448[26]; 21. 11-Cory Eliason, 00:11.449[32]; 22. 3J-Dusty Zomer, 00:11.491[33]; 23. 12-Tyler Drueke, 00:11.502[39]; 24. 49-Brad Sweet, 00:11.525[30]; 25. G5-Gage Pulkrabek, 00:11.572[52]; 26. 2K-Kevin Ingle, 00:11.611[50]; 27. 10-Matt Juhl, 00:11.674[25]; 28. 22-Riley Goodno, 00:11.682[27]; 29. 11M-Brendan Mullen, 00:11.826[28]; 30. 2-David Gravel, 00:11.863[23]; 31. 13-Mark Dobmeier, 00:11.887[19]; 32. 5T-Ryan Timms, 00:11.959[21]; 33. 17B-Bill Balog, 00:11.988[17]; 34. 6-Bill Rose, 00:12.041[20]; 35. 25-Lachlan McHugh, 00:12.113[11]; 36. 24W-Garet Williamson, 00:12.116[22]; 37. 18-Giovanni Scelzi, 00:12.132[8]; 38. 6C-Carson McCarl, 00:12.166[2]; 39. 17-Sheldon Haudenschild, 00:12.167[13]; 40. 29-Sye Lynch, 00:12.204[15]; 41. 7S-Robbie Price, 00:12.281[7]; 42. 5X-Kerry Madsen, 00:12.366[4]; 43. 15H-Sam Hafertepe Jr, 00:12.317[18]; 44. 2AG-Trent Pigdon, 00:12.437[1]; 45. 24T-Christopher Thram, 00:12.456[14]; 46. 105-Cody Ihlen, 00:12.456[12]; 47. 22K-Kaleb Johnson, 00:12.664[10]; 48. 14T-Tim Estenson, 00:12.772[6]; 49. 19-Ayrton Gennetten, 00:12.783[3]; 50. 21-Brian Brown, 00:13.198[16]; 51. 78-Bill Wagner, 00:13.899[9]; 52. 17D-Ryan Bickett, 00:13.899[38]; 53. 5-Spencer Bayston, 00:13.899[24]; 54. 83JR-Michael Kofoid, 00:12.294[5]