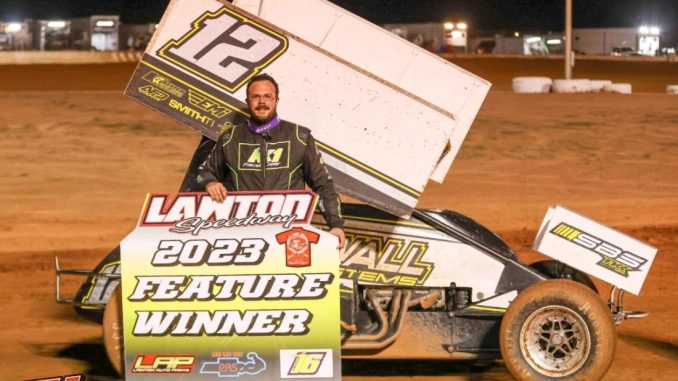 From Bryan Hulbert
LAWTON, Ok. (June 22, 2023) — Leading start-to-finish and going green-to-checkered at Lawton Speedway, Tulsa's Jeffrey Newell captured his first career A-Feature victory Thursday night with the American Sprint Car Series.
The 167th different winner with the American Sprint Car Series, Newell is the fifth driver from Tulsa, Okla. to do so, and the seventh different winner on the 2023 season.
"Man, we've had a pretty tough start to our season, and I appreciate Rick and Corinna at Drywall Systems for sticking with me. We've been close to winning on a few really big Micro races, and this…this is only our second Sprint Car outing this year, so to get a win; says a lot about this team. They work their butts off," said Newell in Victory Lane.
Pocketing $4,000 for his efforts, the 2022 Tulsa Shootout Stock Non-Wing Champion shot to the point through the opening two turns over Jason Martin. Finding traffic by Lap 8 as the race for second went the way of Matt Covington, the T&L Foundry No. 95 rolled up to challenge for the point on Lap 12. On Jeffrey's back bumper off the fourth turn, Matt took a look but could not get the run.
Able to pull away as Traffic intervened, the No. 95 also started to develop an engine stumble. Looking like Howard Moore, who worked to third on Lap 18, was going to be able to take advantage; traffic this time played to Covington's advantage.
Working low on lapped traffic through the final laps, Newell made it to the checkered flag with 1.643-seconds to spare. Matt Covington held onto second, with Howard Moore third. Jason Martin ended up fourth, with Andrew Deal fifth.
Jordon Mallett, from 12th, made it to sixth, followed by Landon Britt from 13th. Leaving as the KSE Hard Charger, Brandon Anderson made up eight positions to finish eighth. Joe Wood, Jr. and Jace Park completed the top ten.
The 21-car field at Lawton Speedway was topped in The Driver's Project Qualifying by Matt Covington, who established the ASCS Track Record at 13.281-seconds. A trio of AR Dyno Specialty Heat Races went to Joe Wood, Jr., Christopher Townsend, and Jason Martin. The KSE Hard Charger of the Night was Brandon Anderson.
The next event for the American Sprint Car Series is Saturday, June 24, at Caney Valley Speedway, paying $5,000 to win, $500 to start. Gates open at 4:00 P.M. for the pits and 5:00 P.M. for the grandstands. Hot Laps begins at 7:00 P.M., with racing at 8:00 P.M. (CDT). Tickets are $20 for adults, $15 for seniors, $5 for youth (6-12), and free for kids five and under. Pits are $35.
Caney Valley Speedway is located just north of Caney, Kan., at 1324 County Road 1600. Information on the track is online at https://www.caneyvalleyspeedway.net.
ASCS National Tour
Lawton Speedway
Lawton, Oklahoma
Friday, June 22, 2023
The Drivers Project Qualifying (3 Laps)
1. 14-Jordon Mallett, 13.367[5]
2. 15D-Andrew Deal, 13.433[6]
3. 03-Joe Wood Jr, 13.454[2]
4. 31-Casey Wills, 13.580[3]
5. 45X-Kyler Johnson, 13.650[4]
6. 8M-Kade Morton, 14.059[1]
7. 1-Brian Gramm, 14.125[7]
The Drivers Project Qualifying 2 (3 Laps)
1. 95-Matt Covington, 13.281[6]
2. 3-Howard Moore, 13.311[3]
3. 10-Landon Britt, 13.437[1]
4. 6-Christopher Townsend, 13.795[7]
5. 55B-Brandon Anderson, 13.877[4]
6. 10P-Parker Ezell, 16.100[2]
DNS: 91-Michael Day
The Drivers Project Qualifying 3 (3 Laps)
1. 12-Jeffrey Newell, 13.475[2]
2. 87J-Jace Park, 13.598[6]
3. 36-Jason Martin, 13.635[7]
4. 16S-Steven Shebester, 13.803[5]
5. 0J-Jeremy McCune, 13.839[4]
6. 2B-Brett Becker, 13.952[3]
7. 96-Brandon Sampson, 15.009[1]
AR Dyno Specialty Heat Race #1 (8 Laps)
1. 03-Joe Wood Jr[2]
2. 31-Casey Wills[1]
3. 15D-Andrew Deal[3]
4. 8M-Kade Morton[6]
5. 1-Brian Gramm[7]
6. 14-Jordon Mallett[4]
7. 45X-Kyler Johnson[5]
AR Dyno Specialty Heat Race #2 (8 Laps)
1. 6-Christopher Townsend[1]
2. 95-Matt Covington[4]
3. 3-Howard Moore[3]
4. 10-Landon Britt[2]
5. 55B-Brandon Anderson[5]
6. 91-Michael Day[7]
7. 10P-Parker Ezell[6]
AR Dyno Specialty Heat Race #3 (8 Laps)
1. 36-Jason Martin[2]
2. 16S-Steven Shebester[1]
3. 87J-Jace Park[3]
4. 12-Jeffrey Newell[4]
5. 0J-Jeremy McCune[5]
6. 2B-Brett Becker[6]
7. 96-Brandon Sampson[7]
A-Main (30 Laps)
1. 12-Jeffrey Newell[1]
2. 95-Matt Covington[4]
3. 3-Howard Moore[5]
4. 36-Jason Martin[2]
5. 15D-Andrew Deal[6]
6. 14-Jordon Mallett[12]
7. 10-Landon Britt[13]
8. 55B-Brandon Anderson[16]
9. 03-Joe Wood Jr[3]
10. 87J-Jace Park[7]
11. 6-Christopher Townsend[8]
12. 16S-Steven Shebester[11]
13. 8M-Kade Morton[9]
14. 31-Casey Wills[10]
15. 2B-Brett Becker[17]
16. 0J-Jeremy McCune[15]
17. 1-Brian Gramm[14]
18. 96-Brandon Sampson[19]
19. 45X-Kyler Johnson[20]
20. 91-Michael Day[21]
DNS: 10P-Parker Ezell