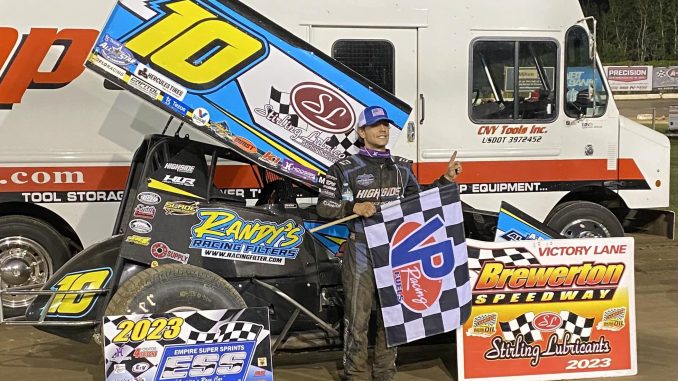 From Curtis Berleue
BREWERTON, N.Y. (June 30, 2023) — After a podium finish earlier in the week at Can-Am, Paulie Colagiovanni found himself in victory lane Friday night at the Brewerton Speedway, and at the same time took the lead in the week-long Empire Super Sprints CNY Speedweek point standings with just one race remaining.
Jason Barney and Jacob Dykstra would make up the front row and bring the field to green for the 25-lap A-Main event. Barney jumped out to the initial lead, but before a lap could be completed the caution was thrown for Chase Moran with a flat right rear tire.
When the green flag waved again, it was Dykstra who got to turn one first this time and proceeded to lead the next three laps until a red flag was thrown for the #33c of Lacey Hanson, as she got upside down in turn 3.
Taking advantage of the ensuing restart, Paulie Colagiovanni was able to grab the lead from Dykstra and immediately began to pull away. As the laps ticked away, 6th-starting Chuck Hebing made his way up to 3rd and began hounding Jason Barney for second.
By lap 16, Colagiovanni reached lap traffic, allowing Barney and Hebing to make up some ground on the leader. A close call on lap 20 saw Dalton Rombough spin right in front of the leaders, but he was able to keep it going, avoiding another caution flag.
With one lap remaining, Chuck Hebing was able to slip past Barney for second, bringing Larry Wight along with him. Ultimately, neither driver had anything for Colagiovanni, and he was able to park his #10c on the front stretch for the $2,500 victory.
"We usually don't run well here, we threw a curve ball at the car tonight though and did some pretty drastic stuff to this racecar and it showed," said Colagiovanni in victory lane. "I was just trying to get through lap traffic as quick as I could and use those cars as a pick."
For the second night in a row, Chuck Hebing finished just one spot short in second.
"I actually thought I had a chance tonight," said Hebing. "We were close, just one lap car made a move that got me. We got lucky to not get crashed out. Our car has a good balance right now, and when your confidence it better that always helps too."
Rounding out the Ashley Lynn Winery podium was the #99L of Larry Wight.
"I think we made a mistake and put a new tire on the right rear," said Wight. "It took about 15 laps to come in. When it started working the last 10 laps it felt good, we just needed about 5 more laps to get up to Paulie."
31 cars lined the pit area at the Brewerton Speedway Friday night, which meant the field was divided into three timed hot lap groups. Rifenburg Contracting fast time awards were presented to Shawn Donath, Larry Wight, and Jacob Dykstra. E&V Energy heat wins went to Shawn Donath, Jason Barney and Chris Hile. The Design Shop Signs & Graphics B-Main was won by Jordan Poirier, while the Lacaillade Masonry B-Main was won by Logan Crisafulli.
After 3 of 4 nights complete in the ESS CNY Speedweek, Paulie Colagiovanni currently holds the lead in the week-long points tally with 343 over Jordan Poirier (308), Jason Barney (303), Shawn Donath (273) and Matt Tanner (272).
Central New York Speedweek
Empire Super Sprints
Brewerton Speedway
Brewerton, New York
Friday, June 30, 2023
Heat Race #1 (10 Laps)
1. #53-Shawn Donath[1]
2. #22-Jonathan Preston[4]
3. #10C-Paulie Colagiovanni[6]
4. #90-Matt Tanner[2]
5. 28-Jordan Poirier[7]
6. #7C-Dylan Swiernik[5]
7. #33-Lacey Hanson[3]
8. #10-Jeff Cook[8]
9. #88C-Chad Miller[9]
10. 9B-Bobby Breen[10]
11. 5Z-Zack Burd[11]
Heat Race #2 (10 Laps)
1. #87-Jason Barney[2]
2. #99L-Larry Wight[1]
3. #10H-Kelly Hebing[4]
4. #45-Chuck Hebing[8]
5. #17-Sammy Reakes IV[3]
6. #79-Jordan Thomas[5]
7. #36-Logan Crisafulli[7]
8. #3-Parker Evans[6]
9. #35-Jared Zimbardi[9]
10. 96X-Chad Phelps[10]
Heat Race #3 (10 Laps)
1. #5H-Chris Hile[4]
2. #98-Joe Trenca[2]
3. #01-Danny Varin[5]
4. #5D-Jacob Dykstra[1]
5. #23-Tyler Cartier[9]
6. #4P-Chase Moran[3]
7. #28F-Davie Franek[6]
8. #13T-Trevor Years[7]
9. #41-Dalton Rombough[8]
10. #13-Keith Granholm[10]
B-Main (10 Laps)
1. #36-Logan Crisafulli[2]
2. #10-Jeff Cook[4]
3. #33-Lacey Hanson[1]
4. #28F-Davie Franek[3]
5. #41-Dalton Rombough[9]
6. #35-Jared Zimbardi[8]
7. #3-Parker Evans[5]
8. #13T-Trevor Years[6]
9. 9B-Bobby Breen[10]
10. #88C-Chad Miller[7]
11. 96X-Chad Phelps[11]
12. #13-Keith Granholm[12]
13. 5Z-Zack Burd[13]
Dash #1 (4 Laps)
1. 28-Jordan Poirier[1]
2. #7C-Dylan Swiernik[4]
3. #17-Sammy Reakes IV[2]
4. #4P-Chase Moran[6]
5. #23-Tyler Cartier[3]
6. #79-Jordan Thomas[5]
A-Main (25 Laps)
1. #10C-Paulie Colagiovanni[3]
2. #45-Chuck Hebing[6]
3. #99L-Larry Wight[4]
4. #87-Jason Barney[1]
5. #01-Danny Varin[11]
6. #90-Matt Tanner[5]
7. #53-Shawn Donath[8]
8. #5H-Chris Hile[10]
9. 28-Jordan Poirier[13]
10. #5D-Jacob Dykstra[2]
11. #22-Jonathan Preston[7]
12. #98-Joe Trenca[12]
13. #79-Jordan Thomas[18]
14. #10-Jeff Cook[20]
15. #7C-Dylan Swiernik[14]
16. #36-Logan Crisafulli[19]
17. #35-Jared Zimbardi[24]
18. #23-Tyler Cartier[17]
19. #10H-Kelly Hebing[9]
20. #41-Dalton Rombough[23]
21. #17-Sammy Reakes IV[15]
22. #28F-Davie Franek[22]
23. #33-Lacey Hanson[21]
24. #4P-Chase Moran[16]