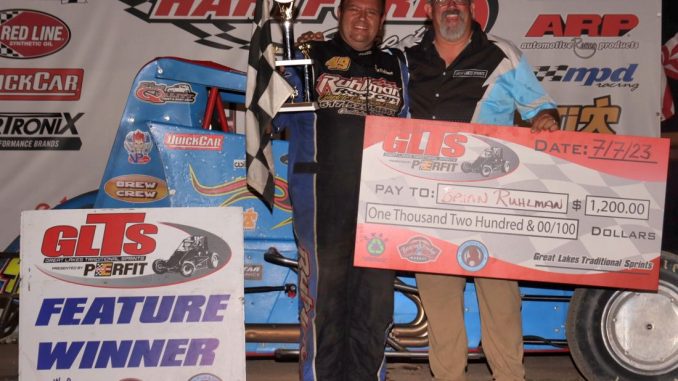 HARTFORD, Mi. (July 7, 2023) — Max Stambaugh and Brian Ruhlman won sprint car features with the Great Lakes Super Sprints and Great Lakes Traditional Sprints respectively Friday night at Hartford Motor Speedway.
Stambaugh, from Elida, Ohio, took advantage of his outside front row starting position to hold off Phil Gressman for the victory. The win also helped extend Stambaugh's GLSS point lead to 52 markers over Gressman. Tylar Rankin, Corbin Gurley, and Dustin Daggett rounded out the top five.
Ruhlman held of Jay Steinebach for the Great Lakes Traditional sprint victory. Max Frank, Brian Smith, and Mike Astrauskas rounded out the top five.
Hartford Motor Speedway
Hartford, Michigan
Friday, July 7, 2023
Great Lakes Super Sprints
Qualifying
1. 50YR-Ryan Ruhl, 14.787[10]
2. 27-Brad Lamberson, 14.841[15]
3. 71H-Max Stambaugh, 14.921[16]
4. 71-Garrett Saunders, 14.927[20]
5. 49T-Gregg Dalman, 14.967[25]
6. 85-Dustin Daggett, 14.991[11]
7. 16C-Tylar Rankin, 15.002[1]
8. 7C-Phil Gressman, 15.036[18]
9. 12-Corbin Gurley, 15.092[22]
10. 17S-Reece Saldana, 15.101[13]
11. X-Mike Keegan, 15.169[3]
12. 19M-Jett Mann, 15.185[12]
13. 10-Jason Blonde, 15.282[9]
14. 10S-Jay Steinebach, 15.288[24]
15. 14-Kyle Poortenga, 15.289[4]
16. 20I-Kelsey Ivy, 15.372[6]
17. 01-Chase Ridenour, 15.391[8]
18. 86-Keith Sheffer Jr, 15.409[19]
19. 87-Logan Easterday, 15.456[21]
20. 3A-Mike Astrauskas, 15.599[5]
21. 0-Brayton Phillips, 15.642[2]
22. 19-Linden Jones, 15.663[23]
23. 70-Eli Lakin, 15.772[7]
24. 20A-Andy Chehowski, 15.831[17]
25. 15D-Darel Woolsey, 16.719[14]
Heat Race #1 (8 Laps)
1. 50YR-Ryan Ruhl[4]
2. 16C-Tylar Rankin[2]
3. 17S-Reece Saldana[1]
4. 10-Jason Blonde[5]
5. 71-Garrett Saunders[3]
6. 20I-Kelsey Ivy[6]
7. 87-Logan Easterday[7]
8. 19-Linden Jones[8]
9. 15D-Darel Woolsey[9]
Heat Race #2 (8 Laps)
1. 7C-Phil Gressman[2]
2. 27-Brad Lamberson[4]
3. X-Mike Keegan[1]
4. 01-Chase Ridenour[6]
5. 49T-Gregg Dalman[3]
6. 10S-Jay Steinebach[5]
7. 3A-Mike Astrauskas[7]
8. 70-Eli Lakin[8]
Heat Race #3 (8 Laps)
1. 71H-Max Stambaugh[4]
2. 12-Corbin Gurley[2]
3. 85-Dustin Daggett[3]
4. 86-Keith Sheffer Jr[6]
5. 14-Kyle Poortenga[5]
6. 0-Brayton Phillips[7]
7. 20A-Andy Chehowski[8]
8. 19M-Jett Mann[1]
B-Main (12 Laps)
1. 20I-Kelsey Ivy[1]
2. 10S-Jay Steinebach[2]
3. 87-Logan Easterday[4]
4. 0-Brayton Phillips[3]
5. 19-Linden Jones[7]
6. 20A-Andy Chehowski[6]
7. 3A-Mike Astrauskas[5]
8. 15D-Darel Woolsey[10]
DNS: 70-Eli Lakin
DNS: 19M-Jett Mann
A-Main (25 Laps)
1. 71H-Max Stambaugh[2]
2. 7C-Phil Gressman[6]
3. 16C-Tylar Rankin[4]
4. 12-Corbin Gurley[1]
5. 85-Dustin Daggett[9]
6. 01-Chase Ridenour[11]
7. X-Mike Keegan[8]
8. 10-Jason Blonde[10]
9. 50YR-Ryan Ruhl[5]
10. 17S-Reece Saldana[7]
11. 86-Keith Sheffer Jr[12]
12. 87-Logan Easterday[18]
13. 19-Linden Jones[20]
14. 49T-Gregg Dalman[14]
15. 20I-Kelsey Ivy[16]
16. 14-Kyle Poortenga[15]
17. 0-Brayton Phillips[19]
18. 27-Brad Lamberson[3]
19. 71-Garrett Saunders[13]
20. 10S-Jay Steinebach[17]
Great Lakes Traditional Sprints
Qualifying
1. 41-Ricky Lewis, 16.812[13]
2. 0-Steve Irwin, 16.944[11]
3. 49-Brian Ruhlman, 17.319[7]
4. 85-Dustin Daggett, 17.328[6]
5. 3A-Mike Astrauskas, 17.683[1]
6. 5X-Trent Musk, 17.685[2]
7. 10S-Jay Steinebach, 17.813[14]
8. 33-Jason Ferguson, 18.060[12]
9. 25-Max Frank, 18.071[5]
10. 18S-Aidan Salisbury, 18.189[4]
11. 2+-Brian Smith, 19.012[10]
12. 10G-Kent Gardner, 19.020[8]
13. 56-Mark Irwin, 20.237[9]
DNS: 00-Joseph (Joey) Irwin, 20.237
Heat Race #1 (8 Laps)
1. 49-Brian Ruhlman[3]
2. 41-Ricky Lewis[4]
3. 10S-Jay Steinebach[1]
4. 3A-Mike Astrauskas[2]
5. 25-Max Frank[5]
6. 2+-Brian Smith[6]
7. 56-Mark Irwin[7]
Heat Race #2 (8 Laps)
1. 0-Steve Irwin[4]
2. 85-Dustin Daggett[3]
3. 18S-Aidan Salisbury[5]
4. 33-Jason Ferguson[1]
5. 10G-Kent Gardner[6]
6. 00-Joseph (Joey) Irwin[7]
DNS: 5X-Trent Musk
Feature (25 Laps)
1. 49-Brian Ruhlman[1]
2. 10S-Jay Steinebach[5]
3. 25-Max Frank[9]
4. 2+-Brian Smith[11]
5. 3A-Mike Astrauskas[7]
6. 18S-Aidan Salisbury[2]
7. 33-Jason Ferguson[8]
8. 10G-Kent Gardner[10]
9. 00-Joseph (Joey) Irwin[12]
10. 41-Ricky Lewis[3]
11. 85-Dustin Daggett[4]
12. 0-Steve Irwin[6]
13. 5X-Trent Musk[14]
14. 56-Mark Irwin[13]