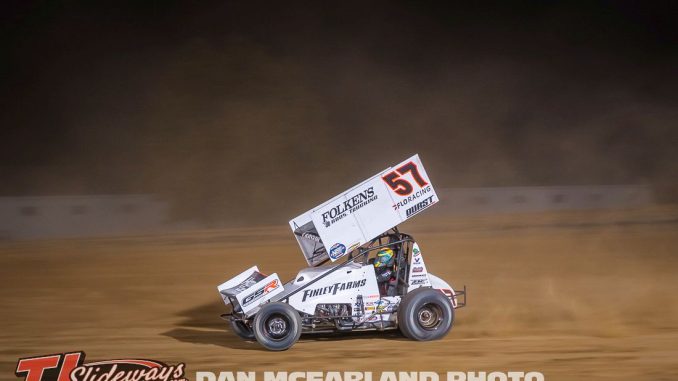 By T.J. Buffenbarger
SARVER, Pa. (July 18, 2023) — Kyle Larson used patience to pounce at the right time in route to winning the Don Martin Memorial Silver Cup Tuesday night for the Tezos All Star Circuit of Champions presented by Mobil 1 at Lernerville Speedway. Larson, from Elk Grove, California, stalked Buddy Kofoid during the first 18 laps of the main event before sliding by the fellow Californian in slower traffic. Larson then drove away from the field, opening up a 0.620 advantage at the finish.
The win was Larson's seventh sprint car victory of the 2023 season, second with the All Stars, and came with a $25,000 payday.
On a slick and technical racing surface Larson was concerned Kofoid might have gotten away after a restart before slower cars came into play.
"(Kofoid) kind of stretched out a little bit more than I was expecting there on that restart and was a bit nervous because I felt like if you didn't catch traffic he'd be hard to beat," said Larson about chasing Kofoid for the lead. "I was just going to try and stay within reach until we got traffic and he would say he gets he started sniffing traffic and the track got dirtier for him and he slowed down. I felt like I could move around a little bit more and it's tough when you're leader in those situations. Even once I got the lead I didn't really know exactly if I was in the right spot but was able to just catch him up in traffic he moved down I think low and three and four something and I got a run down the front stretch and was able to get by him I think off two."
Larson and Kofoid started on the front row for the 30-lap feature event. Kofoid nearly slid off the race track on the initial start, but caught a break the caution appeared for a tangle between Ryan Smith and Trent Pigdon before the first lap completed, allowing Kofoid to maintain his position for the restart.
Kofoid jumped into the lead with Kofoid and Tim Shaffer in his tire tracks. Larson kept consistent pressure on Kofoid for the lead, but Kofoid was able to fend off multiple challenges to maintain the top spot.
While working lap nine Kerry Madsen slid off the top of the race track in turns one and two, bringing out the caution flag.
Larson was able to pull away during the restart while Brent Marks started to put pressure on Tim Shaffer for third. Marks was able to pass Shaffer for the spot off turn four on lap 10, only to have Shaffer take it back one lap later. Marks then got enough drive off turn two to drive around Shaffer through turns three and four to secure the position on lap 12.
Kofoid has built up a 1.183 second lead after the restart, but but half of that down on lap 15. By Lap 17 Larson was all over Kofoid again in slower traffic. Kofoid went to the bottom on lap 19, but Larson was able get by Kofoid in turns one and two and used slower traffic through turns three and four to take and maintain the lead.
From there Larson drove away from the field as Marks closed in on Kofoid for second. Exchanging second on lap 27, 28, and 29, Marks was able to secure the position going through turns one and two on the final lap. Justin Peck was able to use the bottom to slip by Kofoid for the final podium position on the final corner. Up front though it was all Larson picking up his second consecutive victory in the Don Martin Memorial.
After the race Marks felt it took him too long to get through the field to catch Larson for the lead.
"Racing Buddy (Kofoid) there just allowed Kyle (Larson) to scoot away. I just wish I could have completed some of them passes sooner and had had a chance to possibly run Kyle down and see how my car was compared to his but I just never had that opportunity."
Afterwards Larson was concerned that he might give up the lead through tricky, slower traffic.
"I thought I got past a handful of them pretty good and at the right time and then Zeb (Wise) was running where I was running. Windom was was doing a really good job around the bottom and was kind of got away from me for a couple laps, so I kept having to peek to my left to see if anybody else has come behind him. Then they kind of split into one I was able to to short sides Zeb there and he let me go which was which was nice because I felt like after that it would be hard for somebody get behind me so just to fun race through their their traffic. You're barely on the throttle. Just try and take care of your wheels spin and your tires and not overheat them. So it was just a fun, technical race."
Kerry Madsen was the fastest qualifier of the 41 car field with a lap of 13.558 seconds. Peck, Sam Hafertepe Jr, Marks, Anthony Macri in his debut for Clauson/Marshall Racing, and Kofoid won heat race events. Kofoid won the dash while Kasey Kahne won the B-Main event.
Kenny Heffner won the Allegheny Sprint Tour main event.
Tezos All Star Circuit of Champions presented by Mobil 1
Don Martin Memorial Silver Cup
Lernerville Speedway
Sarver, Pennsylvania
Tuesday, July 18, 2023
Hercules Tire Qualifying
1. 55-Kerry Madsen, 13.558[5]
2. 13-Justin Peck, 13.749[8]
3. 21T-Cole Macedo, 13.768[7]
4. 20B-Cody Bova, 13.816[1]
5. 57-Kyle Larson, 13.828[18]
6. 81-Lee Jacobs, 13.844[2]
7. 11-Cory Eliason, 13.846[3]
8. 19-Brent Marks, 13.939[19]
9. 9-Kasey Kahne, 14.008[4]
10. 4-Chris Windom, 14.027[21]
11. 7NY-Matt Farnham, 14.085[9]
12. 45-Tim Shaffer, 14.139[32]
13. 7BC-Anthony Macri, 14.149[30]
14. 19P-Trent Pigdon, 14.227[10]
15. 6S-Ryan Smith, 14.256[22]
16. 2F-AJ Flick, 14.270[24]
17. 23-Devon Borden, 14.334[35]
18. 26-Zeb Wise, 14.356[26]
19. 83JR-Michael Kofoid, 14.399[40]
20. 32B-Dale Blaney, 14.416[25]
21. 39-Cameron Smith, 14.465[6]
22. 15H-Sam Hafertepe Jr, 14.513[17]
23. 12-Billy Dietrich, 14.619[33]
24. 29-Sye Lynch, 14.676[29]
25. 5W-Lucas Wolfe, 14.688[41]
26. 22-Brandon Spithaler, 14.743[36]
27. 101-Cody Maroske, 14.802[14]
28. 97-JJ Hickle, 14.809[13]
29. 09-Craig Mintz, 14.875[15]
30. 29F-Zeth Sabo, 14.878[11]
31. 29S-Dan Shetler, 14.962[37]
32. 6-Bob Felmlee, 14.989[38]
33. 13M-Brandon Matus, 15.036[39]
34. 11B-Carl Bowser, 15.171[23]
35. 2-Ricky Peterson, 15.187[34]
36. 28M-Conner Morrell, 15.193[27]
37. 33-Brent Matus, 15.221[28]
38. 12X-Brent Shearer, 15.411[12]
39. 26AU-Todd Moule, 15.594[31]
40. 13B-Steve Bright, 15.883[16]
41. 4K-Kip Edwards, 16.118[20]
Hunt Brothers Pizza Heat Race #1 (8 Laps)
1. 13-Justin Peck[1]
2. 21T-Cole Macedo[2]
3. 55-Kerry Madsen[4]
4. 11-Cory Eliason[6]
5. 9-Kasey Kahne[7]
6. 81-Lee Jacobs[5]
7. 39-Cameron Smith[9]
8. 20B-Cody Bova[3]
9. 7NY-Matt Farnham[8]
CSI Shocks Heat Race #2 (8 Laps)
1. 15H-Sam Hafertepe Jr[1]
2. 101-Cody Maroske[2]
3. 09-Craig Mintz[3]
4. 19P-Trent Pigdon[4]
5. 12X-Brent Shearer[7]
6. 29F-Zeth Sabo[6]
7. 97-JJ Hickle[5]
8. 13B-Steve Bright[8]
All Pro Aluminum Cylinder Heads Heat Race #3 (8 Laps)
1. 19-Brent Marks[1]
2. 2F-AJ Flick[5]
3. 4-Chris Windom[2]
4. 57-Kyle Larson[4]
5. 6S-Ryan Smith[3]
6. 32B-Dale Blaney[6]
7. 11B-Carl Bowser[7]
8. 4K-Kip Edwards[8]
Kistler Racing Products Heat Race #4 (8 Laps)
1. 7BC-Anthony Macri[1]
2. 29-Sye Lynch[5]
3. 45-Tim Shaffer[4]
4. 12-Billy Dietrich[3]
5. 26-Zeb Wise[2]
6. 33-Brent Matus[6]
7. 28M-Conner Morrell[7]
8. 26AU-Todd Moule[8]
Mobil 1 Heat Race #5 (8 Laps)
1. 83JR-Michael Kofoid[1]
2. 5W-Lucas Wolfe[2]
3. 22-Brandon Spithaler[3]
4. 23-Devon Borden[4]
5. 29S-Dan Shetler[5]
6. 2-Ricky Peterson[7]
7. 6-Bob Felmlee[6]
8. 13M-Brandon Matus[8]
Elliotts Custom Trailers and Carts Dash (6 Laps)
1. 83JR-Michael Kofoid[1]
2. 57-Kyle Larson[2]
3. 45-Tim Shaffer[4]
4. 13-Justin Peck[5]
5. 19-Brent Marks[3]
6. 7BC-Anthony Macri[6]
7. 55-Kerry Madsen[10]
8. 15H-Sam Hafertepe Jr[8]
9. 23-Devon Borden[9]
10. 19P-Trent Pigdon[7]
Classic Ink USA B-Main (12 Laps)
1. 9-Kasey Kahne[3]
2. 6S-Ryan Smith[4]
3. 81-Lee Jacobs[2]
4. 29S-Dan Shetler[6]
5. 26-Zeb Wise[5]
6. 12X-Brent Shearer[7]
7. 29F-Zeth Sabo[9]
8. 20B-Cody Bova[1]
9. 2-Ricky Peterson[11]
10. 32B-Dale Blaney[8]
11. 7NY-Matt Farnham[21]
12. 33-Brent Matus[10]
13. 6-Bob Felmlee[14]
14. 11B-Carl Bowser[15]
15. 26AU-Todd Moule[20]
16. 97-JJ Hickle[13]
17. 39-Cameron Smith[12]
18. 28M-Conner Morrell[16]
19. 13B-Steve Bright[18]
20. 4K-Kip Edwards[19]
21. 13M-Brandon Matus[17]
Tezos A-Main (30 Laps)
1. 57-Kyle Larson[2]
2. 19-Brent Marks[5]
3. 13-Justin Peck[4]
4. 83JR-Michael Kofoid[1]
5. 45-Tim Shaffer[3]
6. 7BC-Anthony Macri[6]
7. 15H-Sam Hafertepe Jr[8]
8. 5W-Lucas Wolfe[14]
9. 11-Cory Eliason[19]
10. 23-Devon Borden[9]
11. 2F-AJ Flick[12]
12. 09-Craig Mintz[18]
13. 21T-Cole Macedo[11]
14. 12-Billy Dietrich[20]
15. 101-Cody Maroske[15]
16. 29-Sye Lynch[13]
17. 29S-Dan Shetler[24]
18. 4-Chris Windom[16]
19. 26-Zeb Wise[25]
20. 81-Lee Jacobs[23]
21. 55-Kerry Madsen[7]
22. 22-Brandon Spithaler[17]
23. 9-Kasey Kahne[21]
24. 19P-Trent Pigdon[10]
25. 6S-Ryan Smith[22]
Allegheny Sprint Tour
Heat Race #1 (8 Laps)
1. 21N-Andy Priest[1]
2. 67-Ken Duke Jr[2]
3. 01-Timmy Bittner[7]
4. 75-Dylan Shatzer[3]
5. 3B-Ryan Beatty[8]
6. 30-Jazlyn Boyles[6]
7. 19M-Body McClintoch[4]
DNS: 20M-Vivian Jones
Heat Race #2 (8 Laps)
1. 88-Greg Dobrosky[2]
2. 17S-Shane Heath[1]
3. 27K-Jeremy Kornbau[3]
4. 5J-Logan Jones[6]
5. 44-Pete Landram[4]
6. 21-Hunter Hite[7]
7. 30R-Glenn Worrell[5]
8. 4G-Justin Kovach[8]
Heat Race #3 (8 Laps)
1. 97-Kenny Heffner[3]
2. 12G-Tommy Jasen[1]
3. 61-Johnny Scarborough[4]
4. 25-Jarrett Rosencrance[6]
5. 3J-Jacob Begenwald[7]
6. 48-Jeff Bacha[2]
7. 17K-Steven Kenawell Jr[5]
8. 4B-Walt Tutak Jr[8]
Heat Race #4 (8 Laps)
1. 25G-Nolan Groves[4]
2. 17-Owen Dimm[6]
3. 82M-Roman Jones[1]
4. 16-Jim Morris[3]
5. 4J-Jacob Gomola[5]
6. 3-John Jerich[2]
7. 42L-Lance Christie[7]
B-Main (10 Laps)
1. 21-Hunter Hite[2]
2. 30-Jazlyn Boyles[1]
3. 3-John Jerich[4]
4. 48-Jeff Bacha[3]
5. 42L-Lance Christie[8]
6. 4B-Walt Tutak Jr[10]
7. 30R-Glenn Worrell[6]
8. 17K-Steven Kenawell Jr[7]
9. 4G-Justin Kovach[9]
10. 19M-Body McClintoch[5]
DNS: 20M-Vivian Jones
A-Main (20 Laps)
1. 97-Kenny Heffner[2]
2. 17-Owen Dimm[4]
3. 67-Ken Duke Jr[6]
4. 21N-Andy Priest[8]
5. 88-Greg Dobrosky[7]
6. 01-Timmy Bittner[9]
7. 27K-Jeremy Kornbau[10]
8. 16-Jim Morris[16]
9. 4J-Jacob Gomola[20]
10. 3J-Jacob Begenwald[19]
11. 17S-Shane Heath[5]
12. 25-Jarrett Rosencrance[15]
13. 12G-Tommy Jasen[3]
14. 82M-Roman Jones[12]
15. 61-Johnny Scarborough[11]
16. 21-Hunter Hite[21]
17. 25G-Nolan Groves[1]
18. 48-Jeff Bacha[24]
19. 5J-Logan Jones[14]
20. 3-John Jerich[23]
21. 3B-Ryan Beatty[17]
22. 75-Dylan Shatzer[13]
23. 30-Jazlyn Boyles[22]
24. 44-Pete Landram[18]