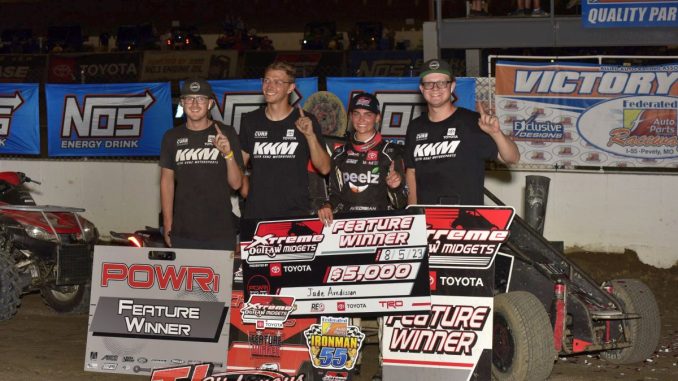 From Jordan DeLucia
PEVELY, Mo. (August 5, 2023) — Coming back into Series competition from a summer break at the end of July, Jade Avedisian sat fourth in the Xtreme Outlaw Midget Series presented by Toyota standings, 180 points out of first place.
Six races later, she's come all the way back and climbed to the top of the standings with her fourth Toyota Racing Feature win of the season Saturday night at Federated Auto Parts Raceway at I-55.
Avedisian, the 16-year-old standout from Clovis, CA, surged from sixth on the starting grid up to second by the halfway point and won a slide job-filled exchange with Karter Sarff to get the lead and bag the $5,000 check.
"Starting sixth, with that kind of track, [I knew] it could be tough," Avedisian said. "But I knew I had a very fast Mobil 1, Toyota Racing #71. I just needed to make clean laps, and when I got to someone, make the pass stick and get by them as soon as I could."
She and the Keith Kunz Motorsports team now sit eight points ahead of Cannon McIntosh in the standings with 16 races complete and 15 remaining. After a win to start the season, the 71 crew hit a mild slump, drifting down in the standings. Now, they're back on top – a spot Avedisian has worked hard to regain as she pushes toward her ultimate goal of a national Midget championship.
"We just weren't clicking for quite a few weeks, and now, the last three or four weeks, we've been really good," Avedisian said. "Really consistent. That's what it takes to win a championship – consistency."
Her sixth career Xtreme Outlaw Series victory, now most all-time of any driver, came in thrilling fashion as she hunted down Friday night winner Karter Sarff through the first half of the race. Starting sixth on the grid, Avedisian favored the high side around the high-banked, 1/3-mile oval and advanced all the way to second slightly before a caution flag was thrown with 16 laps complete.
Sarff, the outside polesitter from Mason City, IL, had led since the drop of the green and was sustaining a healthy advantage over the field when the yellow was thrown. With his gap now gone and a hungry field of competitors behind him, Sarff began to sweat under caution.
"My heart definitely started racing," he said.
Sitting right behind him, Avedisian devised a plan to take the lead on the restart. She said she knew it was going to take a big-time move to get around Sarff and showed it with a big slide job for the lead into Turn 1 as the field came back to green.
Sarff, however, wasn't going down without a fight. He battled back into Turn 3 and returned the favor, retaking the lead out of Turn 4. Avedisian once again threw the slider heading back into Turn 1, and that time held on to take the lead away for good.
"I didn't get the greatest restart, but I knew the momentum from running so hard into Turn 3 would catch up," Avedisian said. "I just really counted on getting my momentum up and trying to clear him."
"She just got the bigger run coming into Turn 1," Sarff said. "With how 1 and 2 were, you couldn't really cross over and get a run back on her, so I just kinda had to follow her back up into 2 and run my line I had been the whole race down through the middle-bottom of 3-4."
Though Sarff gave it all he had in the final laps, he was unable to catch Avedisian, and settled for second. In sum, he and his family-owned team walked away from the weekend with a win and a runner-up against some of the nation's top Midget racing talent.
"Overall, I think we put on a really good race for the fans, and I'm really happy about that," Sarff said.
Taylor Reimer crossed the stripe in third to bag her sixth-straight top-five finish, while her KKM teammate Gavin Miller finished behind her in fourth and Chase McDermand rounded out the top five. Former points leader Cannon McIntosh finished sixth after starting eighth, dropping him to second in the points standings for the first time since April.
Xtreme Outlaw Midget Car Series
Federated Auto Parts Raceway at I-55
Pevely, Missouri
Saturday, August 5, 2023
Qualifying
1. 21K-Karter Sarff, 13.581[5]
2. 25K-Taylor Reimer, 13.592[2]
3. 7U-Zach Daum, 13.621[3]
4. 19AZ-Hayden Reinbold, 13.685[7]
5. 31-Chase Johnson, 13.702[6]
6. 26-Chance Crum, 13.740[8]
7. 71E-Mariah Ede, 13.899[4]
8. 44-Branigan Roark, 14.197[1]
Qualifying 2
1. 40-Chase McDermand, 13.417[7]
2. 71-Jade Avedisian, 13.434[4]
3. 26R-Corbin Rueschenberg, 13.595[2]
4. 08-Cannon McIntosh, 13.635[3]
5. 31K-Jaxton Wiggs, 13.705[6]
6. 97-Gavin Miller, 13.773[5]
7. 97K-Cooper Williams, 13.904[1]
Heat Race #1 (8 Laps)
1. 31-Chase Johnson[5]
2. 25K-Taylor Reimer[3]
3. 7U-Zach Daum[2]
4. 21K-Karter Sarff[4]
5. 26-Chance Crum[6]
6. 19AZ-Hayden Reinbold[1]
7. 44-Branigan Roark[8]
8. 71E-Mariah Ede[7]
Heat Race #2 (8 Laps)
1. 71-Jade Avedisian[3]
2. 40-Chase McDermand[4]
3. 97-Gavin Miller[6]
4. 08-Cannon McIntosh[1]
5. 97K-Cooper Williams[7]
6. 31K-Jaxton Wiggs[5]
7. 26R-Corbin Rueschenberg[2]
Feature (30 Laps)
1. 71-Jade Avedisian[6]
2. 21K-Karter Sarff[2]
3. 25K-Taylor Reimer[3]
4. 97-Gavin Miller[7]
5. 40-Chase McDermand[5]
6. 08-Cannon McIntosh[8]
7. 31-Chase Johnson[4]
8. 26-Chance Crum[9]
9. 19AZ-Hayden Reinbold[11]
10. 71E-Mariah Ede[15]
11. 31K-Jaxton Wiggs[13]
12. 97K-Cooper Williams[10]
13. 44-Branigan Roark[14]
14. 7U-Zach Daum[1]
DNS: 26R-Corbin Rueschenberg