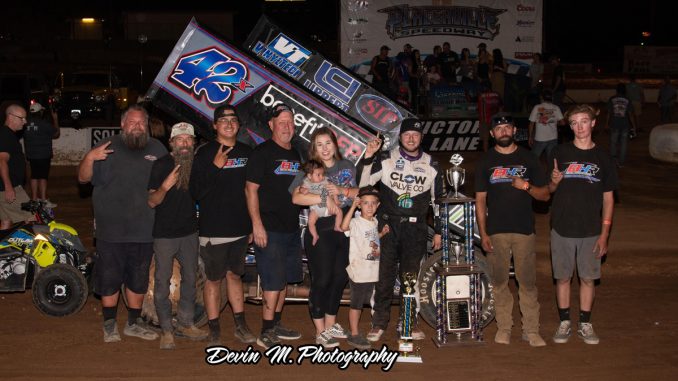 By Gary Thomas
Placerville, CA…Justyn Cox and Bates-Hamilton Racing made a return trip to Placerville Speedway pay off by racing to their second consecutive victory on the red clay during Big Trophy Night last Saturday.
"This past Saturday was a good night all around for us," Cox stated. "We didn't time-in the best but fixed the issue for the heat race and had a ton of speed. Luckily, we got another good pill draw, which helps a lot sometimes."
Cox began the evening by qualifying 14th overall in the 25-car field of Winged 360 Sprint Cars. Starting from the pole in the second heat race he proceeded to lead all eight-laps, putting the benefitRFP/ Lippert Construction/ Mozingo Construction/ Dan Ewart Sales/ VinylTech PVC Pipe/ Clow Valve No. 42x into the redraw.
The 29-year-old then pulled the number two pill, placing him on the outside of row one for the 25-lap feature. At the waving of the green flag, he jumped into the lead and held command until the first yellow of the contest waved on lap eight.
The biggest challenge he encountered in the race ultimately came during a restart with 12 circuits completed. Multi-time track champ Andy Forsberg was able to get around him for the top-spot momentarily, but Cox returned the favor in the following corner.
Once back in front the Clarksburg competitor rode the cushion in dominant fashion, accepting the Ron Stahl checkered flag for his 12th career Winged 360 Sprint Car triumph at Placerville Speedway. With the victory, he tied Shane Golobic, Andy Gregg, Scooter Lambert and Stephen Allard for 14th on the all-time list.
"We took our notes from the previous weekend, made some small changes, and it actually got the car even better than it was the last race," Cox elaborated. "Josh Bates and the boys have us dialed in right now and that makes this BHR 42x fun to drive."
Cox and Bates-Hamilton Racing will now gear up to resume the Elk Grove Ford Sprint Car Challenge Tour presented by Abreu Vineyards season this Saturday at Ocean Speedway in Watsonville.
With five events remaining in the SCCT campaign Cox possesses a 46-point advantage at the top of the standings. The 63rd Johnny Key Classic can be seen by purchasing a ticket at the gate on race day or via www.calidirt.tv
"Watsonville wasn't very kind to us during the last visit, but I'm excited to try again with the 360 in the car," he commented. "We've had some very consistent runs with SCCT this year. I'd love to pick up another Sprint Car Challenge Tour win and doing it at the Johnny Key Classic would be awesome."
𝑩𝒂𝒕𝒆𝒔-𝑯𝒂𝒎𝒊𝒍𝒕𝒐𝒏 𝑹𝒂𝒄𝒊𝒏𝒈 would like to thank BenefitRFP, Lippert Construction, Mozingo Construction, Dan Ewart Sales, VinylTech PVC Pipe, Clow Valve, Teichert Construction, Advanced Drainage Systems, Custom Pipe and Fabrication, B Scadden Design, Specified Pipe, North Bay Waterworks, SIP, Tigre, Star Pipe Products, McWane Ductile, Kaeding Performance, Kistler Engines, Maxim Racing, Sellers Race Wings, ART Enterprises, Rod Tiner Racing, Tiner-Hirst Enterprise, Vanlare Steering Repair, Arbo-Tec, Performance Powder Coating, Warehouse Paint, Justice Brothers, K1 Race Gear, Arai Helmets and Bullet Impressions for their support this season.
𝐁𝐚𝐭𝐞𝐬-𝐇𝐚𝐦𝐢𝐥𝐭𝐨𝐧 𝐑𝐚𝐜𝐢𝐧𝐠 Placerville Speedway Quick Recap-
Saturday August 12th: Qualified (14th), Heat Race (1st), A-main (1st)
𝐔𝐩𝐜𝐨𝐦𝐢𝐧𝐠 𝐑𝐚𝐜𝐞𝐬-
Saturday August 19th: Ocean Speedway Watsonville – Sprint Car Challenge Tour (Johnny Key Classic)
𝗦𝗽𝗼𝗻𝘀𝗼𝗿 𝗦𝗽𝗼𝘁𝗹𝗶𝗴𝗵𝘁: Clow Valve
Bates Hamilton Racing is pleased to welcome back Clow Valve for a sixth season. Clow Valve Company's roots date back to 1878. Then known as James B. Clow & Sons, the company was a jobber of wrought iron pipe and other foundry products.
In 1890, Clow added fire hydrants and waterworks valves to its line by becoming a distributor for the Eddy Valve Company of Waterford, N.Y. Today, Clow Valve Company operates at two locations, with those in Oskaloosa, Iowa, and Riverside, Calif.
To learn more about the company simply visit https://www.clowvalve.com/
𝐒𝐨𝐜𝐢𝐚𝐥 𝐒𝐩𝐨𝐭𝐥𝐢𝐠𝐡𝐭-
To keep up with Bates-Hamilton Racing be sure to like the BHR Page on Facebook at https://www.facebook.com/BatesHamiltonRacing
Follow along on Twitter at https://twitter.com/bhr42x
Make sure to also follow our Instagram page @bhr_42x
𝗚𝗧 𝗣𝗿𝗼𝗺𝗼𝘁𝗶𝗼𝗻𝘀-
GT Promotions is a media company focusing on public relations and social media management for motorsports venues, series, race teams and more. Since 2006 we have worked with numerous clients to boost exposure through our various channels. To inquire about becoming a part of the GT Promotions team simply email gary7n@sbcglobal.net & to keep up with our work follow https://twitter.com/garythomasGT